Google suspends Indian 'Remove China Apps' from the Play Store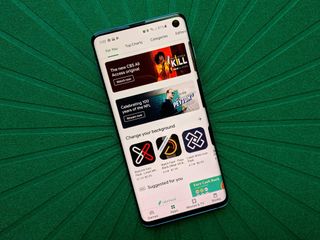 (Image credit: Android Central)
What you need to know
Remove China Apps, which was the top trending app in India recently, has been removed from the Play Store.
Since late May, the app was downloaded over 5 million times in the country.
The app allowed users to delete all apps developed by Chinese companies from their phones.
An app called Remove China Apps went viral in India last month, amid growing anti-China sentiments in the country. It crossed the 1 million downloads milestone within just ten days of its debut on the Play Store. It was also the top trending app on the Play Store in India for two days. The app has now been removed by Google for violating the Play Store's Deceptive Behavior Policy (via TechCrunch).
The policy states that an app listed on the Play Store is not allowed to make any changes to the user's device settings or features outside of the app without the user's consent, and nor can it encourage users to remove or disable a third-party app.
Before it was removed from the Play Store, the app had been installed over 5 million times. The anti-China sentiments, which made the app so popular among Android users in India, started after Chinese soldiers moved into Indian territory along the disputed Himalayan border between the two nations.
Remove China Apps allowed users to "scan" their phones to determine apps of Chinese origin. After a scan was completed, the app would either congratulate one on having no Chinese apps or show a list of Chinese apps installed on their device.
While the majority of the app's installs were in India, data from App Annie revealed that it was quite popular in Australia as well, grabbing the No.5 position in the country among Android tools apps for a few days.
Android Central Newsletter
Get the best of Android Central in in your inbox, every day!
Why the hell american egositic company like google and american president said to take actions on china in the front but when big country like india supports it moron google keeps supporting china like americans do always lie on face

Will, first off, Google never had a problem with Chinese OEMs they only stopped supporting Huawei because they were forced to by the US dictator. Second, Americans will treat India the same way they treat China in the coming decades. America is an aging empire just waiting to be crushed by the next upcoming superpower. China are a bigger threat at the moment, but India are making strides.

So it got banned because apps aren't supposed to disable other apps, yet there are other apps that do precisely that (with user consent/intervention). Let's be real, Google. This app was banned because it specifically targets apps created by developers in a certain geopolitical area. Most (if not all) of which have some affiliation with the government in that area. And we all know how badly Google wants to play in that playground. Obviously Google is still China's bіtch.
Android Central Newsletter
Thank you for signing up to Android Central. You will receive a verification email shortly.
There was a problem. Please refresh the page and try again.