Google Stadia Pro subscribers get 'Gylt' and 'Metro Exodus' in February 2020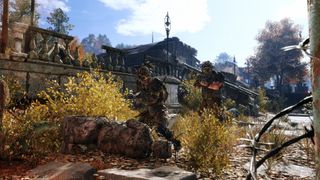 (Image credit: Deep Silver)
Today, Google announced new free games coming to Stadia in February. If you're a Stadia Pro subscriber, you can claim Gylt and Metro Exodus as part of your subscription. Descriptions of both games can be seen below.
Gylt
Metro Exodus
Metro Exodus is one of the best games ever made in my opinion and it's amazing that Stadia Pro subscribers get access to the title. However, there are other features coming to Stadia, too.
You'll receive notifications of your achievements when playing on a PC or a TV, and you'll get credit for those achievements. You can view your full list on the web, including all the hard-won achievements you've earned since you began playing Stadia.
Google also announced a strategic collaboration with BT to become the first European distribution partner for Stadia. In the United Statse, the company is working with Verizon to give new Fios Gigabit internet customers a Stadia Premiere Edition starting January 29.
Do you use Stadia? What do you think of the service? Let us know.
Everything you need
A good way to start
This bundle includes everything you need to get started with Stadia. It includes the controller, Chromecast Ultra, Destiny 2, Samurai Shodown, and three months of the Stadia Pro subscription for you and a friend. It's a great way to begin your game streaming journey.
Pick up the parts
(opens in new tab)
UHD streaming
You can buy everything together or you can get just the basics for Stadia. The Chromecast Ultra is available to purchase now and lets you stream 4K TV as well as play games.
All you need
A firm grip on what's needed
The Stadia Controller is all you need to use Stadia if you already have the Chromecast Ultra. You can also use it on your other devices. Get the Wasabi colored one, it's gorgeous.
I have it. Don't use it. Got a founders edition. Works great. Just not the game selection i will play. Get me a good call of duty and a NHL game from EA and I'm in for the long haul. I just can't get into any of the current titles. Especially the ones given for free to pro subscribers.

Oh and i wish the service was launched with a new device like the Nexus player only better. So i can have a fully functional os to navigate with the controller. Great controller. Super limited. So much wasted potential.

I got the founder edition but think I will be dropping it soon. Not a fan of any of the games that have been offered at the current prices (on Stadia). Thumper was fun for awhile but I think I am just going to upgrade my PC and get back into PC gaming.

I have the founders edition I bought gylt and Darksiders Genesis but I'm calling it quits for now

I absolutely love playing Stadia! I've been going back and forth between Tomb Raider (Pro title) and Final Fantasy XV (purchased). I've had a great experience with it so far and I'm excited to see the updates and games coming soon! Plus, getting to play Stadia on my very much non-gaming laptop is a great perk.
Android Central Newsletter
Get the best of Android Central in in your inbox, every day!
Thank you for signing up to Android Central. You will receive a verification email shortly.
There was a problem. Please refresh the page and try again.