Google+ Sign-In API improved with cross platform sign-in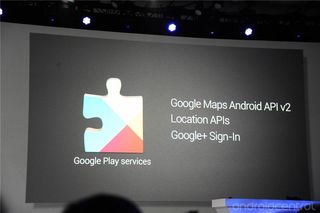 We're at Google I/O, where they just announced improvements to their Google+ Sign-In API, which is cross platform sign-in. What does that mean? If you find a cool website that you like (they demoed it with Fancy), you can sign in with Google+. If you do, you will automatically be asked if you would like to install the app on your Android device. If you say yes, the app will download and log you in automatically on your current device and other Android devices on your account. Very cool improvement to a good API.
Follow our live coverage of the Google I/O keynote for the rest of the day's news!
@Sean Brunett Thanks for the post. it;s very awesome act from Google. Thanks in Advance

Google is making a huge cross-platform push across all services! Web, Android, iOS...it doesn't matter. 2013-2014 will be remembered for when Google tied all of its various services together into a true ecosystem. Microsoft, Apple, Facebook, and everyone else needs to watch out: Google is taking no prisoners!
Android Central Newsletter
Get the best of Android Central in in your inbox, every day!
Thank you for signing up to Android Central. You will receive a verification email shortly.
There was a problem. Please refresh the page and try again.