Google quietly removed all Android Wear watches from the Google Store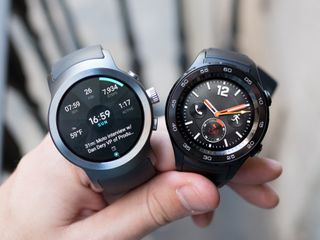 Google made just a couple of small announcements at its October 4 event, including the likes of the Pixel 2, Pixelbook, Home Mini, and more. However, amidst all of this excitement and drooling over new toys, something interesting was spotted. Take a quick glance through the updated Google Store, and you won't find a single listing for any Android Wear device.
The Google Store homepage is quick to show you all of the company's latest and greatest products, but you can no longer search or browse for Android Wear watches from it. The Android Wear page itself can still be accessed (opens in new tab) by going to the link directly, but for all intents and purposes, Google is hiding this section from any of the Store's visitors.
The LG Watch Style and Watch Sport are still listed within the Android Wear page, but neither of the watches are in stock or available to purchase. If you click on "shop now" next to either one, you'll see a message saying "no longer available" for both.
Google added a ton of new features and refinements to Android Wear with the big 2.0 release this February, but neither the Watch Style or Watch Sport that pioneered this new software release were able to captivate an audience the same way devices like the original Huawei Watch or Moto 360 were able to the year before. There have been other Android Wear products outside of Google's two flagships earlier this year, but they've either been from luxury fashion brands, adopted bulky designs that not everyone is asking for, or have been discontinued after just 4 months.
Related: 5 reasons you should buy an Android Wear watch right now
The disappearance of the Android Wear page from the Google Store doesn't necessarily mean that the platform is dead, but it is a sign that it's not a main area of focus for Google at the moment. Instead, the company is relying on its partners to sell the platform, not necessarily the brand itself, to mainstream users.
Joe Maring was a Senior Editor for Android Central between 2017 and 2021. You can reach him on Twitter at @JoeMaring1.
This either a bad omen or the beginning of something amazing to come.

Definitely not the latter.

I'd be embarrassed and take them down too if that was the best I could come up with. I own a nixon mission and most days i want to throw it in the river. The software is ok but i can't make it through a day just using it as a watch! God Forbid if i used gps. Luckily i didn't pay full price for it. It seems that Google doesn't realize that Fitness is where wearables are headed and they're getting left in the dust. I don't need a robust App Store I just need Fitness tracking that works and detail stats of my workouts and the ability to track swimming. Google Fit does a halfway job of recording your stats and swimming is non-existent. I do a lot of research before I buy something and what it really came down to was I could use Google Music on Android Wear. But I found out real quick that I don't think it's worth it.

It didn't help that the LG Watch Sport wasn't available in some key markets like the UK and the Style that was has half the best features missing. Also the fact that AW 2.0 feels like it's in beta. I doubt it's dead though. The Oreo beta was only announced about 2 days ago. Let's hope it returns with a bang.

Well, all those watches don't fit into the #MadebyGoogle slogan they were pushing yesterday. Nest Products remain, but they have a special partnership and integration with Google Assistant. Can totally see a Pixel Watch being the lone wearable for them next year.

This is what I'm thinking as well. LG watch sport doesn't make sense in a #madebygoogle world. I think Nest gets a pass because they are owned by Google and the name has a strong brand associated with it. But it's still owned by Google so technically made by Google.

That's sounds about right with the HTC purchase

I feel like wearable devices are trying to do too much, and it's their downfall. I have a Pebble Time Round, and it's really kind of perfect (if it had a LITTLE more battery life). On the small side, fashionable, always on. It gives notifications, which is all I really need. I don't know why a smartwatch needs a touchscreen at all (I had a Moto360 for a while, and found the touch screen more of a hindrance, and it was so bulky). I know I'm in the minority just wanting essentially a timepiece that notifies me of things and the market is just not there for these things (hence Pebble going away) but I just wish.

Fellow Pebble owner here, and I agree completely. The e-ink display combined with some basic features is perfect for a watch that doesn't really need to be a mini phone. With phones increasing in price every year, the watches can't do the same thing. Think about it, the latest greatest iphone + apple watch is $1400!! A Pixel 2 XL + an LG AW 2.0 combo is going to surpass $1000. Fingers crossed that maybe Fitbit will resurrect a more pebble-like watch for $100 or so. Giving customers a solid working platform for a low cost of entry might open them to higher priced watches down the road.

I think it depends on what you want. I have a moto 360 and love it. I get way over a day out of the battery and use it for mainly checking things which I think a watch should be used for. I only spent £100 on mine though and would not spend more than that on a smart watch which I think is one of the biggest issues with any smart watch.

When Pebble disappeared I tried out a Samsung Gear watch and then bought an Asus Zenwatch 2. After over half a year of trying to make Android Wear do what I wanted I'm now wearing my old Pebble Time again.
People are still writing software for the Pebble platform, with a working App Store. The display isn't brilliant but it's adequate, and even with a very generous use of the backlight I'm still only charging every 4-5 days. I don't mind configuring it on the phone and I really don't want a "computer on the wrist". There's a reason Phones have grown from 3.2" to 5.5" or more. It's convenience.
Pebble's notifications are great and there is no reason to add any other capabilities - well maybe fitness tracking. Telling the time - accurately and always up to date; automatic daylight to standard time adjustments, that's all I need.

It's funny because AC just posted an article about 5 reasons you should get an AW device yesterday. My AW watches sit in my drawer. 5 reasons it's worth buying an Android Wear watch right now https://www.androidcentral.com/5-reasons-now-time-pick-android-wear-watch

Personally I use mine daily and I love it. I agreed with both of the articles. There are many reasons to buy one, and it is concerning that Google just removed these from their website. On the other hand, their pricing was way over what you could get the same devices for elsewhere.

I just think Samsung is doing a much better job with Tizen. I love my Gear S3.

I have both. There are things I prefer about each one. For some reason I can't get the S3 to read my pulse. I've gotten the unit replaced and that didn't sort it out. Also hate that you have to use a 3rd party all for Google Maps, and that the apps out there are not great. But other than that, it is a nice watch.

If u have a Samsung phone

Literally just bought my watch style last week.

What do you think so far?

They don't unterstand that 500$ for a watch it is too expensive ??? You can have a phone for less than that....

Samsung Wear is just way more polished than AW iMHO. I haven't missed my Huawei watch at all.

I'm not surprised. I really wanted to like Android Wear. I loved my OG Moto 360, until the casing broke. I "upgraded" to one of the Fossil Watch watches and was so excited to get AW 2.0. But it has really failed to impress. Maybe I'm missing something, but the notifications are less user friendly than ever. That's MY opinion. I know some here prefer them. I have always been against Tizen and Samsung, but after getting a Gear Fit 2 and really looking at the Gear S3 watches, I now think Samsung has the smart wear game figured out with the Tizen OS. Gear S3 will be my next smartwatch for sure.

I have to agree I had to hesitate a but on the Gear S2 but glad I finally went with it. I was a Pebble fan through and through had a few before my last Pebble time just wasn't doing it for me anymore.
The smartwatch experience on the Tizen system is perfect and I get multiple days on a single charge if want. Always a solid 2 no matter what. AW is just behind on the opportunity that is connecting to your smart phone the way....grrrr...Apple does it right...and Pebble before that. Samsung just makes it simple and done right especially with the bezel movement.

Good bye Android Wear !!! Just hope we aren't stuck work Samsung on wearables for Android side. They are generally clueless on services and platform. Hope Google comes up with better stuff to compete with Apple watch which is awesome. Samsung wearables are great but don't like them to be the only option especially when it's a company like Samsung.

My question is why??what's the problem with Samsung??..they work and work well..even with other phones my gear has worked great..no connection issues, no missed notification nothing..so again I ask why the hate for Samsung. They made a watch and product of wearables that have done well for themselves and continue to do well. I see almost as many Gear watches out there as I see AW which speaks volumes to their ability to appeal to the masses and have a product people want. And let's be honest they makes some of the best performing phones in their class, they are a solid company that continues to be at the top of the game with overall everything the consumer wants.

Because they are Samsung. There is a loud anything but Samsung crowd on AC. Nothing to do with the technology they just don't want to be seen following the crowd.

TBF the Samsung or nothing crowd is just as loud on AC.

IMO the biggest con with Samsung's watches is the app selection or lack there of. Samsung needs to do something to push app developers to actually make Gear apps. That is really the only downfall here as the hardware and interface are pretty great compared to AW stuff.

What kind of apps do you possibly need for Smart watch

A lot. Spotify, fitness apps, weather apps, nutrition monitoring apps, messaging apps, email apps, think of all the possibilities. I'm still looking forward to a day that you won't need a phone to do all the basics, and only turn on one as a multimedia device. Smartwatches surely have a long way to go.

Ok Spotify yes but fitness how about Samsung Health, Nike Run, weather I have 2 and really anything basic is all there text, email, Facebook, Twitter, even a music app.. So I will agree in saying what else do you need.

One reason is that the version of Tizen they are using as well as the Android companion app store is riddled with vulnerabilities. https://www.androidcentral.com/samsungs-tizen-said-be-riddled-vulnerabilities-your-smartwatch-safe If the open-source parts are this bad, we should expect the closed source parts to be as bad or worse. This matters and needs to be fixed ASAP, but Samsung has said nothing and we're still waiting for a brand new version of Tizen for watches, TV's, and appliances.

Yep, that's why Samsung sucks on the wearables and home tech. Tizen is such a mess of a software. I was really looking forward to its growth since the Samsung Wave phones that ran badaOS. The whole situation now is a big "shaking my head right now with a tsk".

It's obvious you've never used a gear watch before those that do never go back to AW watches . An reasons why they sell more watches then all the AW watches combined

McDonald's sells a whole lot of hamburgers...

I came from a Pebble and AW from the OG 360. I took a try with the Gear S2 and I was surprised how much I liked it over the other platforms. I would say don't knock it till you try it and I mean use it not go to Best Buy and look at it. Honestly Tizen is miles ahead of AW in the aspects of usability and smooth OS interface.

I really enjoy my Huawei 1 running AW 2.0. It's so useful I've parked my stylish Bell & Ross. I've gotten airline boarding passes to the watch, use it for working out, keep track of incoming messages, and my calendar appointments pop up with both the current time, a minute counter until the meeting starts, plus of course location, and Google Keep, which is a major advantage compared to alternative wearable OS's. Also love the opportunity to use fabulous watch faces, it's really a big part of the fun factor in AW. What I'd like to see next is a really great, frugal small nm processor, 10atm water resistance without looking like a diver's watch, and of course nfc, lte etc. Thing is, the AW OE manufacturers battled it out between themselves instead of fighting Apple and Samsung, the it's hard to get sufficient scale to warrant the investment when the volume is spread over many. Hopefully Google realizes this and brings out their own. If Google abandons the product category, Apple and Samsung's Tizen will gain some converts.

AW 2 is half baked. Really, all the wearable market tea-leaf readers believed their own BS and massively overestimated the size of the market. I like my 360 v2, but it's obvious that there will be no support from Moto for it..... I'm guessing the AW Dev team at Google has shrunk as the reality of the true market size has sunk in. AW 3? Maybe by 2025....

Hmm. I have the ZTE watch and it works fine...

I agree. While many AW2 watches work well, nothing comes close yet to Apple's watchOS when it comes to ease of use and functionality. Hopefully AW catches up, because Android is surely well ahead on the software game on phones, well, on Pixels at the least.

I really really wanted to like Android Wear, but Android Wear 2.0 in many ways degraded the experience.

It really did, a shame to.

My LG Watch Urbane is a glorified digital watch at this point. The watch faces are fun but I don't use it for anything else :(.

I use mine every day. Love it. AW 2.0 changed it a bit, but I still do everything I did before. And the battery life is stellar compared to what it was originally.

I guess in Google happy fan butt boi land everything is grand.

You sound butthurt yourself

At $350 for a glorified digital watch, ya maybe a little.

Aw 1.5 was so much better

It could just be that no one was buying watches from the Google Store, since it's relatively easy to find them elsewhere online. There were never any in stock in the Canadian Google Store anyway (same as Chromebooks), so maybe someone just asked, "why are we bothering to list them?"

Hopefully not the end of the smartwatch, I love mine!

I hope it's a good sign. I totally dig my LG Watch Sport.

I enjoy my LG Watch Sport. I'm doubting they are pulling the plug on AW. I guess we'll see.

My gear fit2 an gear s3 just work an that's a fact .last android watch I had was the Samsung's version . The whole idea of the swipes just got dated looking . Tizen just works smooth as butter my s3 just flies . Even have a couple of iPhone buddies with the gear s3 . The s3 just looks so much better then what AW ware has to offer my opinion

Good for Google conceding defeat. The Samsung gear line is killing it

I have the Asus zen 2 with 2.0 I love it. I get notifications, can send text. Control music while I'm driving.

I think what you're seeing has nothing to do with Android Wear. Do you see any other products anywhere in the Google Store that aren't Made by Google?
No more third-party Chromebooks or anything else. Can you say "Made by Google" store?

Yeah. I have feeling that a not fully thought through decision was made. While having only Google products in the Google store makes sense, removing an entire product category that hasn't exactly set the world on fire can be (and has been) misunderstood.

They've now taken away access to those product pages.

Hope they make a pixel watch.

I really like my Samsung gear S3
I use my calendar, check the weather, use my fitness apps; both Samsungs own and Endomondo, i listen to music. read emails etc..
And the battery lasts well over two days.
What more can you ask for?

I hope they are coming out with a 'Pixel watch' but I doubt it, otherwise they would have showed it off the other day. I still use my Sony Smartwatch 3. If it had a heartbeat sensor it would be perfect for what I use it for, running. I have proper watches for work wear. If the LG Watch Sport was available in the UK, I probably would have got it - as it is about dressy enough to wear to work, and has all the functions I am looking for.

It makes me wonder....... I receive emails from Ticwatch regarding my Ticwatch S that releases in Late October/Early November. Every email they are talking about "working extremely close with Google" to make sure the software and hardware are on point at launch. Ticwatch is mainly focused on the fitness aspect of their watches, so it makes me wonder if Google plans on learning from Ticwatch regarding wearables?

"The Android Wear page itself can still be accessed by going to the link directly" - not anymore. That link now takes you to the main google store page.

"The Google Store team made a change that they will only stock Google made hardware. Our team knew the plan for a year now and invested in custom store fronts with online retailers. Together with all our partners (online/offline), we will reach more people all over the world than ever before! When I visited partner stores in London and Shanghai, they couldn't be more excited about our line up this fall! On a technical front, I have more to share about how we think about updates – stay tuned!" - Google's Hoi Lam When Lam mentioned Google's online partners, he linked to the Android Wear shop on Amazon which lists all the Android Wear watches and accessories. https://www.amazon.com/b/?ie=UTF8&node=15203391011&tag=hawk-future-20&as...

I hope this isn't going to impact on my Urbane... LG have been great with keeping the software up to date, I'm sure it's just that Google are focussing on their own hardware as well as Google home at the moment
Android Central Newsletter
Thank you for signing up to Android Central. You will receive a verification email shortly.
There was a problem. Please refresh the page and try again.