Google Play web updated, now allows for updating and uninstalling of apps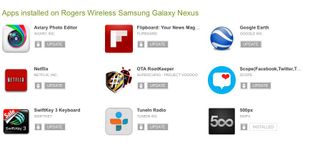 In addition to all the other goodies Google rolled out thus far at Google IO 2012 they updated the online version of the Google Play Store with some pretty awesome features. So awesome in fact, that I'm rather perplexed as to why it was never mentioned. As you can see in the screenshot, you can uninstall and even update apps all from the site itself. Plus, any devices associated to your account will now also show an image representing that phone, tablet or Google TV. Sadly, you still can't get rid of apps you no longer use from the listing but we're getting to that point with the latest additions.
Thanks, waltesefalcon!
Android Central Newsletter
Get instant access to breaking news, the hottest reviews, great deals and helpful tips
That's cool.. but it still has a big problem they never bothered to fix: A static number of pages. I've had Android phones for 3 1/2 years and have had my share of apps installed. So many, in fact, that when I go through the "Other apps in my library" list I can only get to G before the arbitrary number of dots (pages) runs out. I don't know why they just don't give you as many pages as you have apps.

I can get to the letter C.

There's an alternate section to view your full list of apps that you've ever installed... I forget what it's called at the moment, and have had trouble getting to it in the past. I suppose it's time to see if it's still available.

Click on the gear icon in the corner and choose "My orders & settings". I believe that shows all the apps you've ever downloaded.

I don't want to see every app I ever downloaded. I want to see a list of apps I purchased. I have had an Android since the G1. There have been a lot of apps downloaded in the last six years, most of them I do not need to see in a list.

Strange...
There is one app - a game - that is showing up as installed, but I uninstalled it a LONG time ago. I can't delete it or even update it from that page.

WHY CAN WE STILL NOT DELETE APPS FROM OUR ALL LIST? AND WHY CAN WE STILL NOT SEE A LIST OF OUR PAID APPS?

This is a VERY welcome thing for sure. They still have a long way to go though. I'd really appreciate a more simple dialog for installing via web that doesn't take me off page or require 5 clicks to download an app (unless it's paid). Simple install button.

Your welcome Android Central :)

Good to see. Two suggestions for improvement: An update all apps button, and show the "What's new" section when I click on the "Update" button.

What is the point of this. I see nine apps that are installed on my device. Where are the other hundred?

It is indeed quite annoying to only see application starting with letters A through G on the listing. It has been like this for a long time. Seems like it would have been addressed by now... I con't be the only one with a lot of apps installed.

its right under the search bar on the right, called "My Android Apps." took me a while as well.

Yeah just found it actually. =)

Came in handy since I had to reset my phone, and so many apps have similar names. Need to be able to clean up the list of "Other apps in my library". Some of the apps are no longer compatible with my phone.
Android Central Newsletter
Get instant access to breaking news, the hottest reviews, great deals and helpful tips
Thank you for signing up to Android Central. You will receive a verification email shortly.
There was a problem. Please refresh the page and try again.