Google Play Music and YouTube Red are the best deal in streaming right now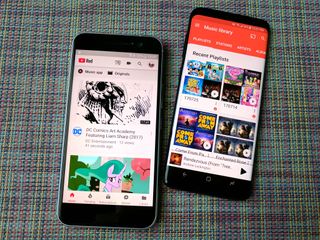 From music streaming services like Spotify and Apple Music to video services like Netflix, Hulu, and Amazon Prime Video, there's more and more subscriptions anxious to get your money every month, but one of the best values in subscription streaming isn't one subscription, it's three.
It's Google Play Music (opens in new tab)! It's YouTube Red! It's YouTube Music! It's all three in one!
Three services, one goal
The oldest service in this little subscription pack is Google Play Music, which launched back in 2013 with the service's last major overhaul. Google Play Music's subscription — called All Access at the time — allows you to mix your free personal, uploaded library of 50,000 songs with Google's subscription library of 40 million songs. You can store your music offline for convenient playback without blowing your data cap, and you can use Play Music on up to 10 devices.
YouTube Red was the next addition in 2015, allowing you to ditch the ads on YouTube as well as view Red-only Originals programming. While Red's original programming has been expanding and improving, it's still safe to say that the best features of YouTube Red are the three features you can use with regular YouTube videos: ditching ads, saving videos offline for playback later, and background play — the ability to listen to YouTube videos while you do something else on your phone. For people who use YouTube to listen to music, this feature was crucial.
For music-listening YouTubers, there was another addition a few months after YouTube Red: YouTube Music, a dedicated Android and iOS app for browsing and listening to eligible musical YouTube videos. While YouTube Music is technically available for free users, there's not much to do in the app unless you're a YouTube Red subscriber. YouTube Music's app has a more immersive UI, and more importantly, a dark UI. The stations in YouTube Music are also more customizable than the ones in the main YouTube app.
Standout features, overlooked services
While YouTube remains one of the most popular video sites in the world, Google Play Music is to most an afterthought behind Spotify, Apple Music and Amazon Music. Even among YouTube users, YouTube Music is seldom used, if users remember it exists at all. Each of Google's services on their own doesn't always live up to a $10/month price tag, but when combined, they earn their keep and then some.
For instance, even if you run out of devices for Google Play Music, YouTube Red and YouTube Music don't have device limits, ensuring that you'll still have some music capabilities and all of your video perks on all devices. YouTube Red allows you to make and download playlists almost as easily as Google Play Music does, and the playlists containing compatible videos appear in both YouTube Red and YouTube Music, allowing you to make playlists on YouTube's desktop app and listen on the YouTube Music Android app.
Then, of course, there's Google Play Music's Family subscription, which allows users to pay $16/month for up to six users instead of $10 for one. In addition to sharing access to 40 million songs in Play Music's streaming library, the other members of your Family subscription also get YouTube Music and YouTube Red, eliminating their ads and enabling offline/background playback. Even though my family doesn't use Google Play Music as frequently as I do, they're more than happy to be rid of YouTube's ads and take advantage of offline playback.
Merger on the horizon
Google having this ill-advertised, kinda confusing three-for-one subscription isn't exactly helping subscription numbers, and of course having to support three separate apps with different libraries, capabilities, and UIs divides Google's efforts and keeps users from having a unified library. There's been talk of Google merging the services into one, and Google confirmed its intentions to merge the services back in the summer. In fact, the music teams for Play Music and YouTube merged some time age, but for now the user faces three separate but linked services with their own perks and pitfalls.
Regardless of the confusion surrounding Google's Play Music/YouTube Red subscription, it's hard to deny the benefits of the bundle when you see them all together:
Access to 40 million songs in Google Play Music's subscription library, as well as up to 50,000 personal uploaded songs from up to 10 devices and from most internet browsers
Combine personal, uploaded music with subscription library tracks in playlists and personalized radio stations
Download all your favorite music for offline playback
Watch billions of hours of videos on YouTube from creators big and small around the world without ads on your phone, computer, or TV
Listen to YouTube videos while completing other tasks on your phone, or with the screen off, with background playback
Save YouTube videos locally to play offline
Watch YouTube-original shows and movies
Listen to or watch millions of musical YouTube videos
Explore new music through customizable radio stations
Take your favorite musical YouTube videos offline with Offline mixtape and offline playlists
Really, if you live in a country that offers Google Play Music and YouTube Red, you'd be crazy not to subscribe (opens in new tab) to all that. Even Netflix doesn't offer that much for $10/month, and we all know you can find way more stuff to watch on YouTube.
See at Google Play (opens in new tab)
Updated January 2018: Updated to reflect name changes and the continued wait for a unified service.
Android Central Newsletter
Get instant access to breaking news, the hottest reviews, great deals and helpful tips
Ara Wagoner was a staff writer at Android Central. She themes phones and pokes YouTube Music with a stick. When she's not writing about cases, Chromebooks, or customization, she's wandering around Walt Disney World. If you see her without headphones, RUN. You can follow her on Twitter at @arawagco.
My main reason for going with google play music instead of spotify was the ad free youtube experience!

I subscribe to play music but still get ads in YouTube. Am I doing something wrong? I'm in the UK

Yeah, it's only for Americans (and Australasians... I think). 10 quid for Google play music on its own for us Brits. I say no.

I'm in the UK and had it for a month or two, presumably as part of a trial but it was some time ago now and I don't fully remember. Pretty frustrating given that it was a while ago and it worked almost perfectly, not sure what the hold up could be.

#firstworldproblem admittedly, but as with a lot of Google services that are available in limited countries "It's coming" (Although I will believe it when I see it). If it ever does arrive, I'll consider paying for both Spotify and GPM/Youtube Red etc. for a few months to see which I appreciate more. I don't mind £20 a month for a bit, but I'd prefer not to spend that much permanently if I can avoid it.

I'd disagree and say it's Netflix. Can't get YouTube red here anyway.

I did say that where YouTube Red is available it's a steal.

Yeah the second sentence was meant as a dig at Google/YouTube, not the article. But I still think Netflix is better, even in regions with red. People pay Netflix to watch things they want to see, they subscribe to red to remove things they don't want to see. Or in other words, Netflix charge for a positive experience, red charges to remove a negative one.

Adblock - no ads on YouTube and nothing to pay for the pleasure

But then you don't get offline playback or background playback.

If he's using an ad blocker on his phone that's capable of blocking YouTube, background and offline playback are incredibly trivial feats.

"Really, if you live in a country that offers Google Play Music and YouTube Red, you'd be crazy not to subscribe to all that." Launched in 2015, available in only 5 countries. Sure, a killer service.

Completely agree, been a YouTube red member from the beginning and love the additional services bundled for one price. Totally worth it.

I... Actually think you have misread this comment, and do not agree with it.

His point just flew over your head :D

Google is glacier slow when expanding their services. I had GPM till last month. I'm trying Spotify now which is cheaper. If Youtube Red was available in Colombia then I would stay with GPM but that ain't happening anytime soon.

It's been my go-to since I can remember. Sucks that it's not super widely available, but who cares about the rest of the world when you're an American right? Jk. But really, if you have an Android device, if you have a Google account, and if you're looking for a music subscription service, there's really no excuse not to get GPM if you can. FYI, if you reach your device limit in Google Play Music, a quick contact to Google will sort things out via a reset. They usually say the same thing "We'll do this one time" but I've done it at least two or three times a year depending on how many phones I go through (usually a combination of trying the latest and greatest and replacements I get if there's issues).

I use YouTube Red too to get rid of ads, because they're annoying as hell. Speaking of annoying things, where is the dark UI theme on mobile that's on the computer now? Is it REALLY that hard to put on mobile?

Now that the whole app is white, hopefully not, but really, WHERE THE HELL IS MY DARK THEME?!

This. Why do Google hate things that look nice and are easier to use?

Google hates Black Themes on their mobile apps. #BlackThemesMatter

All Access is the way to go. Worth the money.

I could care less about the music streaming. I'm happy with Apple Music there. For me it's well worth the $10 to ditch the ads on YouTube alone.

Background play on YouTube was available on another free 3rd party YouTube app first but then Google stole the feature and forced the devs to remove it from their app so that Google could charge us for it. Prick move. The same app also had the picture in picture feature that Google is gloating about in Android Oreo.
With that said GPM is only the best value because of the removal of apps on YouTube along with the background play. If it wasn't for those things I'd be on Spotify.

Those apps were web wrappers, not the best experience. They were also slow and had an ugly UI. The PIP mode works tons better if integrated in the OS.
But I do not think they should charge for this.

YouTube Music is so underrated! Even Apple Music and Spotify can't compare to what's in YouTube! There's music that those companies don't have license to stream that people have loaded to YouTube. I'll never cancel my subscription I'm still getting it for $7.99 since play music was in beta, lol!

I agree, I love my Google play music /YouTube red subscription! I've had it for 3 plus yrs and recently added the family plan once I noticed my daughter always had to watch ads. Lol, I hadn't seen an add in YouTube in so long I forgot they existed! So I added my family so they can forget the ads too!

I'd switch to play music immediately once that ugly player is modified into something pleasing to the eye! Compared to Spotify that entire app is a failure!

Even better with grandfathered Beta pricing

Yeah, I had that. Then I got a family plan. They say if I ever go back to single I'll get it back, but that's probably not happening any time soon.

Spotify works everywhere for me, including my Gear S3 watch and my Roku player and my 2nd phone (Lumia 950). GPMusic does not work on any of those. Also, I don't find way more stuff to watch on YouTube compared to Netflix.

Lol ok.. wow. Netflix has nothing

Really? Nothing? I'm not sure whether to take this comment seriously or not. There are a whole lot of people subscribing to watch "nothing". I forgot "lol...wow...ok". Now I have just enough snarky to make my opinion sound "right" enough. Ugh

Nothing? The whole Marvel series justifies the subscription alone, their original series and movies? I simply can't keep up. I finish one show just to see that another 2 that interest me have popped up.

it is a bummer Roku doesn't have a GPM app.

Had a free trial of Google Play Music, didn't see much reason to use it over any other streaming service until I noticed youtube had no ads. YouTube red is the reason I have a subscription, otherwise I would have Spotify like many of my friends.

Best deal for 7.99 month.

Straight up! Beta pricing 4 lyfe!

How did you get 7.99 month for YouTube red?

$7.99/mo was the introductory price for Play Music (which comes with complimentary YouTube Red), and surprisingly, users who signed up during the initial promotion period are still grandfathered into the $7.99/mo price.

Couldn't agree more! I've subscribed to Google Play Music since it came out. I switched to the family plan so everyone at home can use it and it gets used more than any other service. I just wish Google would add the Bob Seger catalog that every other service has, but at least I can listen to it with Prime.

I originally got YouTube Red to get rid of ads since I watch a lot of YouTube daily and was ok with only having my library on demand with Google Music on my devices. After giving GM a try a few years back it's been hands down my favorite streaming service I pay for. Especially since I can also stream Google Play Movies/TV in YouTube as well.

Can we please get smart playlists?!?! I mean, Google is the king of online databases -- how do they still not have this feature? How is it that iTunes still provides superior user flexibility? Why don't sources like AC not advocate on our behalf? Heck, as a stop gap how about just giving us the ability to sort a playlist by 'last played'? Come on, Goog! .P.S. Despite the rage this causes me I've been a subscriber since the beta. Gave up my 7.99 sub for the family plan.

It would be great for Google to officially support smart playlists, but there is another option. There is a Chrome extension that adds smart playlists to GPM. It's free for 1 smart playlist and $2.99/month for unlimited smart playlists. Look for it in the extension catalog if you are interested. The free version works great for setting up static playlists based on "smart" rules. The paid version is required for live smart playlists that update themselves. Just a word of caution, Google is revamping GPM and Youtube Red into one service soon, and I'm not sure if the extension will be compatible with the new service. I doubt the new service will erase existing playlists though, even those created using the extension.

I uploaded 160GB of my own music to GPM. Only made sense to supplement that with a subscription. Added my girlfriend to my family plan and she loves it.

Just wish I could get You Tube Red in Canada. I would have stayed with Google for music if that was the case.

I'm in Canada and have been using the Google Music Family pack for $15 a month. I love it and recommend it to everyone. Especially because we have six different users.
The one thing that would most certainly guarantee I become a life long user of the service, would be adfree YouTube. That would blow my mind.
But honestly, I can't recommend the service enough, especially to families.

Do you not get ad-free YouTube with your family pack?

I use Amazon Music Unlimited, purely because it is cheaper than Google Music if you are already a Prime member.

I think Amazon Music would have a lot more users like me, if I could easily import my playlists.

It may be the "best buy," but Spotify has the superior app and algorithms for discovering new music.

Agreed for discovery. I had to switch from Spotify a while back because of BT audio issues with my car (the app would go into a mode meant for newer models with the app-connecting feature, but my car didn't have that, and I therefore couldn't control my music), so I have Play Music now. The only thing that keeps me from switching back to Spotify is the hassle of rebuilding my library and re-downloading all my offline music. Add-free YouTube is nice though.

not to mention that with amazon prime account i can get spotify premium and hulu for 5.99 a month

Hi. I'm an Amazon Prime member. How can I get this Spotify-Hulu deal?

I totally agree! Spotify has better radio stations as well, but I'm currently taking advantage of the free Play Music for 4 months

Every time I've tried GPM I'd be plagued with songs skipping for no reason, hourglass of death etc. It drove me nuts. When I say skipping, I mean I'd be listening to a song and randomly during the song, it would skip to the next song for no reason. Did it dozens of times. I Googled and found many folks had same issues. I'd ditch it for a year or so, then try again, you guessed it, same issues, even with newest updated app. They are offering 4 months free again, so maybe I'll give them one more shot. If it fails again, I'll stay with my trusted Spotify account.

Yup tried spotify because it plays well with ps4 but always came back to red because i love YouTube.. i can always make a playlist and have music playing in the background thru my network i guess lol .as long as i open uo media player first then my game

Does Google play music play well with Amazon Alexa it is Spotify and Amazon music the better options for this? I have a house full of Alexa's and Amazon music works really well but the ad free YouTube is enticing.

Alas, Google Play Music doesn't play as well with Alexa...

My gear wont stream Google play music

It's a shame YouTube Red is only available in a few countries

I have thought about cancelling my google play music service a few times the last few months. I just don't use it anymore and I'm fed up with device limits. Currently not using it on my Note 8. However, I never will cancel for two reasons...I got in on day one so the price for me is $7.99(hey it's savings) the second reason being....no ads on YouTube. For me personally, this is the biggest reason why I will continue paying. Sure, I can root and get around the ads but that's so 2015. Rather just pay and be done with it.

Tried streaming Google Play Music in my car and there is such a lag between songs. Got too frustrating, so I'm not even going to waste my money for a subscription.

Look for a 'playback cache' setting. I don't use google play music, but the setting in iTunes stores 200 MB to provide smoother streaming playback and less dats usage.

Yeah, guilty as charged... My one and only iPhone was a 4S. I had it set up on my pc, uploaded all my cd's, bought a tonne of music albums because: A. I could afford it. B. Quality. C. Piracy via universal file converters stripping music off off YouTube is labor intensive, and theft. So yeah, heavily invested into iTunes. The iTunes android app is excellent. Quality of sound is outstanding. I still have access (because I continued to paid for the cloud storage) of all my uploaded music. Along came subscription music service... Being someone that bought a tonne of albums, $9.99 a month was like stealing. The ability to download anything ever released that interested me, or new releases.... I love it. A grest feature on Android iTunes is the ability to select that all downloads are saved to micro SD storage, not internal phone storage. I don't stream music and waste data away from home. That is why micro SD expandable storage on my phone matters to me. I don't have everything there, but 75.1 GB of music there at the moment on a premium Samsung 128GB micro SD card. Had I not ever bought that one iPhone, then yes, I have no doubt I'd have adopted Google Play music. As the article explained, Google streaming mudic services is a mess in three divisions.... No thanks. Lol, but I do buy my books through google play books. Cheers

I've subscribed to Play Music for at least three years. I still don't have YouTube Red, though, as Google keeps limiting their services to the US and another handful of countries. No Swedish voice Assistant, no Pixel products, etc.

You know, the funniest thing happened to me while trying both services. I could not open another app and still hear the music because it automatically stopped playing. I use Amazon music because of my Prime Membership and their app doesn't stop playing if I minimize it. Am I doing something wrong or is Amazon's app simply better?

Nice if you can get it. But since I can't I'll be sticking with Spotify. Honestly, even if I could get this, Spotify Connect has me hooked in. We have a mixture of Echo/Google Home in our household and Spotify handles all of them as well as the PS4/Xbox One. It'd take some kind of monumental effort on Google's part to be in all the places Spotify is. That and my country.

I personally am greatly enjoying Tidal. Yes, it's more costly ($20) per month, but I really enjoy the HiFi lossless streaming and downloading of albums to SD card. No, it's not DSD512, but it's very good for using on your phone. My headphones cost much more than my phone and I'm also running the audio through an external DAC, so I get the fact I'm in the 1% or less of the market Google is aimed at. After all, it's business and they can make a lot more money getting a large number of subscribers at a lower subscription rate than catering to a niche market. Just my input for anyone crazy about audio quality. Tidal does have a larger music catalogue though, if that's a consideration. When I buy vinyl through Amazon, on most albums you automatically also get the digital version through Amazon music which is a nice token.

The Google Play Music/YouTube Red bundle is such an amazing deal. I could find any song I want on Google Play and have made dozens of playlists, I would like a dark theme though, but it's not a deal breaker. I hear all my friends talk about watching ads all the time on YouTube and for a bit I was confused as to why, then I realized that I've had YouTube Red for like ever now and haven't seen an ad in ages. There's honestly no other choice if you're in the US.
Android Central Newsletter
Get instant access to breaking news, the hottest reviews, great deals and helpful tips
Thank you for signing up to Android Central. You will receive a verification email shortly.
There was a problem. Please refresh the page and try again.