Google Play Music update adds machine learning and a fresh new look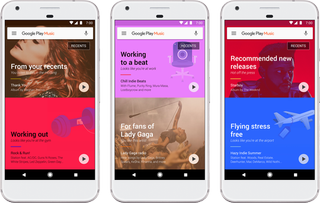 Google has just announced the biggest overhaul of its Play Music streaming service in years. On the face of it, Play Music has moved beyond the card-centric design of old, and now shows an interface built around album art, bright colors and vector graphics. Instead of shaded squares, graphics now expand to fill the entire window. (And there's a lot less orange going on, too.)
But aside from these superficial changes, the way Google recommends music for you is about to get a whole lot smarter, thanks to AI.
Google says a new home screen will act as a "personal DJ" — one that's sensitive not only to days of the week and time of day, but also where you are and what you're doing. (Based on data from the sensors in your phone.) Ideally, Google will learn now only what kind of music you like in general, but what you prefer to listen to in specific places, at specific times, and while doing specific activities (for example, working out.)
And to make sure you're never without music when you're offline, the new version of the streaming app will maintain an offline playlist of stuff you've recently listened to at all times. It's unclear exactly how this works, but we're guessing it's just Google being smarter about presenting music it's already cached in the background.
We're not yet seeing the Android update on any of our devices, however Google Play Music on the web (opens in new tab) already has the new look, if you want an early peek.
Android Central Newsletter
Get instant access to breaking news, the hottest reviews, great deals and helpful tips
Alex was with Android Central for over a decade, producing written and video content for the site, and served as global Executive Editor from 2016 to 2022.
looking forward to this, the outdated UI was one of the weak points of GPM

Hope this means they change the way album art looks while playing music. I absolutely hate how GPM crops the art.

agreed, why can't they just show full album art

I hope so, too. GPM has needed a UI update for years. I'm not sure these screenshots look better than the current UI. I'll wait and see the rest of the update, but based on other recent Google app updates...my expectations are super low, though.

Same here. Soundcloud does it too.

What's up with all the colors though? Would it be so hard to offer a light/dark mode like other apps do?

That there is one of the reasons I've stuck with Spotify. It seems like the music would be the reason but it's more about the app. Of course I have to have both on my phone because Google forces GPM on my device and I can't remove it.

No thanks, i will simply press the shuffle button. Bye AI. I dont need you.

Can't wait for this, where is that update!

It'll take 4 months to roll out. Because "Google"

Hello hello, do you want to subscribe the family plan with me?

Have the update on my work iPhone but nothing yet on my Nexus 6P.

I would just love for any update at all to come to GPM for Android TV. AI is cool and all, but I'd just like podcast support on my TV without having to cast from my phone. /off-topic whining

No, that needs to be added. It's on-topic whining.

I'd like podcasts on my GPM, period.

You had me at "a lot less orange."

Yes! That orange was brutal to look at!

it's ain't that much less!

So instead of the much needed ui overhaul to make it more functional as a music app, they decided to add another layer of irritating gimmicks to get between me and my music. Great.

I'll reserve judgement until after I've tried it.

you nailed it, just a frontpage to the app. still a mess to browse around and no "added to library" indicators in playlists. the worst part is that i want to like this

The UI overhaul needs to include much-improved navigation or else they've wasted an opportunity.

I agree. Listening to what users want and need would go a long way to improve Google services.

Gimme. Gimme! GIMME!! GIVE IT TO ME NOW, DUARTE DAMN IIIIIIIIIIIIIIIIT!!!!!!!!!!!!!!!

You will get nothing and like it.

Mmm... intriguing. I wonder if it's good, though, because so far their radio option is really crappy compared to other services.

When will Google Play Music allow for Google Drive integration? That's all I care about.

I got the update on my iPhone.
It's okay, not a huge change imo.

Wow, about darn time. I felt like one I've been using something out of 2008. Still a good deal with YouTube Red @ $7.99 month

APK Mirror has the update now.

this might be good for people who don't know what to listen to

That's what I was thinking as well. Otherwise I'm very specific on what I want to listen to at any given time so the AI feature is worthless to me. Not to mention (putting on my tinfoil hat for a moment) it seems like just another excuse to collect more info on you (at least it's opt-in!).

meh, this ain't such a big update. It's basically just a revamped home screen and some location awareness. Much ado about nothing here.

Still has that ugly orange everywhere but the initial home screen. Album art is still cropped like before, too. I love the service and I've been paying for it since launch but the app needs more of an update than this.

Get rid of orange theme, add true algorithm based learning for music such as Pandora (they're still the best in that aspect), and alarm clock feature and im good to go. Oh since we're here, if Google can make it easier to identify and add newly uploaded music to existing playlists that would be great.

Oh and since i forgot, really hope they update the casting graphics, it is so boring and watching a square album cover randomly floating around on my tv with a black background.

Really don't like the new interface. Much prefer the old dumpster-fire to this one.

Yes, a proper landscape mode would be nice. Art on left (or right) and the track list the other column. My handset sits landscape in the car, so would like the choice. They're not alone. Beyond pod is also rubbish in landscape. Really good voice control could be useful.
Android Central Newsletter
Get instant access to breaking news, the hottest reviews, great deals and helpful tips
Thank you for signing up to Android Central. You will receive a verification email shortly.
There was a problem. Please refresh the page and try again.