Google Play Music becomes the default music app on Samsung phones and tablets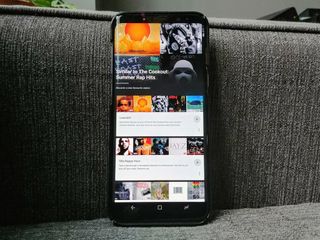 Google has partnered with Samsung to offer Google Play Music as the default music player on the South Korean manufacturer's phones and tablets, starting with the Galaxy S8 and S8+, which are going on sale in the U.S. starting today. The partnership includes exclusive features for Samsung customers, including a three-month trial to Play Music. The offer is available globally, but is limited to new subscribers and not current Play Music customers.
Samsung customers also have the ability to upload and stream 100,000 songs from their own music collection into Play Music, or double the storage capacity usually offered to customers. Google is also touting integration with Bixby, Samsung's personal assistant on the Galaxy S8. When the feature goes live later this spring, you'll be able to ask Bixby to play your favorite tunes on Play Music.
Google's streaming music service has lagged behind Spotify, but by teaming up with Samsung, the search giant has the potential to attract millions of new customers. And Samsung gets to move on from the failure that was Milk Music.
Android Central Newsletter
Get instant access to breaking news, the hottest reviews, great deals and helpful tips
Harish Jonnalagadda is a Senior Editor overseeing Asia at Android Central. He leads the site's coverage of Chinese phone brands, contributing to reviews, features, and buying guides. He also writes about storage servers, audio products, and the semiconductor industry. Contact him on Twitter at @chunkynerd.
So, no native music player on the S8? Just Google play?

You can download the Samsung Music Player from the store still for local content playback without using Play Music if you so desire.

Thank God. Play Music for local playback always leaves me wanting.

Really? Download only, my library, pick song. What else do you need for local music?

Yes its better that way Why two music apps on a phone?

I have double twist and I like it

When Samsung gets the ability to set Play Music songs as alarms and ringtones as an exclusive first, I'm gonna laugh. Then I'm gonna cry.

No.
"And then keep your Galaxy S7 and use the new feature when Bixby comes to it."

I'm I missing something here. Because I been doing that for ever lol alarms and ring tones. But then again I use Samsung music player. Is that why I can? 🤔

Play Music's files are encrypted. Other apps can't use them.

Shouldn't you get a DRM free mp3 when you purchase a song. That can be used as a ring tone.

Once you've bought a song you can indeed get a DRM free copy of your tracks... On a desktop or laptop computer. On the mobile app, it treats all music files you download through the app as if they're from the subscription library.

Just use the Music Mate app. Lets you save Google Play Music (even faster than the official app) in a way that's playable in other apps.

Ummmm..... I use a goole play music track as my ring tone.....

Awesome!! Good job Google and Samsung getting this worked out.

Sucks doesn't it? They gave us Google assistant, and it won't play anything from my onkyo music player.

Hopefully they get an influx of users and they all tell GPM to fix their UI. All I want is to see album art properly in the Now Playing and I will bail on Spotify and return to my beloved GPM

Hopefully we'll get Play Music support on the Gears S3....

This is what I'm hoping for. I got the Gear S3 with my GS8 and it seems as only Spotify will work. I don't have long left on my Microsoft Groove subscription...maybe a week or two...so I'm hunting for a replacement in my new Android adventure. Spotify is the only one that runs on Windows, Android, Roku and Alexa. I have all of those.

I actually subscribe to Play Music and just got a S3. I am debating whether to stick with Play Music or try out Spotify just to get the app working on the watch. I don't understand why Samsung is fragmenting users by making Play Music the default on the S8 and making Spotify the default streaming player on the S3? If they just make an app for the S3 like Spotify, then everything would make sense.

Oops then...Disabling Google Play Music is one of the first things i did on my new S8+ (as i do with many other apps that come with these phone which i'll never use).

actually, it looks like the Google stuff i was able to uninstall (not disable)...Now, the Verizon apps are another story (have to disable, can't remove 'em!)

Milk Music was awful . . . But I like Google Play Music quite a bit--hopefully this bodes well for deeper integration in the future, and yes, ringtones/alarms would be a dream come true.

I miss Milk Music. I always used it when I had a Samsung Smart Television.

Good job Samung. Now get please get rid of or let me uninstall: The Samsung web browser
The Samsung email client
The Samsung calendar
The Samsung app store
The Samsung gallery app
The Samsung memo app
S Health
S Voice
Samsung+
Samsung Smart Stay
Samsung Cloud
Samsung Pass
Samsung Gear
Flipboard

While I mostly agree the Samsung browser is much faster and snappier than chrome, but yeah chrome has more features but Samsung browser has ad blocker support.

But can I use the Samsung browser at home on my personal computer and at work on that computer? Chrome let's me do that.

Chrome is awful on mobile. My phones frequently hit 70 CENTIGRADE after 30 minutes on the stuff. I shoehorned the Samsung Internet Beta onto my Xperia Z2 and Z5 Premium, and it blows Chrome out of the water. For starters, I never hit 60 centigrade, and it also renders MUCH faster...

See, I can't even hit the"Edit" button on my comment above on Chrome! It's awful. I take offense to removing S Health. I have it synced to my Fitbit and MyFitnessPal accounts, and it's amazing. It actually breaks Everything down for me, Google Fit just shows me a pie chart with no context at all. Also, to get granular information on MyFitnessPal you have to pay up, but S Health reveals those details already without having to pay...

How did you sync it to fitbit?

Just think how much bigger this list was a couple of years ago.

I actually installed Flipboard to my phone. I like it as a news aggregator.

How do we take advantage of this?

Yay! That's a nice, first tiny step. Now, if they'll just do something about those other 67 duplicate apps. 😃

I would much prefer Google not forcing their apps on the oems. Russia finally got something right. Many Google apps including Gmail are horrible in comparison to Samsung's default in my opinion.

Then Samsung needs to break off and just run Tizen.

I don't think Samsung is quite there yet. But they are brave when it comes to making their own apps, some a lot better than Google's IMO. Email app is one of them.

UGH. Will this mean Samsung's amazing SoundAlive equalizer is also gone as well? (Because I HATE GP Music with a passion, chief reason for which is that it's nearly unusable without All Access, which is conveniently not available in my country. The only reason I don't disable it is because I need that app for Android Auto for some reason...)

Google and Samsung want to know what audio files you are playing, even when you're not paying.

Thank goodness for that duplicate app is gone Bixby next

Home button gone, software keys camen, music app gone What nxt?

What about the Gear S3 and it's music transfer? If they make that work then it would be the best music merger! I love Google Play music!
Android Central Newsletter
Get instant access to breaking news, the hottest reviews, great deals and helpful tips
Thank you for signing up to Android Central. You will receive a verification email shortly.
There was a problem. Please refresh the page and try again.