Google Play Music All Access live on the web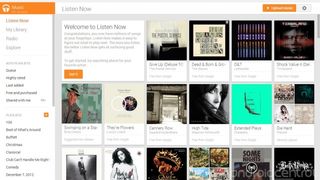 Earlier in the still-ongoing Google I/O keynote, Google announced Google Play Music All Access, a new subscription service aimed at providing any music you want for a monthly fee of $9.99 ($7.99 if you try the free trial before June 30th). The service will be available on both mobile devices and the web. The web version just went live (opens in new tab) for US users (internationla is coming 'soon') is asking us to join the free trial. We're not seeing it on Android just yet, but it's a safe bet that we'll be seeing it very soon.
Follow our live coverage of the Google I/O keynote for the rest of the day's news!
No update to the Android app?

Expect it later today. Per their previous update history for major things. 4.3 should be announced and with it come updates to Google apps as well.

Update is out on the Play store, just update Google Play Music and it is there!

Already joined the trial, they seem to have all the music I want. Too bad for spotify, I joined last month!

Same here! Digging it so far. It's already got radio stations based around songs I uploaded from my collection. Really amazing. Never considered Spotify or Pandora, although I have free accounts with both. Sorry, but when it comes to Google the words "shut up and take my money" ring true, with me at least.

The first thing I did was check the radio station feature with Red Hot Chili Peppers (My favorite station in Pandora), don't know if its better than pandora yet, but its definely better the spotify's radio.

I'm hoping they update the app to look like the desktop app

But no Play Music on Brazil yet =(

I wonder how good the song catelogue is going to be?

Just signed up and so far Im thinking this is what I want from a music service...I tend to listen to albums or radio stations rather than playlists so Spotify isnt for me and Rhapsodys app was way too buggy.
Hopefully the mobile app will be as nice as the desktop app.

I've been looking forward to this for a while now, but I have two major concerns: offline play back(for travel and instances where I don't have a data connection) and bit rate. I've had Spotify for a month now and really like it, but if Google can match what they offer, plus some, then I'm all in.

Signed up and liking the selection/features so far. I wonder if there is any easy way to import my Spotify playlists - it would be a pain to manually recreate them. I'm looking forward to the mobile app to be updated. Speaking of which, please, please, please have some sort of remote feature like Rdio where I can have my N7/computer plugged into my stereo and have full control my phone.

This was another concern I had, I really hope they have Spotify/Itunes matching somehow. I've got about 1800 songs saved on Spotify now, and I'd hate to have to go back and add the same songs one by one.

Is anyone else in the UK getting the offer for the free trial? I'm guessing it's because I signed up for it with a VPN before it came to the UK and that's all they consider. Hopefully it will come here soon and I can dump Spotify as I prefer a library to playlists. The updated app looks great and unlike so many others supports album artists so I am happy.

Android app update is on the store. All Access access and UI redesign. Looks like the web app on a small screen - Library/Radio/Explore all are available.

just got the Update on my Nexus 7 and my N4...seems pretty good thus far

Thing is that its free on web to browse any album song artist playlist on spotify. I dont want to pay 10 bucks a month to listen to music on the web when I can do it for free from Spotify : (
Android Central Newsletter
Get the best of Android Central in in your inbox, every day!
Thank you for signing up to Android Central. You will receive a verification email shortly.
There was a problem. Please refresh the page and try again.