Google Play Games update for Android lets users record and share gameplay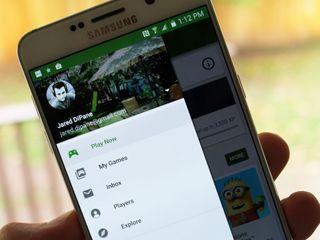 Google is expanding the reach of gameplay video to the mobile platform with the latest update to the Google Play Games app for Android. It allows anyone to record and comment on any game in the Google Play store and then upload that footage to share with others.
Google says:
This new feature is being rolled out first for US and UK residents, but will expand to more countries later. This update is similar to the one that Google added to its YouTube Gaming app earlier in October, except that Google Play Games does not yet have live streaming gameplay features.
The Google Play Games update should be rolling out shortly through the Google Play Store (opens in new tab).
Source: Google
Pretty impressive! Posted via the Android Central App

So, still no Android TV support?

... And that's what I'm kinda down on Android TV, lack of features. Posted from my Nexus 6/Nexus 7 2013/Surface Pro 3

Yeah. It's a real pity even Google won't support it.

Well not only that but it makes me fear it's a (for lack of a better term), "one trick pony" as it has meh but not nonexistent support from devs. Posted from my Nexus 6/Nexus 7 2013/Surface Pro 3

Android Pay - US only. Now on Tap - US only. Youtube Red - US only. Podcasts - US only. Game recording - US only.
Seriously Google? You've the highest marketshare in countries outside the US ... maybe it's time for a change. Luckily many OEMs have an app that does a similar thing, but this just shows how crippled down devices would be outside the US if they would rely on Google Apps/Services.

Now on tap works on Marshmallow and works in any country.
For all the other services, I know how you feel.

It does work in any country, but not in any language! I'm a french Canadian and i can tell it doesn't work in french. I tried to switch to English and it works... When the context is in english too Posted via the Android Central App

Oh I see. For a global company, Google sure does needs to reach outside the USA.

Idk anyone who would care to watch people play mobile games, but this is still sweet. When we die, we go bye-bye. - Sal Vulcano

Hearthstone is huge on Youtube and Twitch, and it's on Android too. I'm sure there are others, but that's the one I am into.

I learn a lot watching other people play games. It helps improve my game. Take for instance Asphalt 8 car racing game. There are often several ways around a track and finding the fastest route and methods to shave time is time consuming. Watch someone else go around a track and see how they do it and then you can improve your gaming. That is just one example. There are other uses.

Something for everyone. Sony Xperia Z2
Nvidia Shield
Xperia Z3 Tablet Compact

Looks like you are enjoying Impractical Jokers?? Me too, that shit is hilarious

And yet to be able to enjoy play games functionally, post app reviews, etc...google still requires a g+ account. Ridiculous... Posted via the Android Central App

I get that there might be hardware barriers but who would watch gameplays in 720p today?
1080p has become the norm now, right? Posted via the Android Central App

Does not let me cross lvl 15 till now Posted via the Android Central App

Does this work on kitkat Posted via the Android Central App

I try to record but it says it's not supported.. :(

yup, I have encountered such problem too...so I search in google for available apps for recording games on Android. And find some that work better than Google Play games.
http://showmore.com/record-android-screen.html

I have a Lollipop version and it is available for me to record but it says that I don't have enough memory.
How much memory I need to recording a game??

That's a pretty cool feature! Will have to try it out. 👍
Android Central Newsletter
Get the best of Android Central in in your inbox, every day!
Thank you for signing up to Android Central. You will receive a verification email shortly.
There was a problem. Please refresh the page and try again.