Google Play edition Galaxy S4 also receiving Android 4.4 update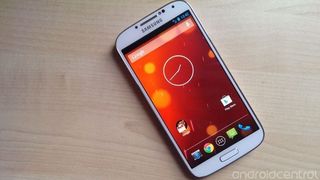 The other shoe drops
Following up on confirmed reports that the Google Play edition HTC One was receiving its update to Android 4.4, the GPe Galaxy S4 has its own update. With a quick mention on the official Android Google+ page, we now know that both Google Play editions have their update just a matter of days after Nexus devices.
This follows the release of open-source files for both devices by the manufacturers early this morning, which is usually a good tip that the full-blown updates will hit soon thereafter. Seeing the update yet? Let members know in the forums how the process went.
Update: Here's the direct download link from Google's servers for those of you wanting to manually sideload the update.
Samsung Galaxy S4 Google Play edition Forums
Source: +Android
Andrew was an Executive Editor, U.S. at Android Central between 2012 and 2020.
Wohoo! Can't wait. Is there a way to sideload? Posted via my Nexus 7

Once we get a download link from someone who has the update and pulled the URL, yes.

Awesome, thank you Posted via Android Central App

And my Nexus 7 is still ...........you know what I mean Posted via Android Central App from Nexus 7 2013

I got the update for my Nexus 7 today. I'm sure you'll have it soon :)

updated my nexus 7- 2013 a couple of hours ago. Finally! Posted via Android Central App

updated my nexus 7- 2013 a couple of hours ago. Finally! Posted via Android Central App

Got kitkat on my 2012 Nexus 7 today finally! I think it's coming around for everyone soon. Posted via Android Central App

Same here! Posted via Android Central App

That was fast. With the X, is that 3 non-Nexus phones already on Kit Kat within a month of the release? Has to be a record.

Can't wait too see the KitKat adoption rate for the first month, it's going to be quite big with both the MotoX and these. Posted via Android Central App

Well, we know there were only 500,000 Moto X's sold, and there were probably only about 50,000 of each Google Play Edition sold. So maybe 600,000 devices in addition to Nexus devices, at most? Considering Samsung alone sold at least 30 million Galaxy S3's and at least 40 million standard Galaxy S4's, plus their plethora of other devices, I would say the KitKat adoption is still in the low single digit percents.

Eager to see another comparison between this and the One after kitkat. The s4 is still a heavy weight beast. Posted via Android Central App

Would it be safe to flash The Goggle edition Galaxy S4 kit kat software update to an unlocked Galaxy s4 I9500 phone ? (The octo core one)

You can get a GPe ROM, but if you do that then why not go ahead and flash something like cyanogenmod or paranoid android or PAC-man Posted via Android Central App

Along with all the bugs and instability. I flashed the S4 4.3 GE ROM on my SGH-M919 a month ago, haven't looked back! As snappy as any AOSP ROM and completely stable. I admire the spirit of AOSP, but for stability, they don't compare to ROMS made for your phone. Posted via Android Central App

Im guessing you have the t-mobile gs4 right?
well i did the samething (Put the Google Edition Rom) and my phone model changed to GT-I9505G is that normal?
DO i now have to download roms for that model that shows on my phone?

I was a CM user for years (since my G1 days) but the GE ROMs are a no brainer for me, they are very stable and available months before the corresponding CM version gets even to the RC stage. I'll probably update my phone to a GE ROM next week, if I wanted a stable CM build I'd be waiting till some time in 2014. Posted via Android Central App

The s4 and the one are great phones, but I think most would probably be turned off at the full marked-up price. I wish that they were cheaper, beggars I'd like a phone with vanilla Android and a memory card slot and a removable battery Posted via Android Central App

The nice thing, for the HTC One at least, is that standard devices can easily be converted to Google Play Edition devices. I converted my HTC One a couple weeks ago in anticipation of KitKat and got the OTA the other day. It's kind of like having two phones because I can switch back and forth between Sense and GPE and get official updates either way. Unfortunately, if I remember correctly, a standard Galaxy S4 can't be completely converted to a Google Play Edition, but they can still run ROMs built from the GPE software.

T-Mobile Galaxy s4 here and after a restart this morning and a manual check I got a 781 Mb update downloading. Yey Posted via Android Central App

I'm downloading it as well! Posted via Android Central App

Thats the TW 4.3 update, this thread is to the GE S4. Now, you can root and flash the GE ROM as soon as the developers at XDA port it to the SGH-M919 Posted via Android Central App

4.4 kikat or 4.3 OTA? Posted via Android Central App

For the first time,I'm actually happy with 4.3 and TW.Im in no big rush for KK. Sent from my Note 3 rockin Jelly Bean 4.3

The battery drain in 4.3 TW is embarrassing.

Enjoy the update guys! Posted via Android Central App

This seems like it took longer than it should have. Why did the Moto X get it before a GPE device?

Your right. I payed a premium for this phone because I wanted vanilla Android and none of the Samsung TouchWiz stuff. But I still don't have 4.4, and Moto X and HTC One GPE already have it? Weird! I tried the Nexus 5, but the batter was really bad, so I had to move back to the S4 GPE. I still really like this phone, but hate that i had to spend so much to get a phone running Android that works a damn. I need the ability to change out the batter or at least have a batter that works all day. I have a heavy phone users, on the phone all day with calls, SMS and web. I can't have a phone with no removable battery die at noon like the Nexus 5 did. I wish there were more options. I have to say the HTC One (with AT&T) was nice for the little while I had it. Once I am finished with my S4 GPE I may upgrade to another HTC phone if Google doesn't make a better Nexus next year. Or if Moto makes a good, big phone for AT&T, that would be nice! The AT&T options now are not all that good. If you like small phones i guess it's OK. I'm a big guy, I need a big phone. lol =)

I make it from 8am to around 7pm on my Nexus 5 with heavy use(calls..a lot of texts and emails..social media) and hit the 14% warning. Some people must be taking the phone to hell and back or something. Moto X received the update before every phone outside of the Nexus 5 which launched with it. The Moto X is a breadwinner for them, or at least they're trying to make it that way so from a business stand point it makes sense to me. Are you upset about the version number you are running because you need something 4.4 offers like right now or simply mad about the number? Posted via Android Central App

Because moto skipped 4.3 to get 4.4 out faster. The S4 GPe will have it within days. Sent from my Moto X!

Has anyone got the ota update for nexus 10?....i'm still on jb:(

Yeah i was able too download the update last week. I had to force it be clearing the Framework stuff, but i was able to get the update. And love it! Can't wait to get it for my S4 GPE.. =)

Thanks for the tip with framework clearing, just got the update...hope you get your s4 update soon :D

I just now got KitKat for my S4 GPE. LOVE IT! =)

I havent received the update yet, but I would be very interested if you come across any issues, as if writing to the SD card is not working. Permission to write to the SD card were disabled with the 4.3 update. The only way around it was to use ES File Explorer or to root the phone and modify a system file.

I saw in the forums that 4.4 breaks ES file explorers ability to write to sd card...Samsung/Google totally gimped this device.

The ES file explorer couldn't actually write to the SD card in 4.3 either. If you moved something to the SD card, the ES file explorer would show it as moved, but if you restarted your phone or cleared the ES file explorer's cache, any write changes would revert back to their old state. 100% agree about Samsung and Google gimping the device...

I HAVE a GPe S4 bought from Google and STILL haven't gotten the 4.4 update.... this is bullshit man smh Posted via Android Central App

I just upgraded to a rooted 4.4 image, and noticed the loss of SD card writing. Really hope a fix is found soon.

Upgraded but everything seems a little... off. Even after a factory reset things like the boot animation stutters, constant "unfortunately" failure(s) in android.media and exchange services making restoring music and images a massive pain, SMS & MMS backed up with GO Backup doesn't restore but this is more likely their issue. And the SD card is gimped as noted above, I'm wishing I could downgrade back to 4.3 easily now

just doenload the firmware from here http://www.sammobile.com/firmwares/2/ and flash it back to your phone

I have the s4 i9500 international do you think is posible to flash this google edition on it ?????? thank you

I have a samsung gs3 with jelly bean 4.3 could i use the update in the link to my phone?
Android Central Newsletter
Thank you for signing up to Android Central. You will receive a verification email shortly.
There was a problem. Please refresh the page and try again.