Google Play Books updated with textbook rentals just in time for school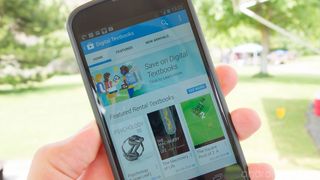 About a month before most college kids get ready to start making book purchases and head into class, Google has flipped the switch on digital textbook rentals in Google Play. Announced back in July alongside Android 4.3 and the new Nexus 7, rental textbooks in Google Play Books will be a great way for tech-savvy students to save money every year.
Google has penned deals with major textbook publishing houses to offer both textbook purchases and rentals at deeply discounted rates when compared to traditional paper books. Textbooks rented in Google Play will be available on any device with a Google Play Books app — such as an Android or iOS device — as well as on the web through Google Play, which is a nice touch.
Great tools for students include bookmarking, annotating and global book search, which can be a lifesaver when you're studying. You can head to the Play Store and start checking out books now (opens in new tab), with many titles offering free samples.
More: Official Android Blog
Andrew was an Executive Editor, U.S. at Android Central between 2012 and 2020.
Package file is invalid.......hmm Posted via Android Central App

Same here. I dunno what's the deal there. I'm a student, so I've been looking forward to this. I've been renting ebooks from Amazon, but I'd happily switch to Google Books its the prices are the same or cheaper. Posted via Android Central App

I can't say enough good things about electronic textbooks -- used them exclusively while obtaining my MBA. I think I only had to resort to physical texts for 4 or 5 books. Seems like a natural fit for Google.

I only tried looking for a calculus book, but renting one through Google was $65. Buying the physical version through half.com was $19+sh

Looks like renting is only possible if you've got the latest version of the Google Play Store app. I've been patiently waiting for it to be pushed to me (so I can avoid the dreaded "invalid package" errors). Most of the textbooks won't show a buy or rental button for me when I browse them. Posted via Android Central App

Package file is invalid... Posted via Android Central App

I would like to import pdfs in play books. Posted via Android Central App

Been able to do this for some time now. http://www.androidcentral.com/google-play-books-updated-new-design-pdf-a... Posted via Android Central App

Why are you showing this on a phone? I'm sure most people will be using a tablet. Or on their laptop through the web.

Doesn't seem to be available in Canada. I can't find any textbooks in the Play Store :(
Android Central Newsletter
Get the best of Android Central in in your inbox, every day!
Thank you for signing up to Android Central. You will receive a verification email shortly.
There was a problem. Please refresh the page and try again.