Google Pixel 2 vs. Pixel camera comparison: Fine-tuning a winner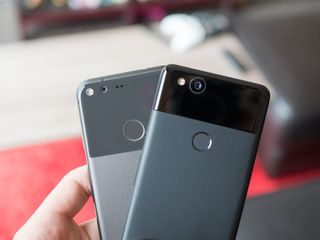 Google's first Pixel phones, released in 2016, were surprise stunners in the camera department. A year on, Google has doubled down on its desire to take great photos by introducing super-advanced post-processing techniques — oh, and it upgraded the hardware at the same time.
Yes the Pixel 2 (and 2 XL) has a great camera. That much was shown in our Pixel 2 review and all over social media the week it launched. But how much better is it than last year's Pixel, which up until a few weeks prior to the Pixel 2's launch was still considered one of the best cameras available?
We've taken both the Pixel and Pixel 2 cameras out for a spin in different situations to get a feel for how they compare head-to-head today.
Daylight
Pixel 2 (left) / Pixel (right) — click to view larger.
As you can easily see, both of these phones take excellent photos in relatively good lighting conditions. What I didn't necessarily expect is to have the results be so close together — a year on, the 2016 Pixel really holds its own. There isn't anything the Pixel 2 does worse than its predecessor, and everything it does better is very subtle.
Color representation is still relatively accurate with a little bit of extra kick, and the Pixel 2 seems to bring out a little more saturation in the colors, and just a bit more light out of scenes that needed HDR to brighten dark areas — this leads to challenging scenes being captured more consistently across the photo as a whole. When you zoom in on the photos you notice the Pixel 2 is much better with sharp edges and fine detail in textures, without over-processing and creating more issues — though it's wroth noting this really is only noticeable when you start to finely scrutinize things.
One other interesting thing to note is that the Pixel 2 has completely eliminated the exaggerated lens flare "issue" that was pointed out on the original Pixels. You now get typical light artifacts and banding when shooting directly toward a bright light, rather than the bothersome purple rings and halos the original Pixels often produced.
Being that Portrait Mode is exclusive to the Pixel 2, it isn't part of this comparison directly. But it is worth mentioning that it's a neat feature to have on the newer phone and it works surprisingly well. It just isn't such a big deal that it'd make an upgrade from last year's Pixel to the new Pixel 2 worth it.
Low light
Pixel 2 (left) / Pixel (right) — click to view larger.
At a glance, things are once again in a dead heat between these two when taking low-light photos. Viewing photos side by side at typical sizes you'd be hard pressed to pick which one came from which phone, and that's a great sign for the original Pixel. The new Pixel 2 tends to take slightly cooler photos, and getting the white balance a bit better seemed to help with color reproduction in some scenes. This wasn't the case universally, though.
Once again when you start to zoom in you'll find where the Pixel 2 has made improvements in fine detail and lines. You get far more detail in textures in dark areas, whereas on the original Pixel things would kind of be blotched together and smoothed out. The same goes for detail in areas with high ISO grain, where the Pixel 2 does a better job defining sharp lines and detail even though it keeps a very similar amount of grain.
The OIS, wider aperture, and overall faster capture time on the Pixel 2 all add up to a more consistent shooting experience in low-light situations, but as you can see from the samples above, the end result isn't much ahead of the 2016 Pixel. That's not a knock on the Pixel 2, honestly — last year's phone was just that fantastic in low-light photography.
Bottom line
With how much of an amazing standout performer last year's Pixel was, it's not surprising that it continues to take fantastic photos a year on from its release. But still, Google has only done better with the 2017 version.
The Pixel 2 has made improvements in capturing fine lines, detail, and colors, all while keeping the same core characteristics from its predecessor. The new phone isn't dramatically better, but it does take better photos overall and that didn't come at the cost of a trade-off in any area — that's what we always like to see. Outside of just photo quality, the Pixel 2 brings an improvement in capture and HDR+ processing time, which has typically been a weak point of Google's camera app.
These conclusions are, of course, prior to Google turning on the "Pixel Visual Core" in the new Pixel 2 (coming in Android 8.1), which should add even more speed and capability to the camera. We don't yet know how much of a quality improvement we'll see, but having the processing handled by a powerful dedicated image processor will definitely be a boost to the Pixel 2's photography overall.
If you still have an original Pixel and are thinking about an upgrade, you can rest assured that your first-gen phone's camera is still strong compared to Google's latest. And anyone looking to buy a Pixel 2 today can know that they're getting a wonderful camera as well.
Sign up for Black Friday email alerts!
Get the hottest deals available in your inbox plus news, reviews, opinion, analysis and more from the Android Central team.
Andrew was an Executive Editor, U.S. at Android Central between 2012 and 2020.