Google pitches Android One as Google Play edition for emerging markets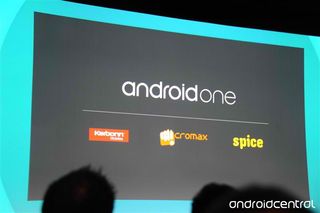 Google has just announced Android One as a reference platform to make it easier for hardware manufacturers to build Android smartphones in emerging markets today at Google I/O. The solution is designed as a turn-key option where Google pre-selects core components and qualify vendors so that phone manufacturers can make hardware at more affordable costs. The devices then run a stock version of Android to keep the software development costs down as well.
Manufacturers can customize the phone for their market with pre-loaded apps that are relevant and hardware features like dual-SIM and FM radio.
Devices launching using the Android One platform could cost under $100 and are designed as stock Android devices for emerging markets like India. Google's Sundar Pichai showed off a device with a 4.5-inch display for India using an attractive design that runs stock Android and auto-installs apps. Additionally, updates will be pushed to the phone similar to how Nexus and Google Play edition devices work.
Partners Karbonn Mobiles, Micromax and Spice are on board at launch to make Android One devices.
Are you excited about the prospect of Android One? Essentially, it's like a Google Play edition device for emerging markets.
Get the Android Central Newsletter
Instant access to breaking news, the hottest reviews, great deals and helpful tips.
On the one side this is a great idea and will cut down on the fragmentation seen in lower end devices. On the other side it looks very much like laying the foundation for the walled garden approach. It will be interesting to see how this pans out. From the Death Star using my LG G2

Google had to do this. Some OEMs are still releasing low end devices with Gingerbread. That is unacceptable.

Moto Maker for Manufacturers? This is how you make it easier for OEM's to make cheap Nexus's.
The Nexus isn't leaving, it's just changing is direction. (Motorola) Posted from my "KNOX-FREE" 4.3 Sprint GS3 Maxx...!!!

How is this the start of a walled garden approach? They aren't making the devices, they're basically just issuing a reference platform OEMs can copy and/or customize. Ideally it should be a hardware vendor doing this, Qualcomm does to an extent but only with higher end platforms. It's like Intel making a motherboard, most PC makers won't use it but that template has been a good start for decades.

Android One will be a huge seller in Latin América even more if they manage to offer low cost data plans. Posted via Android Central App

I doubt it. AC App via Nexus 5

I personally hope this is actually Silver and the Nexus program survives.

This is def for my mom. When can we get it in the states? Posted via Android Central App

I don't really think it's meant for the states, but for emerging markets.

They really should do this kind of thing in the US too so there are more good options like the Moto G and Moto E. They should then make sure all these phones continue to get Android updates for as long as they can run the new versions. My roommate has a cheap ZTE with Android 4.1 that is really slow and won't be getting any updates.

HTC One...Xbox One....now this Posted via Android Central App

This is a solid idea. AC App via Nexus 5

This announcement comes at a time when Mozilla is trying to do a similar thing with its Firefox OS. Posted via Android Central App

No. Mozilla aim at breaking 25$ brier. That's low end for emerging world. There are still plenty of people who live for 1$ for a day or less. 100$ wont bring those next 4B Android users (OK 2-3B is doable ;) )

Awesome. Android updates for low-end devices. Now what about updates for HIGH-END devices? Oh, right, we don't deserve them, coz we've got money to spend.

Hell, I'd be willing to purchase one just for the hell of it!