Google needs to start selling the Daydream Controller by itself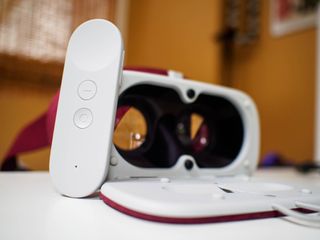 If you want the Daydream experience, at least right now, you need to buy a Daydream View headset. With Daydream support coming to the Galaxy S8 this summer, that's not going to be an ideal solution for some. Many Galaxy S8 owners already have a great VR headset that could easily be used for Daydream, and it came free with the phone. The only thing that headset is missing in order to complete the Daydream experience is Google's motion controller.
The only way to get that controller right now is to buy a complete VR kit from Google, and with the volume of Gear VR headsets out in the world right now that needs to change.
There's something of an unspoken secret with Google Daydream — the headset is actually just a plushie version of Google Cardboard. There's no additional hardware in the headset, all of the Daydream magic is done in software thanks to Google's rigid hardware requirements. The only piece of hardware that is actually mandatory for Daydream to function is the Bluetooth wand you get with Daydream View, the Daydream Controller. Google has made this controller a standard, and said any company can make Daydream headsets if this controller is included.
But with the Galaxy S8 adding support soon, the script needs to be flipped a little. While Google gets lots of points for making Daydream View ultra comfortable and crush-proof, Samsung's Gear VR headset is a more immersive experience and it's actually built for the Galaxy S8. It's going to be a lot easier to convert Galaxy S8 owners to Daydream if it's possible for those who already own a Gear VR to just add a Daydream Controller. If you offer a more compelling user experience with deeper integration with Google services, which Daydream absolutely does, this will be a win-win for a lot of would-be VR fans. It's already possible to use the Gear VR to run Cardboard apps, so this really isn't a leap.
This extends well beyond the existing Gear VR owners. Google Cardboard headsets are everywhere, in every kind of configuration and made out of every kind of material. Offering those people, even the ones with simple pieces of cardboard, a way to upgrade the experience with the right phone is a great way to continue growth.
Daydream View is still the best overall way to enjoy Daydream, and will likely continue to be the most common way users jump into this platform, but it shouldn't be the only way. There are great alternatives, and Google's support would go a long way towards fringe user adoption.
So come on, Google. Do the thing.
Would there be an issue with just using the controller that comes with the new Gear VR? I don't know what differences there might be between the two controllers, but just using the controller made for the Gear VR on the Galaxy S8 would seem like the better option.

The buttons aren't the same, so there would be some issues. Also, the Gear VR controller isn't using the same internal hardware.

There's a third party daydream controller for sale on gearbest right now - was very positively reviewed on daydream district :(

It Looks like Nexus Player's remote in white.

Remember with Cardboard how you have to scan a QR code to pair a phone with a headset? The web says that the code contains configuration data specific to the headset. I think there's actually more to the headsets than meets the eye. (Ha! bad pun.) I wouldn't expect to be able to swap headsets in the first place.

I was going to write more here, but save it for my own blog since they seem to block material without letting you know what it was. Let's say I have a solution for creating a better Daydream device.
Android Central Newsletter
Thank you for signing up to Android Central. You will receive a verification email shortly.
There was a problem. Please refresh the page and try again.