Google: More than 400,000 Android devices activated everyday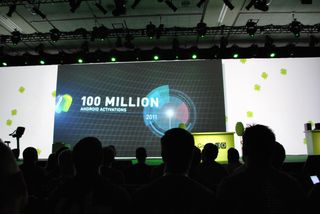 We're live at Google's I/O Keynote 2011 and Google just filled us in with an incredible number. Everyday there is more than 400,000 Android devices activated. Wow! That's 100k more than what we were seeing back in December 2010 when Andy Rubin tweeted that 300,000 devices were being activated on a daily basis. And before that, Google announced that there were 200,000 devices being activated daily back in August of 2010. A broader look at the numbers as a whole shows:
100 million activated Android devices
400,000 new Android devices activated every day
200,000 free and paid applications available in Android Market
4.5 billion applications installed from Android Market
Needless to say, that's a whole lot of Android devices and apps being put to use out there. Likely more then Google themselves expected when they got into this game.
100MM *activated* Android Devices and adding 146MM new devices per year.
Vs.
160MM *sold (since 2007? are they all active?)* iOS Devices and adding 117MM devices per year. Looks like Android's figures will overtake iOS figures by May 2013 at the latest, assuming no acceleration/deceleration in these rates (which is unlikely). There appears to be plenty of time for fanboy arguments.

I remember a guy saying that Android would never be number one in the US, and would always have a single digit share of the market. Now Android is number one in the US with 37% of the market. Where are the idiots when you want to rub it in their face. Oh, Rim's numbers have been in steady decline for months, and Apple's market share has flattened or barely grown for sometime. Wait till 6 months to a year from now, Android's numbers will be even more insane.
Android Central Newsletter
Get the best of Android Central in in your inbox, every day!
Thank you for signing up to Android Central. You will receive a verification email shortly.
There was a problem. Please refresh the page and try again.