Google Messages on the Samsung Galaxy S21 gets a new One UI-inspired design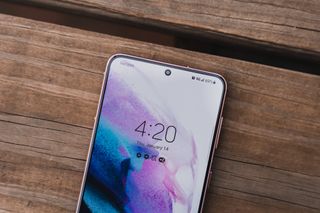 (Image credit: Hayato Huseman / Android Central)
What you need to know
Samsung and Google have redesigned the Google Messages app on the S21 to match the aesthetic of other One UI apps even more.
It's an extension of Google and Samsung's messaging partnership and adds a new spaced out home page to the app.
Reports from users place this as a server-side upgrade, so it should appear on your phone once Google flips the switch.
Samsung earlier this year launched the Galaxy S21 with 'native' Google Messages integration and a new One UI-inspired design. It's part of Google's push to expand RCS (Google's Chat service), and reposition Messages as an iMessage replacement on its most popular partner. Now, Google is redesigning the Messages app even more, making the home screen of Messages look a lot more like a One UI app (via XDA Developers. You'll get the large bold text header with all interactive parts of the app being positioned a little bit below that and within thumb's reach.
The update is rolling out worldwide to Galaxy S21 users (and only those, so far). It's not yet known whether Google and Samsung will roll this out to more of Samsung's cheapest phones like the A52 and A72. If Samsung is going to keep it on its flagship phone, however, then we can expect to see it on the S21 FE, Galaxy Z Fold 3, and the Galaxy Z Flip 3, at the very least. Google may also roll out a variation of this design to Android 12, given its current design stylings for the beta operating system.
Google's goals for working with Samsung on this are clear. The company has been trying to expand the reach of Google Messages for a while now, even stepping in to power RCS in places where operators were slow to take the reins. By leveraging its partnership with Samsung, the company can push RCS front and center to a wider variety of users than the Pixel or other stock Android using brands could reach on their own.
Have you gotten this new One UI-inspired Messages app? Let us know in the comments below.
Android Central Newsletter
Get instant access to breaking news, the hottest reviews, great deals and helpful tips
m not liking android 12 at all now
just call it either one ui by google or oxygen os by google
don't name it android 12 vanilla

Google Messages surpassed the Samsung Messages app in terms of quality awhile ago. Nothing new on my Note 20, but nothing expected either.

Wonder if it still kills the encryption feature like revised version currently does.

Nothing for me yet. I've been using Google Messages for over a year now. I do miss some features of the Samsung app and prefer how it works with my Galaxy Watch 3 but I love RCS so much that I can't deal with Samsung Messages and AT&T's lousy Advanced Messaging.

I get RCS using Samsung messages even though I'm on T-mobile and my friend is on some Verizon based MVNO. So, this is not a selling point for using Google Messages. Edit: On my Note 9.

My question is how will this effect "call & text on other devices"? I have a Note and Tab S7. I love the call/txt continuity. This switch to Google Messages needs to work with continuity feature.

The Google Messages app also works with the Galaxy Watch as well as calls and text on other devices for Samsung Tablets, however you need to manually enable it in the Google Messages app. I am now using the Google Messages app in place of the Samsung app, however I do miss the ability to create categories and pin conversations to the top.

Google Messages does NOT appear when searched from my wifi TAB S7. This is common. I even tried looking for GM when I had the Tab S4 cellular model. GM was STILL NOT available to download. I have tried side loading GM too, but app will stay stuck at loading screen. Have tried to launch dozens of times. GM will NOT work as you suggest on a wifi tablet. So my original post (complaint) is still valid. You wrote of manually enabling the GM app. How specifically are you talking about?
Android Central Newsletter
Get instant access to breaking news, the hottest reviews, great deals and helpful tips
Thank you for signing up to Android Central. You will receive a verification email shortly.
There was a problem. Please refresh the page and try again.