Google Maps rolling out new 'Explore' button to reveal tailored local info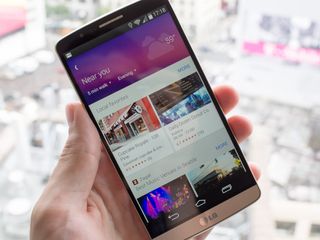 Google is adding a brand new way find out more about your surroundings in Google Maps with a new "Explore" feature. In the bottom right corner of the latest Google Maps app, you'll now notice a small location pin button next to the location button — tap it, and you'll be taken into the new Explore interface with information tailored to your location.
By default you'll see what's going on within a 5 minute walk and is relevant to the time of day and even the weather. You'll see events, restaurants, sightseeing locations, public transit information and more, powered by information from Zagat, your Google+ circles and of course Google's vast knowledge of local information. It's all very similar to what you'd expect to see from Google Now, but more on-demand based on when you hit the Explore button.
When using the Explore button at your current location you'll have the option to change how much you want to see based on how far you want to travel — 5, 10, 15 minute walk, or 10, 20 minute drive — and can manually set the time of day you want to see information for, if you wish. If you choose to move over to a different area of the map, use the same Explore button to see what's going on in that part of the world — Maps will show you how long it'll take to get there, and give you information based on the time of day you choose.
Now when you hit the location button now and Google Maps locks onto your location as a specific place, it'll show the name of the place — connecting the location and Explore buttons — where you can tap to reveal quick information on that place. Whether it's a public market, park or landmark, Google Maps will offer up things it thinks are relevant to that specific spot.
The Explore button should be rolling out to everyone this week, and doesn't require a new version of the Google Maps app. Be on the latest version (updated July 21st at time of writing), and you should see the button appear in the bottom right corner of your maps interface.
Source: Google Maps Blog
Get the Android Central Newsletter
Instant access to breaking news, the hottest reviews, great deals and helpful tips.
Andrew was an Executive Editor, U.S. at Android Central between 2012 and 2020.
I don't see the update in the play store yet. Posted via Android Central App

There isn't an updated version of the app. It's just the previous version, with a flip that Google flips to make the button enabled.

Did you read the article?

I saw it yesterday for the first time. Not sure it is any more helpful than the other way. In other news, this latest update asks me to turn on WiFi EVERY time I start navigation. I've sent Feedback about it to Google from the app.

Funny Google Maps has actually been doing that to me since I got my G2 last year... Posted from my LG G2 via Android Central App

It used to do it once after each upgrade and then when I told it to "ignore" it quit doing it.

I've got it on my HTC One M7. Awesome! Very useful. Posted via Android Central App

Is this on the web app as well?

When you are exploring places nearby is there a way to have the results filtered in order of how close they are to you? Whenever I try to find fast food places or restaurants close to me the list seems to be random locations kind of close but in no particular order. The first one may be six miles away and the sixth on the list might be two blocks away. It's kind of pointless and has been of limited use to me when I want to know what's closest especially during rush hour when traveling 3 miles might take a half hour or more. Maybe this update will do what I need... I should have saved my question for after it hit my phone maybe...

all these updates but wheres the ability to navigate to multiple locations in one trip?

This is a nice feature. One cool thing about it is you can tell it what time of day you want to explore. Late night for example will show bars, clubs, and late night eats. I like it Posted via Android Central App

I can see this being pretty useful when traveling. The "local favorites" listed in my actual locale were pretty accurate.

Great idea, finally Google puts the Zagat info and it's rating system to work. My fiancee travels a lot and uses Yelp like it's her job. This new feature will probably pull her away from that a bit, at least when looking for new restaurants in her immediate vicinity.

5 minute walk? I don't think so. One of the first items shown when I looked right now is a 1 hour walk. It's a 7 minute drive, so maybe the default depends on where you are.

i dont see this on my tablet(N7), but do see it on my phone..