Google makes it easier to find Black-owned businesses on Search and Maps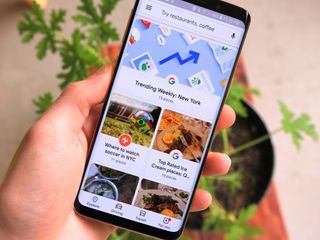 (Image credit: Android Central)
What you need to know
Google has added "Black-owned" as an attribute Business profiles can now adopt.
The company is doing this as part of an initiative to elevate Black businesses in the U.S.
It also announced the inaugural class of its Google for Startups Accelerator for Black Founders.
Google is now making it easier for Black-owned businesses to market themselves as such with a new marker in maps. It's now possible for business profiles to add a "Black-owned business attribute" to their profile so when a searcher enters a term that brings up the store, that attribute will be displayed prominently on both Seach and Maps. Attributes, for the uninformed, are the little things that appear under a business when you search for it in Maps. Things like outdoor seating and accessibility arrangments show up there. Google has also added Woman-led as a business attribute in the past.
Jewel Burks, head of Google for Startups U.S. said:
As the Black Lives Matter created a conversation around how companies like Google supported Black employees and customers, it chose to invest money into inequality reducing initiatives. It donated to a police reform fund last month, it also set aside money to elevate Black YouTube creators. The conversation may not be as loud now as it was in May or June, but Google is still helping regardless.
The company is also announcing two other initiatives to help Black businesses, including the inaugural class of its "Google for Startups Accelerator for Black Founders" program and integration of the Black-owned business attribute into "Grow with Google Digital Coaches" programs.
Google will donate $12 million to organizations tackling racial injustice
Get the Android Central Newsletter
Instant access to breaking news, the hottest reviews, great deals and helpful tips.
Sounds a bit racist to me. What about all the other ethnic groups out there?

I have no trouble finding those for some reason...

It's not racist because of other ethnicities. It's racist because it singles black-owned businesses out as tokens in need of saving by white patronage. It's another in a long line of acts of performative white guilt by the "woke" liberals at Google.

Good feature, and refreshing to see.

This is asinine no matter how you look at it. Case 1: America isn't a systemically racist country and black businesses have equal chance of success as any others based on their merits. Singling blacks out like this actually creates more racial tension by highlighting businesses for no other reason than the skin color of the owner. Case 2: America is a systemically racist country where black business owners are oppressed. Now all the racists know which businesses to avoid or, even worse, which ones to target. Even if you fall somewhere in the middle on your personal belief, you're just changing the proportion of negative consequences between the two cases.

This is the perfect breakdown of the current situation. In either scenario, it paints black people as victims incapable of self-empowerment. It actually an f'd up way of saying, "Know your place, because you'll only advance as far as we let you."

I'd say it's more of "You're not capable of doing it on your own. You need help to succeed." It's very condescending and demeaning. Or in other words, think of how you felt when someone said "You can't do X because you're not smart/ambitious/hardworking/etc enough." Or "rescues" you when you're struggling with something and takeover because they know better than you. Now, it's on a larger scale.

Overthinking aside, I'm glad this exists. Full stop.

Know it doesn't. It makes people unfamiliar with a black owned business aware. Im always looking for a good soul food restaurant, and I'm sorry, black people serve it more to my tastes. Stop overthinking everything.

Being a bit racist no? You think this only applies to restaurants....and soul food restaurants at that? This is for all businesses, not just businesses that offer what some view as services seen as typical for black entrepreneuers.

This is not that hard to understand. Look at the Google Trends results for "black owned" searches this year. Those who are looking for black owned business will use this feature, those who are not will not. No harm done.