YouTube sets aside a $100-million fund to 'amplify Black creators'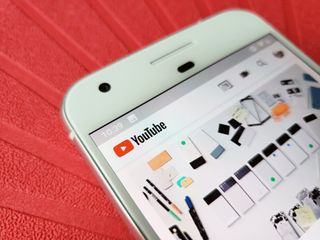 (Image credit: Android Central)
What you need to know
YouTube this week announced the creation of a $100 million fund towards amplifying Black creators and artists.
The company will also use its Spotlight channel to highlight racial justice issues through the month of June.
YouTube earlier this month announced a $1 million donation to the Center for Policing Equity, tackling issues of racial injustice in policing.
YouTube's Susan Wojcicki this week announced a series of updates to the platform, aimed at targeting current social and racial issues. The company highlighted its efforts in tackling and fact-checking coronavirus news as well as its home learning initiatives. More pertinently, YouTube will start a new series of programs aimed at amplifying the voices of Black creators.
Writing in a blog post, Wojcicki said:
Today, we're announcing a multi-year $100 million fund dedicated to amplifying and developing the voices of Black creators and artists and their stories.
And one example of the type of content we'd like to elevate on the platform will premiere this Saturday, June 13. We'll host a live stream fundraising event produced by YouTube Originals (YTO), "Bear Witness, Take Action." The YTO will bring together creators, artists, influential public figures and prominent activist voices for roundtable discussions and musical performances, with donations benefiting the Equal Justice Initiative.
Through the month of June, our Spotlight channel will highlight racial justice issues, including the latest perspectives from the Black community on YouTube alongside historical content, educational videos, and protest coverage. This content showcases incredibly important stories about the centuries-long fight for equity.
YouTube's moves come after the company announced a $1 million donation to the Center for Police Equity about a week ago. Parent company Alphabet will also invest in other racial justice initiatives, donating $12 million to a variety of organizations, the company announced last week.
YouTube pulled down some rule-breaking videos from its platforms, as reported on Variety. These videos were shared on social media and used to raise funds, albeit by essentially artificially inflating views.
"If your video encourages this behavior, it will be removed from YouTube. You won't be paid for the views," YouTube said, "We realize some of you kicked off these efforts without a clear understanding of the policies, so YouTube will be donating to racial justice initiatives to acknowledge the efforts over the past week."
Facebook employees publicly revolt against the company's political stance
Get the Android Central Newsletter
Instant access to breaking news, the hottest reviews, great deals and helpful tips.
Isn't this another form of racism? When you give to one race over another it's racist and discriminating. When we center our attention to race we create racism. It's a natural progression of hate here in America.

I would definitely think so.
It now seems to be an advantage to be a black content creator in youtube.

Racism towards whites doesn't exist, sorry to break it to you 🤷🏾‍♂️

Racism: definition...
prejudice, discrimination, or antagonism directed against someone of a different race based on the belief that one's own race is superior. Racism EXISTS from all angles. Sorry to break it to you. 🤷🏾‍♂️

http://www.aclrc.com/myth-of-reverse-racism

What absolute drivel.
rac·ism /ˈrāˌsizəm/
noun
prejudice, discrimination, or antagonism directed against someone of a different race based on the belief that one's own race is superior.

Eric12341 - Compared to the blatant and open racism towards blacks, racism towards whites is rare, but it does happen on occasion. A close acquaintance of mine is a licensed race relations counselor who teaches seminars, and a close friend is an established author on slavery, and both of them will tell you that racism can go in every direction. I could give you personal examples, but what's more important to me is that, for every 1,000 black people I know, the majority treat me very well, even like family, and the few times I have been treated poorly have been pretty insignificant. When you're the only white guy at an event and it takes 5 minutes to get across the room because pretty much everybody stops to wrap their arms around you or give you a kiss, it's easy to forget about one guy refusing to shake your hand. Like I said, pretty insignificant...

I wouldn't put the racism label on bringing positive attention to persons who have been historically suppressed.
Same argument is used against Affirmative Action. Is it discrimination? Technically, yes, but it's also a counterbalance. It's funny that discrimination can go on for years, decades, even centuries... then when something is put into place to make corrections, it's suddenly "unfair".

Racist towards whites exist. I remember a black person's t-shirt with the brain vs brain on drug theme. The brain side had a black guy and a black girl. The brain on drugs side had a black guy and a white girl on the other side. Black hate toward whites exist don't you forget it.

Why is it that whenever Black people are offered a hand to help level then against Whites, White people feel like something is being taken from them? It's it's because perhaps something is being taken from them? Their power? When the cycle rights act of 1964 was signed into law, white people thought that racism automagically ended. Then they decried programs like affirmative action - which is designed to help level the playing fields after centuries of systemic racism. So yes, you are a racist if you view programs like this as some kind of disadvantage to you and your whiteness because you are pretending like you don't already have societal advantages.

Singling out individuals simply based on their race or skin color is racism. Pure and simple. This goes for both *promoting* those individuals (financial assistance, preferential employment opportunities, etc) and well as *selecting against* those individuals.