Google Keep adds link previews and autocomplete for grocery lists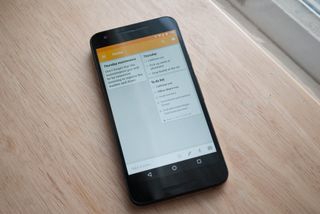 If you're a fan of using Google Keep to stay organized, you have some nifty features to look forward to in the note taking app's latest update. Once updated, the app will show you link previews in your notes, help you more quickly complete grocery lists, and more.
As shown by Google, link previews operate much as you'd expect, offering a small card with a bit of context under any link you paste. Meanwhile, Google Keep can now make creating a grocery list a breeze with autocomplete suggestions. For example, if you want to add "Apples" to your list, Google will pop up with suggestions for common grocery items that start with "A" once you start typing. Simply tap one, and it'll be added to the list.
Finally, Keep will help you avoid adding duplicate items to a list. If you start typing an item that's already on a list, the auto complete box will pop up with a check mark next to that item.
It appears that the update has just begun rolling out, so it may take some time to land for everyone.
I think this might be a server-side switch. I'm using keep v 3.3.184 (from May 5th) and the link previews just started showing up on my device.

They also added a static side bar on the web version. I literally wrote feedback about this yesterday.

@theotherlinh -- thanks for the feedback! You can toggle the side bar by clicking on the menu icon (e.g. the three lines in the upper left corner). Hope this helps!

I meant it is now static. Before it would disappear once you hovered away.

Love Keep! Glad to see it being updated with new features. <3

Right? Since I use my old HTC one as a mp3 when I go to the gym, sometimes I'll write notes in my keep knowing that once it connects to Wi-Fi it's automatically updated to all my devices :)

Who needs Google Keep for Grocery list when you have Out of Milk. It keeps your list backed up to cloud and even has bar code reader Posted via the Android Central App

By definition Keep also keeps your list backed up to the cloud. But the barcode thing sounds cool.

I used out of milk for awhile, Keep is just easier, especially for multiple devices and sharing with other people. The bar code reader is cool to talk about, but in my opinion, its easier to just sit and type "milk" on a list instead of running around the house scanning barcodes.

How is Keep easier for sharing than say Our Groceries? Just curious, since I use Our Groceries with multiple devices/people and it syncs between all of our devices.

How does Out of Milk compare to Our Groceries? I currently use Our Groceries with a shared list for multiple stores.

I love Keep. It's one of my go to apps. I use it for everything from a checkbook register, to a to-do list, to a grocery list. I'd be lost without it. Posted via the Android Central App

Wouldn't Excel or Sheets be better for a checkbook register?

Perhaps, but it's easier for me keeping it all together. I basically just keep my balance updated and when my bills are due. So not a traditional register per say.. Posted via the Android Central App

I do something very similar, but using sheets lets me auto-calculate totals and stuff.

Huge fan of Keep. Quick, simple, easy. Shareable lists, web portal. GSD.

Love Google Keep! Use it almost daily. Wish they would add rich text and mute the background colors a bit - every color is too dark in my opinion

My kingdom for a "pin to top" (sticky) option!
Android Central Newsletter
Get the best of Android Central in in your inbox, every day!
Thank you for signing up to Android Central. You will receive a verification email shortly.
There was a problem. Please refresh the page and try again.