Google I/O 2012 Day 1 Keynote Liveblog!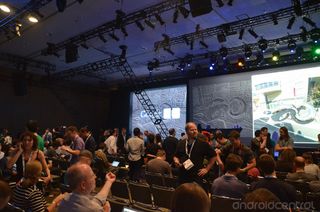 Here we go, ladies and gentlemen! We're up and ready and raring to go at Moscone West in San Francisco. We've got the Google I/O Day 1 keynote address coming your way, after the break.
This one's going to be a little different, though. Unlike a lot of keynotes, Google's streaming this one live, and you can watch it with us after the break. (Might even be able to see the back of our heads.) That also means we don't have to set our keyboards on fire trying to type every little word, which is nice. That also means we'll have more time free to let you know what's really going on, behind the scenes and between the lines.
So break on through to the other side, and let's kick off this crazy ride. The keynote begins June 27 at the following times:
9:30 a.m. Pacific time
12:30 p.m. Eastern time
5:30 p.m. in London
And all points east and east.
Got it? Good. Let's go!
Follow our live blog below or at live.androidcentral.com
Android Central Newsletter
Get the best of Android Central in in your inbox, every day!
Thank you for signing up to Android Central. You will receive a verification email shortly.
There was a problem. Please refresh the page and try again.