Google Home app hints at multi-user support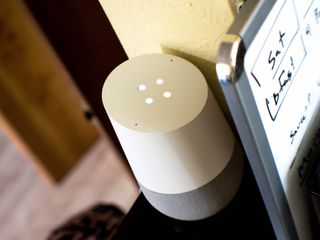 If you share a Google Home with multiple people, chances are you've been eagerly awaiting the day your smart speaker is able to offer each user a personalized Google Assistant experience. It seems like that day is very quickly approaching, as some users are seeing a new card in the Google Home app's Discover tab, which purports that Google Home now supports multiple users.
Unfortunately, there doesn't seem to be any added functionality to back up this announcement, but it does confirm that the feature is on its way and may be going live very soon.
Adding support for multiple user profiles is expected to expand the Google Home experience to better mirror the same functionality of Google Assistant on your personal phone. Currently, Google Home is unable to perform many features linked to personal accounts such as setting personal reminders, creating calendar events, messaging contacts, and more due to privacy and concerns. This should change once multiple accounts are supported, and we'll be sure to fill you in on all the new features once things have officially gone live.
Android Central Newsletter
Get instant access to breaking news, the hottest reviews, great deals and helpful tips
Marc Lagace was an Apps and Games Editor at Android Central between 2016 and 2020. You can reach out to him on Twitter [@spacelagace.
Good thing I waited I've had a gift card sense Christmas I finally decided to get one .

This is great news! The last paragraph says it all. Google Home right now is SOOOO limited. 1) I wonder if you can use Google Home to control YouTube TV? 2) When will Google Home be able to play individual songs you ask for that are in your library?! It's absurd that you can't do that on Google Home and can only ask to play whatever playlists you've created.

Probably not, if you're using an Android TV box to play YouTube TV. Google Home can't do ANYTHING with Android TV yet.

I use an Amazon Fire TV and also have a Chromecast in there as well. Right now I can tell GH to "turn on the TV and open up (a specific show) on Netflix and it does" (through Chromecast I believe) so I'd imagine it would work with Youtube TV. You would hope anyway. I'm thinking of testing it since I'm in/near the LA market which gets it. But seriously, about GH not being able to play a specific song that you own in your Google Play library...c'mon Google!

Yeah, if I had a Chromecast hooked up to my TV, it would work just fine with GH. But I have a Shield TV, which functions as a cast target, so I'm not going to buy another Chromecast that will be entirely redundant except for playing nice with GH. Hopefully Google just fixes this soon, although considering the lack of attention that they pay to their own apps on Android TV, I'm not holding my breath.

Are you sure you can't tell it to play on "name of the cast receiver" or something like that? Chromecast should not be any different then any cast receiver...

So you have to tell your phone to play on the Google Home? I thought it's the other way around and you should be able to tell Google Home to play whatever is on your phone/google play library.

Yes, it specifically does not work yet on Android TV as a cast target. https://help.netflix.com/en/node/55587 See the third bullet point under "Google Home works with Netflix on"

It won't place specific songs in the library? I've gotten it to play any song I want but maybe because i have a play subscription.

I'm not 100% sure. From what I've read in the forums if you have a subscription, it's more likely to find a specific song among the songs you can access. But let's say a song isn't one streamed by Google Play, so you upload it to your own Google Play library, you can't play that song by request. So having a subscription may give you access to a greater number of songs, but it stinks that you can't access songs YOU OWN in your Google Play library without a subscription.

I have a mibox and a Toshiba TV with Chromecast built in and I can control YouTube on both and I can even adjust the volume of my TV with the home... I'm not understanding the other issue... Google home plays whatever song I ask it to play

Really? With or without a subcription to the play library of music?

I didn't even think about that... Yeah I have an all access that's probably why it plays whatever I ask it

I use google home to play music by name all day everyday. Not sure how you haven't figured it out. Maybe use your words and get back to us with a full breakdown of the device next week? Or maybe just take a little time to be quiet about things you cant figure out.

I still can't get it to control my LIFX lights, but hey this is good news.

What issues are you having, as lifx now supports direct integration

I've only had my Home speaker for a few days but multiple user support is easily the top request already.

The easiest way to solve this problem is allowing separate wake words for each user. Kids=Barney, Me=Computer, Wife=Google. Problem solved.

Can't wait for this to happen!
Android Central Newsletter
Get instant access to breaking news, the hottest reviews, great deals and helpful tips
Thank you for signing up to Android Central. You will receive a verification email shortly.
There was a problem. Please refresh the page and try again.