Google has found a way to make YouTube ads even more intrusive with integrated shopping links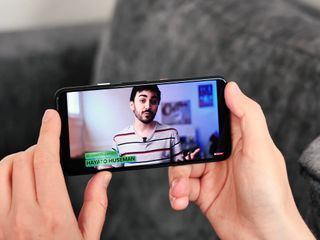 (Image credit: Alex Dobie / Android Central)
What you need to know
Google appears to be testing adding integrated shopping links to its videos.
The program is in a pilot stage now, with a limited number of creators participating.
Viewers in the U.S. may come across these shopping links on Android, iOS, and the web.
According to a report today from Engadget, YouTube appears to be testing a pilot program for inserting shopping links in the videos of some of its popular content creators. Participating channels will be able to put a shopping bag-shaped link on their videos, which will lead viewers to a list of featured items in the video that they can then purchase via embedded links. The links may also lead viewers to other videos on YouTube related to the products in question, resulting in even more engagement as they spiral down the rabbit hole of available content.
The testing is currently being conducted in the U.S. only on the web and on Android and iOS devices, but presumably, it will roll out more widely later this year if it proves successful. 2020 was a turbulent year for YouTube and the world at large, and many have argued that the company has bigger issues to contend with than just finding more ways to monetize its platform. Preventing misinformation, bullying, and other forms of discrimination seems like better uses of YouTube's time and money.
While many may find these kinds of commerce integrations intrusive, others may find them welcome and helpful. The shopping links have the potential to be a win-win-win for creators, consumers, and YouTube itself. Just imagine watching an Android Central video and hearing Hayato Huseman or Alex Dobie talking about what microphone or camera they use for filming or the best Android phone they've been testing, and then having easy, one-click access to purchase the same equipment? The same applies to popular fashion and makeup channels, gaming streamers, or even cooking channels.
Integrated shopping features like this have already found their way into popular social media apps such as Facebook and Instagram. They are even working their way into messaging platforms like WhatsApp. With the rise in influencer marketing over the past several years, it's a wonder it has taken YouTube this long to implement such a feature.
Jeramy is proud to help *Keep Austin Weird* and loves hiking in the hill country of central Texas with a breakfast taco in each hand. When he's not writing about smart home gadgets and wearables, he's defending his relationship with his smart voice assistants to his family. You can follow him on Twitter at @jeramyutgw.
As I get an ad by opening the link to your article...

Exactly. They should completely understand given they do the same thing.

I was going to say the same thing. I am sick and tired of these ads popping up when I am trying to read an article. What's the difference between what Youtube is doing and AC is doing?

Just setup diversion on your router. You will see no ads on any of your network devices. It is so simple..
Youtube 😁... There are others alternatives to watch youtube with none ads. Just use Google guys.

Diversion...👍👍👍
It is really worth it.

Just as I have found a way to counter act this it's called Vanced 😂😂😂

It astonishes me how I constantly read the whining and complaining about ads in the comments section of a tech site. If anyone would know how to avoid ads it should be those folks! I haven't seen a single ad in years. But, of course, one has to invest a few bucks here and there. I guess, for folks that are to cheap to spend 5 bucks for a phone charger and rather ***** about Samsung, that would be asked for too much!

So many Ads, charities wanting money, on and on.... People are out work... Running up your credit card is not the answer. Ok, I just had to vent.
Android Central Newsletter
Get the best of Android Central in in your inbox, every day!
Thank you for signing up to Android Central. You will receive a verification email shortly.
There was a problem. Please refresh the page and try again.