Google is giving away 2GB of Drive storage for securing your account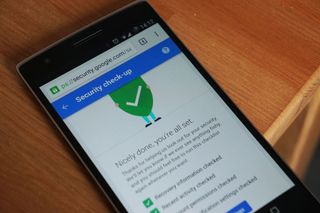 Google is using Safer Internet Day to run a Drive giveaway promotion, which will bag you 2GB of extra storage space in the cloud for free. All you need to do is to provide Google with two minutes of your time to complete a security checkup, essentially making sure your account is both safe and secure.
But why should you bother running the checkup? Glad you asked. It ensures your account recovery details are up-to-date, lets you check recent sign-in activity and allows you to confirm apps and devices that access your information. Once you've done the checkup, your account will be eligible for the free storage upgrade, which will roll out on February 28.
It's recommended you do this every once in a while, not just when promotions for free storage are under way. You have until February 17 to act before the promotion period expires.
Source: Google
Get the Android Central Newsletter
Instant access to breaking news, the hottest reviews, great deals and helpful tips.
I performed the check but I'm still at 25gb.

From the article " Once you've done the checkup, your account will be eligible for the free storage upgrade, which will roll out on February 28." Posted via the Android Central App

Thanks for the heads up. I love in an instant gratification world. I can't imagine being 7 years old again waiting 6-8 weeks for my Jackson 5 greatest hits audio cassette to come in the mail.

8- track? Posted via the Android Central App on my Xperia Z3 Compact

This was the late 80s or early 90s. So it was an audio cassette.

I still buy my music on CDs from Amazon. I usually wait a week or so. I feel you 7 year old self's pain.

At least you can track it.

You should get prime and cut down on that wait. Plus doesn't Amazon give you access to the mp3s for some albums as soon as you purchase the cd

Lol....I thought most people had the same space. I have 65GB and don't pay for it.

How so? Posted on my Sexy Note 4

Whoa! how did you get that much? I had 15 GB, then i get 50 more from buying a Moto G, but it'll only last for two years.

Hmmm...I don't actually know lol. I did buy a Moto X 2013 Dev Edition back when it was new, but don't remember there being a promotion for more space.....maybe there was. I've had gmail since 2005, so could that be it?

Yeah so do I actually. Never thought about it before but does seem a lot of storage space for no cost... Posted via Android Central App

Yup, just checked. It's a Moto promo for 50GB. Expires in 2016.

I currently have 25. I know a free account starts at 15. Is there any way to find out where I got the extra 10, or when it expires?

I am showing 175 on mine, 100 is from buying a Chromebook recently, no idea where the other 60 are from.

https://www.google.com/settings/storage Login to your account on chrome and go to that link. Hover over the pie chart and it will tell you where it all comes from and when it expires (if it does).

Could have got it from downloading quick office last year.

Yeah, it was from Quickoffice.

I've 201GB's. - http://imgur.com/BEOkS3c

I get 64 GB free from Google from all their apps I have and use where each one gave you free amounts. I also have the $10 a month TB Google offers, great for backing up all my media, suffered a PC crash and lost a lot and I'm not going through that again Also got Box 50 GB free unlimited time amount x2 for 100GB free, but box is limited to only 250 MB uploads.

Done. Thanks :) Now the question : 2 GB Is valid for lifetime?

Google said "permanent" themselves, so I guess that means "for life" =)

If they lower my limit when I die I am going to be pissed.

Do i get a 2GB boost if I currently have the 100gb subscription?

Seems this may be best to do from a PC or using the Android Central app on a device. I hit the link in the article on my PC and it brought me to the security page once I signed into my Google account. I did it for the AC app and had to hit the link to the page in the article since going into the Google Drive app yields no such results for security check.

Switch to desktop mode when in Gmail on chrome. Then go to accounts and you should see the security check up. That's what I had to do. Posted via the Android Central App

Cool, thanks for the heads up!

i'm already paying for a TB but sure i'll take two more GB's

Not to say there's anything wrong with it but why pay for so much memory? I have a 64 gig micro in my phone and the 25 in drive and have barely scratched the surface. I do documents on drive and everything else on the SD card. Posted on my Sexy Note 4

Probably just a different use case. If all you do is back up documents, some photos and music, than 89 gigs is good. If you back up large volumes of music, HD video and hi res photos, than 89 gigs doesn't scratch the surface.

Thanks for the heads up :)

I don't understand drive. Every time I upload something to it (in an effort to clear up space on my phone) it decreases the available space I have. Isn't it a cloud storage? Why is it using my phone storage

Are the files you uploaded pinned to your device after you upload it? Check by finding your file in Drive and clicking on the exclamation point. Then move slider next to "Keep on Device" to OFF. If this isn't the case, I'm not sure where your file is being duplicated.

Yea the "keep on device" tab is off. And I just tried again to upload two videos to Drive and sure enough, the available space in my phone decreased as a result. I'm not sure what I'm doing wrong

That's strange. You might want to search your phone using a file manager to see where it is storing it. If you can't find the name of the file than maybe your phone is caching the files in a temp folder. Good luck.

Ok I'll try that, thanks!

I've noticed that too.
Try this: after your upload has finished, open drive and pull down to refresh. That works for me every time. Posted via the Android Central App

That cleared up the space on your phone? I'll give it a try thanks

Done Posted on my Sexy Note 4

How do you complete the security check up? Is there a link?

In article: https://accounts.google.com/ServiceLogin?service=accountsettings&passive...

Cool, I've been meaning to set authenticator back up/switch to authy for the past two months or so :/ this gave me the push! Wubba lubba dub dub!

Yeah this got me to download the backup codes. Posted from my Nexus 5 via Android Central App

So, kudos to Google. This worked well. Hopefully it got a few more people to turn two factor on in the first place. Wubba lubba dub dub!

I wish it would've given a notification that we'd be getting the extra 2GB. I completed all the steps. Posted via the Android Central App

I'm so used to getting confirmations that I was looking for one as well... We are trained well... Posted from my Nexus 5 via Android Central App

I agree. I was looking for confirmation as well. Posted via the Android Central App

I'll complete the steps soon. Thanks. Posted via the Android Central App 17.1GB used of 165GB total storage.

I have a standard 15gb account. Did the checks but there was no mention of any free gb's Posted via Sony xperia z2

I have 140 gigs. And I don't pay...

I have 115 GB's without paying. No clue how.

I had 125GB and I think all that came from two Nexus phones and a Chromebook. Posted via Android Central App

How much of it is free though and how much is promotional? Wubba lubba dub dub!

Thanks for the heads up AC. Checked my account and found some fishy log in activity . . . from another state . . . definitely worth a few minutes of your time.

If you work for a corporation and log in to your personal account on the company network this can happen because of the way corporate networks and proxy servers are set up. My work computers can show up as being CT, NY, GA or OH. Yeah, it's a large corporation.

Interesting, I hadn't thought of that. However the out of state activity is listed to a Mac. My company is all PC. Last time I used a Mac was 5yrs ago while traveling out of country. Not sure if that makes a difference.

Thank god for this...my existing (free) 115 GB's was nearly full. I mean, I only had 1% available! ...wait...no...I only had 1% USED. Well, I guess more free storage is still good.

I have 25GB but in October it drops back to 15GB. I look at the temporary increases as a way to make you buy storage. If you pass your original limit thinking you have 25, once it drops, you have to buy more storage. If it's given temporarily, to me there's no point. I'm glad this increase is permanent. I got lucky and got in early for Sky(One)Drive. I got a bunch of storage and it's up to 40GB right now. Plus I can get more if I decide to set up auto upload for my pictures. I'd rather stick with Drive though. Posted via the Android Central App

Thanks,I had not been to that new page since it was updated. Nice and clean. I had done everything possible to secure my account early on,so no changes,but it was good to review my sign ins. I do get a notice every 28 days to check my account and usually go to dashboard. That notice is something users have to set up. Then I would check sign ins,but could not find the old page,even though I was vaguely aware they had updated it. On another note,the sign in locations will change up from time to time,due to the IP-adress your carrier last asigned you. So don't freakout if it does not tell you the city you live in. And can be states away at times (-: Or one city away. I have seen many different locations,but when they change,all the locations change to that new location. Maybe someone can write an article about it? Posted via the Android Central App

2 Gb is 2 Gb. Hard to complain.

17.11 GB
1% used
1.01 TB
total storage I think I'm okay..... 2 GB won't make a difference when they already gave me 1 TB free for 2 years. Thank you Chromebook Goodies.

2GB permanent is better than 1TB for 2 years, imho.. Posted from Mi3W via the Android Central App

All right, I'll be up to 17GB. I am at 40GB with One Drive (140GB for the next two years for free though with Bing rewards) so I will stick with one drive for most everything except actual documents since i like the ability to edit those on any device in the cloud. I don't like how email counts against drive which is why I don't think I ever switched to it from dropbox back in the day. Once I got my Surface ro 3 though and started using One Drive that took over mostly since it gives me the most permanent space for free. My Dropbox account is tiny in comparison now that all the free space from new phones expired. Took forever migrating 35GB to One Drive.

Such a smart way to do this. Cheap HD space for fairly important and useful account maintenance. Also -- thanks for the PSA! I'd have missed it otherwise.