Google Fit update brings support for over 100 new activities, improved step detection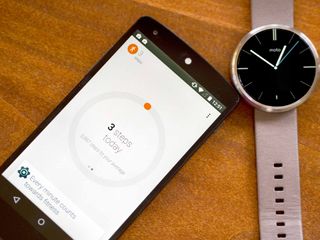 The Google Fit app snatched an update today, and it brings a couple of new, nifty features. Along with the usual helping of bug fixes, the update also contains support for manual entry of over 100 new activities and experimental step detection when your Android Wear watch is disconnected from a paired phone.
You can find Google's full, detailed change log below:
Support for manual entry of over 100 new activities!
Android Wear
New, experimental step detection for walking when the watch is disconnected from the phone
Bug fixes and performance improvements
As it currently stands, your smartwatch will stop counting steps when its paired smartphone dies or isn't within range, so the experimental step tracking feature is sure to be a welcome change.
You can check for the update by clicking through Google Play badge above. However, don't be alarmed if you don't see it right away, as Google is continuing its penchant for slow rollouts with this update.
How has step counting been working for those of you that don't have a smart watch? On my Nexus 5 the step counter has been pretty accurate. Posted via the Android Central App

Yeah, it's pretty accurate on my S5. It just about matches my fitness tracker. Posted via the Android Central App

I agree with this - I find it pretty accurate, and I really like that it just runs in the background and doesn't force itself into the notification tray.

Agreed. I've tested it against some other apps (step based and GPS based) and it's pretty darn close (5% delta is largest I've seen, usually <2%).

I really, really want a widget. Posted via the Android Central App

I second that! I want to have this replace S Health on my Galaxy S4, but I don't want to give up the widget. This is typical of Google. They love to release apps that are lacking in key features.

Step counter has been pretty accurate for my note 4 when I don't have my watch on me. Posted via the Android Central App

On my N5 it often inaccurately records walking or jogging as cycling, and it also doesn't accurately calculate the amount of time walking or jogging as it's usually quite a bit under what is counted by Pacer. Posted via Android Central App

I'm generally within 50 steps of my fitbit on the same arm. "I'm da Blur boys!" - Me with 600 ping.

Where is the step beta feature at? Posted via the Android Central App

Step detection on my Moto 360 has been woeful in Fit, which makes little sense as the Moto Body Steps from the same watch seems to be pretty reasonable. It feels like the watch is handing over step increments to Fit and Fit is registering those as totals, overwriting the last reading. A number of times Fit resets to zero, usually after a period of doing little. Hopefully they have addressed this.
Android Central Newsletter
Get the best of Android Central in in your inbox, every day!
Thank you for signing up to Android Central. You will receive a verification email shortly.
There was a problem. Please refresh the page and try again.