Google Fiber TV boxes now support Google Cast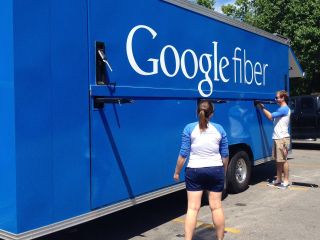 Subscribers to the Google Fiber TV and Internet service in the U.S. will soon be able to connect their smartphones and tablets to their TV boxes with Google Cast support.
Google Fiber is currently available in Kansas City, Austin, Texas and Provo, Utah, with plans to expand it to a number of other U.S. cities.
I don't like hearing about this service bc its only available in one housing project in Kansas city Posted via the Android Central App

you mean that literally? or like hyperbole? in all seriousness

Google Fiber is available in a vast majority of the KC-metro area.

It is all over the KC Metro area.

Has AC done a feature that shows us what Google Fiber is actually like to live with? It would hurt, but I'd like to see how some people live with better TV and Internet at home.

I have it in KC and was happy to get rid of TWC to get it. TV features are getting better but when I first got it, TWC had more features from their TV boxes/apps (streaming from app, set recordings remotely, etc). Internet is fantastic and rarely have issues with downloads or buffering. Although you still run into issues sometimes but the cause is the servers you are pulling from can't produce as fast as your internet so it isn't client-side. It is great for online gaming and download install files or apps but if you play multiplayer, you still run into lag if the game is running P2P connections.

I have 100/100 FiOS, so I imagine Google Fiber is pretty badass considering my connection is fast enough to stream 20 1080p movies from Netflix simultaneously, if they allowed such a thing. I know that I only have to wait maybe 5 seconds for a 4K movie to start streaming on Netflix. Now, multiply that by 10, it should give you an idea.

They are considering my area as one of the next expansions. After verizon sold their FiOS to Frontier here in Florida, it can't happen soon enough. Especially after working with a client in KC and saw speeds around 850 up and down. Posted via the Android Central App

Please bring Google Fiber to south Florida, i would love to have some gigabyte download speeds & there generous tv package. Posted via the Android Central App
Android Central Newsletter
Get the best of Android Central in in your inbox, every day!
Thank you for signing up to Android Central. You will receive a verification email shortly.
There was a problem. Please refresh the page and try again.