Google Duo is the best video calling service you're not using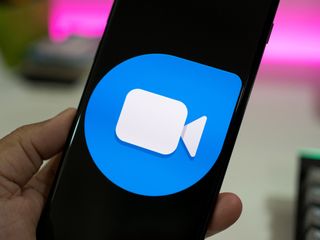 (Image credit: Harish Jonnalagadda / Android Central)
Google's messaging strategy has been an unmitigated disaster, with the search giant bouncing from service to service over the years as it tried to take on the likes of WhatsApp. Allo and Duo debuted in 2016 to lofty ambitions, but in typical Google fashion, both services were hobbled from the start. Allo didn't have SMS integration, and there wasn't a good enough reason to switch from existing services at the time.
Duo didn't have any flaws of its own at launch, but convincing anyone to install another app just for video calling was a Sisyphean task. Google ultimately killed off Allo earlier this year, and its messaging efforts are now revolved around Android Messages and the RCS rollout, and Duo.
Duo has largely flown under the radar, but in the last three years, it has picked up a host of updates that make it an excellent video and audio messaging platform. Duo comes pre-installed with every new Android phone, allowing the service to pick up one billion downloads.
What makes Duo stand out from other video calling services is the quality on offer. Of all the services I've used, Duo delivers the best image quality for video calls, and it does so while consuming less data. Duo also switches between Wi-Fi and cellular data based on signal strength and bandwidth, and it does all of this seamlessly in the background.
Another particular highlight with Duo is that it works even on 2G cellular data connections. Sure, you won't get the same visual quality, but the fact that it works at all (and does so reliably) has allowed Duo to amass a sizable userbase in India.
Duo works over Web Real-Time Communication (WebRTC), an open-source platform that is designed for direct audio and video communication. WebRTC relies on peer-to-peer connectivity, meaning your calls don't go through a server. That allows for things like end-to-end encryption, which is enabled by default on all video and audio calls you make using the service. WebRTC is the secret sauce that gives Duo an edge in this category, and why the service is able to deliver rock-solid connectivity.
Duo is also incredibly easy to set up and use. All you need to do is link your phone number, and the app will scan your contacts list and find all contacts that have Duo installed. Calling them is as easy as selecting their name, and you get the option of choosing between audio or video calls. Duo also offers group calling with up to eight people, and like one-on-one calls, group calls are also end-to-end encrypted.
More often than not, I rely on Duo to talk to friends and family instead of my regular voice calls just because of the quality on offer. Duo also works over the web, and you can link your Google account with Duo if you don't want to sign in to the service on every new device. Duo is also the default audio and video calling app on Google's smart speakers, including the Google Home, Nest Hub, and Nest Hub Max.
There are other standout additions. Knock Knock lets you see live video of whoever's calling before you pick up, you can leave a recorded audio or video message, and Duo even has a dark mode.
Google has also added features to Duo that make it fun to use. Duo is now offering video effects for the holidays, and Google regularly rolls out themed filters that make calls to friends and family that much more interesting. The service is also getting Scooby-Doo video effects ahead of the launch of the new movie in 2020.
Google hasn't made it any easier for itself with its convoluted messaging strategy, but with Duo, it has managed to create the perfect video and audio calling service. The accessible nature of the service, combined with the security and quality on offer, makes it an easy recommendation. If you haven't already, you should consider switching.
Google Duo
Duo is the best video and audio calling service around. With seamless connectivity on even 2G networks, end-to-end encryption, fun video filters, and availability on all major platforms, Duo is the only video calling service you'll ever need.
Get the Android Central Newsletter
Instant access to breaking news, the hottest reviews, great deals and helpful tips.
Harish Jonnalagadda is a Senior Editor overseeing Asia at Android Central. He leads the site's coverage of Chinese phone brands, contributing to reviews, features, and buying guides. He also writes about storage servers, audio products, and the semiconductor industry. Contact him on Twitter at @chunkynerd.
Duo is an excellent vid calling app. However, I hate video calling. Somewhere between the ages of 40 and sixty I went from being an athletic young man to looking like Snuffy Smith after a stint in the Marine Corps. Disclaimer:(not an ex-Marine - used simply for illustrative purposes). Now if I get a video call I feel a need to call for wardrobe and makeup. I'm not saying I'm ugly enough to frighten small children and pets but you get the picture. Video calling is not my thing.

Understandable. I'm 42 myself. But video-calling is huge among the under 30 crowd.

My mom is in her 70s and uses video calling. Age isn't the metric for these things that people think it is.

Is it, though? Or is Facetime the best video calling service I'm not using? I honestly don't know, i never have and probably never will use either of them.

Video calling is great for keeping in touch with out of town family and friends. Duo works great for that. I'm not interested in apple products so Facetime doesn't interest me even though I know its very popular.

Hangouts, before they gutted it and split out all the pieces into junk, was THE best Android messaging app. It had it all. SMS, chat, audio calls, video calls, group calls, all in one app that was usually pre-installed on Android phones. Yeah, yeah, I get WHY they did it, in theory, from a developer perspective. But it ruined a great app for the users of it.

I still use Hangouts on my Android tablet for Google Voice number calls, texts, and picture texts. I'm not sure what I will use when it actually goes down.

I use duo and have for many years, but it's still losing to things like Facebook messenger. One of the main reasons I see if the dang filters. Yes duo has them but only if you're leaving a message. Whenever I see people video chatting if they're not using FaceTime then they're using Facebook and applying filters like mad. Sometimes I think Google needs to take a lot Apple approach and make every phone have Messages and Duo. People can get rid of it if they don't want it.

The problem is that Google doesn't know how to market any of it's products. Especially it's good products.

Duo can become a "device agnostic all-in-one communicator" that may even outshine closed-in-systems like FaceTime by adding end2end encryption, messaging including SMS/MMS when they 6 feet under Hangouts at end of 2020. They say Hangouts to Meet and/or Chat apps but that seems the same old mess strategically. Why not combine features and go for strategic commitment with Duo on steroids? Just like they were able to deploy RTC almost overnight (figuratively & comparatively to the supposed "struggle" they had with carriers for years), they can clarify their messaging strategy IMO ... maybe too simpleton of an idea (sarcasm).

Duo has had end-to-end encryption since Day 1. https://support.google.com/duo/answer/9280240? Also says so right in the article.

My mistake there! Thinking o e this g but typing another - sorry and thanks for the correction.

Have had it for a few years but hardly if ever used it...it's just there... I'll try to make more use of it...

No one wants to just say it but until Google can put duo on every Android as it is doing but until it is required to log in like apple requires everybody to log in iMessage/FaceTime (even though they can disable it right after) majority of Android users seem like they will continue to just look at it as just another app whereas iPhone users look at FaceTime as part of their phone even if they never use it

They really should have it integrated with Google messages. Not necessarily they same app but a toggle in each to go straight to voice or video call

It is integrated in Google messages... If you and the person but have it installed and set up an icon appears in their text thread for you to video call them

i just use WhatsApp. I tried to use Duo, but barely anyone had it, or wanted it.

I've had it for a while, but rarely use any video calling. The times I have used it though, it's worked well.

As per usual with Google, the average Android user won't know what Duo is and what it can do. That's were Apple continue to strive over Google as I bet the overwhelming number of IOS users know all about facetime

I use Duo with a few relatives and friends, but I receive FaceTime video calls more often.

Dont forget that the author is giving his Indian point of view.