Google Developers Live aims to bring I/O to developers all year round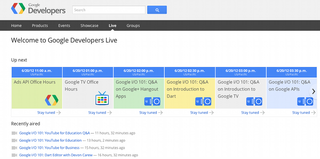 Naturally, excitement is building as we get ever nearer to Google I/O 12. Alongside the release of the new Google I/O 12 Android application, Google has kicked off the Google Developers Live page over on the Google Developers site. Say Google; "we want to bring you knowledge, tools, and people from the Google Developers community, all year round–not just three days in June."
Google already publishes regular video sessions, such as Office Hours on YouTube, but keeping track of what's out there and when it's available can be challenging. Google Developers Live aims to bring all that content under one roof effectively, and provide an easy portal complete with calendar, to find the sessions that interest you.
And, to kick-start the I/O all year round message, the first, starter-level sessions on various topics to prepare eager developers for next weeks more advanced material.
Source: Google Developers Blog
Android Central Newsletter
Get the best of Android Central in in your inbox, every day!
Thank you for signing up to Android Central. You will receive a verification email shortly.
There was a problem. Please refresh the page and try again.