Google debuts all-new Wear OS interface with Google Assistant feed, coming to watches in September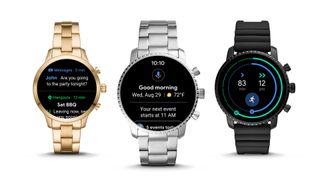 Wear OS hasn't been the most exciting platform the last few years, even back to when it was still called Android Wear. The interface has always focused on notifications and simplicity, but kind of lost its way when Google decided to make its watches feel more standalone and focus on apps. Now, Google's restoring some of the simplicity with an all-new interface for Wear OS.
Here's the core of the experience: everything centers around the watch face, of course, and with a swipe up, down, left or right you head into a distinct (and currently non-customizable) area. Swipe down to reveal quick toggles for things like airplane mode, settings, do not disturb, volume and more. Swiping left reveals the just-announced all-new Google Fit interface, always ready to show you the latest progress on your health goals. As before, swipe up to see your notifications — each one takes up a majority of the screen, with actionable items available with a single tap. Unlike the current Wear OS interface, you can see parts of more than one notification at once.
Swiping right, you get perhaps the biggest change to the whole thing: a new Google Assistant interface. Rather than being a one-screen affair for talking to Assistant, this is a scrollable feed of upcoming information very similar to the old Google Feed or the latest Google Assistant interface on your phone. Scrolling through, you'll see information on the weather, upcoming appointments, travel times to points of interest, reservations and prompts to initiate a search with a single tap.
The previous idea that you'd be speaking to Google Assistant on your watch and getting audible responses didn't make a lot of sense, and this model is much more conducive to viewing quick bits of information all in one place. On such a small screen you want to limit the amount of time you're tapping around and waiting for things to load, so having that regularly refreshed and pushing information to the watch to be available at any time feels like a big improvement. It also seems like a good indication of the direction for Google Assistant on phones.
The new interface retains the option to scroll through a list of apps and launch specific apps, but it isn't a core interface paradigm — and considering what most people do with a small-screened smartwatch, that makes sense. With this initial release there isn't any customization of the swipe options, though — Assistant will be on the left, and Google Fit will always be on the right unless the smartwatch maker decides to replace it with their own fitness app. One question that remains is whether Google has cleaned up some of the odd bugs and interaction issues with various notifications on different screen sizes — too often on Wear OS you run into issues with buttons and interface areas being cut off because apps aren't being designed with a particular eye for detail on the platform.
Google isn't announcing specific software update plans, but has said that the new Wear OS interface will start rolling out to existing smartwatches starting in September. Considering the hardware similarities between all of the current crop of Wear OS devices we can expect most modern devices to get the latest update, but that decision is ultimately up to the manufacturer.
This ultimately isn't a huge change, but feels like an important step forward in usability for Wear OS. Focusing on the core interactions with simple, well-defined swipes makes a whole lot more sense than being able to quickly change watch faces or access a scrolling list of apps. The lack of customizability feels odd for a Google product, but could be changed in subsequent releases. With this new software out in the world, now it's time to get some fresh Wear OS hardware based on the forthcoming Qualcomm wearable processor to make this feel like a complete generational jump.
Andrew was an Executive Editor, U.S. at Android Central between 2012 and 2020.
I'm a little more excited for the Pixel Watch. I hope it's not a let down.

I completely agree. I still have the LG G watch so I doubt I will see any of this... Maybe an upgrade is in the books for me lol

I just don't know where they're going to put the notch!

Agreed, this does look like a big improvement. Still prefer the rotating bezel of my Gear S3, but this makes a lot of sense for maximizing a screen interface only.

Why does every watch that comes out have to look like a Timex??? At least Apple gets it.

LMAO apple watch is the ugliest piece of crap I ever seen. Of course if they ever do make a round model people like you will be HOLY CRAP Apple gets it.

I agree, it looks like a women's watch

And that's inherently a bad thing if it does?

Stop it. You know dam well apple watches are ugly.

Microsoft had it right with their 2nd watch. If a smart watch came out in that design with a larger screen it would be perfect.
I have yet to find a watch that fit as good, was as functional, especially while playing golf and exercising.
Lack of apps and poor software was the downfall.

Said no one ever. The Microsoft Band was hideous, thick, and had massive flaws. It didn't look good at all.

Said only you ever See look I can make that kind of comment too.

It was a fitness / activity tracker. What on earth kind of apps did you need?

I'm with you on the ms band. It was a imo the best fitness watch on the market. Easy to use the keyboard us the best watch one I have used even with it being so small and as a fitness tracker I still don't think anything comes close. I have a moto 360 and for me so far this is still the more watch looking watch we have seem and even though it's getting old people still notice it. Hope we get some nice ones this year so I can make a jump to ware 2

Some people like smart watches to still look like regular analog ones, nothing wrong with that. I think having choice whether it looks like a regular watch or like Apple watch or fitbit is good. It's just your preference.

Nice. Looks better. Samsung's interface is still better IMO though, but this is an improvement

If the gear S3 would communicate with Google software I would use my S3 but I do not want to install all the Samsung software on my phone.
By

This sounds great. Any indication of how we will change watchfaces, since the new gestures will clearly replace the current system?

Read on some other site that you will need to hold down on the current watch face and then swipe left or right to switch, same as Samsung does presently on their Gear watches...

Welcome change to seeing better info between swipes, hope to see it in my LG Sport. No more looking down and seeing a accidental watch face, I'd assume watch face change will go back to the phone app or a separate switch on the watch.

So Android 7 smartwatches, like the Lem7, which have Google Assistant and almost all the functionalities of a smartphone, are not the better path? How come? They are even cheaper!

They are not optimized for the small battery and many Android apps simply don't work on a small, round screen. I have the LES1 and it's gorgeous but crap.

Is there an actual list of watches getting upgraded? Someone might have actually bought a ZenWatch 3.

9to5google has a list. Zenwatch 1 won't be upgraded, the otehrs will. Even the few 3s that were sold :)

Looking forward to the Pixel watch and I might grab one.

Which is the silver stainless steel watch with the brown leather band?

It will have a huge notch

Awesome. It's great that my original Huawei watch that has held up great over the years is getting this. Still almost makes it 2 days on battery also. Edit. Just saw the bit about Google fit always being on the right UNLESS the oem replaces. Here's hoping Huawei doesn't **** me over by putting their crappy fitness app on the right of the homescreen. We should be able to select a default fitness app anyway on any wear watch. I don't want to use Motorola's fitness app or Huawei's.

Plan on going from iPhone X, Apple Watch to the Pixel 3XL with Pixel Watch!! Looking forward to the improvements as haven't used Android since Moto360 and Nexus 6P!!
Android Central Newsletter
Get the best of Android Central in in your inbox, every day!
Thank you for signing up to Android Central. You will receive a verification email shortly.
There was a problem. Please refresh the page and try again.