You can now download Google's super useful Contacts app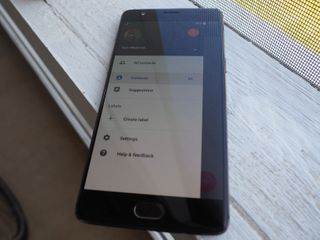 The contact application isn't something most people worry too much about when they set up a new device. So long as the user can synchronize their contact information and make any necessary edits throughout time, what else is there to worry about? Well, good design is something users may appreciate, and today users will have one more option for contact management.
Google's Contact application was previously exclusive to Nexus and Pixel devices, but starting today the application is now available for all devices running Android 5.0 Lollipop and newer (75% of all Android devices). For those that don't see the application available in the Play Store, Android Police has the APK file for manual installation.
I was able to open the Google Contacts web page on the Play Store, and have the application download to my OnePlus 3T. Just as you'd expect, I was able to load my contacts, make any edits, and have those edits saved to my Google account. I was able to load separate contacts for my personal Gmail and my Mobile Nations account, so others that use multiple accounts would be covered.
The application supports launching a new phone call or new SMS message from a contact's page, so this would be a suitable replacement for anyone to use instead of the included Contact application. It also supports the ability to import contacts saved to a SIM card, for users that still do that for some reason. The application also includes the ability to sort contacts by first name or last name, displaying the contact's first name first (ex. Tom Westrick) or the last name first (ex. Westrick, Tom) and the ability to manage blocked numbers.
Are you going to download the Google Contacts application? Let us know down below!
Android Central Newsletter
Get instant access to breaking news, the hottest reviews, great deals and helpful tips
Intrigued the Samsung app works pretty well but will try. Wish I could get Google's phone app, just for the local business lookup as it works better for me that Samsungs.

look up google phone 7.0 nonnexus version on apkmirror. that works on my BlackBerry KEYone and my other android phones (all other versions wont install on any phone other than nexus or pixel) :)

I wish the pixel dialer would work. I really liked it. It's the one thing I don't like on my S8.

Great. Now we need the Google Phone app to be available for all devices. I have the Moto G5+ and I loved the Google Phone app on my Nexus 5 phone...

Exactly, I've never understood the reason for having this app as "Nexus/Pixel exclusive" I can see that new features comes first to N/P but this one's been around for years. To me, giving all users access to the native phone app would be a win/win deal😎

Any idea why Google Contacts would not be able to see my Work Contacts in "airwatch" email client? My default contacts app on my OP5 can see them fine.

"The application supports launching a new phone call or new SMS message from a contact's page" Why is this special? Samsung's contacts app has done this since the S3 was launched. Stock Android really is excessively barebones.

It's not special, I just wanted to state it works exactly like a Contacts app should.

I won't be using this one -- it appears that it won't support any non-Google accounts.

It seems to support my Outlook account in addition to my multiple Google accounts.

That's odd -- the description doesn't read that way in the G-Play store. I'll give it a try, thanks!

Came pre-installed on my Nokia 6

Thanks for the heads up on this!!! I was sick of using Huawei's stock contacts app which is built into it's dailer :p

What's wrong with that? Hahaha i was about to tell i dont like it because there's no dialer in the app :D In fact i wanted to have one app for dialer, contacts and messages in one app if possible.

I wish they would allow us to share contacts list like they did with the calendar.

I tried it and it works as advertised but my LG contacts works flawlessly too and can't be uninstalled soooo. But it was sorta fun to try it out.

I'd try it, but there's no way to remove my old contacts app and I need the space

I was going to say here we go with another duplicate Google app that serves the same functions

I have always thought that the contacts app on Android was one of the worst things about Android. I always end up with the several copies of the same contract in the app. Even when I delete the duplicate entries they inevitably end up being added again.

Nope, sticking with Contacts+

I don't see that it has the ability to block a contact, or at least send all calls to voicemail like my current google Contacts app can. But I do like that you can see all contact info with one click, unlike my current app that I have to click "see all." Also I like better with my current Contacts app that the icons are large for viewing Favorites.

No thanks don't want to be blinded by all that WHITE.

Agreed. My Oneplus 3t has a black contacts theme I'll keep using

I find the stock AOSP contacts app sufficient, and I have Contacts+ for when it isn't. This new Google app seems redundant. Further, I'm not using ANY contacts app that forces me to share my contacts with Google.

Anyone know why the app store would allow me to pick my phone to install the app, say it's installed, then it's nowhere to be found on my phone? I'm running 7.0.
Android Central Newsletter
Get instant access to breaking news, the hottest reviews, great deals and helpful tips
Thank you for signing up to Android Central. You will receive a verification email shortly.
There was a problem. Please refresh the page and try again.