How to add events and reminders to Google Calendar for Android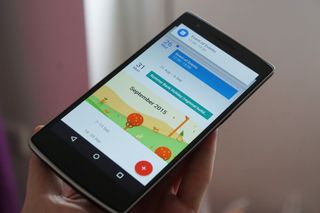 Google Calendar allows you to easily keep track of your busy schedule. With events and reminders, you can ensure that you never forget the important days, no matter how busy you get. We're here to show you how to do it all the right way.
How to add an event to Google Calendar
Open Google Calendar.
Tap the red plus icon in the bottom right corner.
Tap on the red event icon.
Enter a title.
Enter a location.
Add people who are coming with you.
Add a time and date for your event.
Add a notification to remind you when the event is getting close to starting.
Choose a color for the event in your calendar.
Add notes to your event.
Add attachments to your event.
Save your event.
It's important to remember you don't need to enter notifications, change the color of your event, attach notes or have attachments in your event. These are just the options that Google has given you to make sure all the information that you need is included within your event.
How to add a reminder to Google Calendar
Open Google Calendar.
Tap the red plus icon on the bottom right of your screen.
Tap the blue reminder icon.
Enter what you need to be reminded of. Google will give you tons of options from making a call to making reservations for a trip.
Enter when you need to be reminded.
Enter whether this reminder needs to be repeated.
Save your reminder.
You can make reminders for just about anything, and this includes upcoming events. By using the two together, you can make sure that you not only have a reminder of when an important event is coming up, but have easy access to it at a tap.
Android Central Newsletter
Get instant access to breaking news, the hottest reviews, great deals and helpful tips
Jen is a staff writer who spends her time researching the products you didn't know you needed. She's also a fantasy novelist and has a serious Civ VI addiction. You can follow her on Twitter.
Google Calendar is OK. I prefer business calendar 2.

Same here. When Google Calendar allows me to copy appointments either within the same calendar or to another calendar maybe I'll consider using it as my primary calendar. Until then it's BC2 for me...

Google is the only calendar that I use because it syncs across all my devices, phone, tablet and Computer. I have quick easy access and immediate alerts when needed.

Yeh ! Even if google calender is not installed we would be reminded

Google is the only one I use as well. I'm a firefighter and do multiple side jobs and a lot of training. Then when I'm am home handle the family schedule. The fact that it syncs across everything is a life saver. I also love how emails and be recognized to add events automatically as well.

I only use the Google calendar. I like the way it syncs to my phone, tablet, and smart watches. By simply adding an event, I can get notifications on my smart watches. By using my Echo, I can schedule an event quickly by just speaking which is very handy.

I have reached my end with Android Central. You guys used to be a place where an intelegent person who follows android could come and get their fill. Now all I see is how to's on apps. Now that's great but you have lost a reader. I'm pretty sure it's just a way to drive clicks and make more money.

Or possibly help people new to android?

No please don't go said absolutely no one besides the folks that will read your comment no one will notice you're gone. You'll never be missssssedddddd

I hope that you're impressed with your post because that way you'll know that at least one person gives a single f&#k about your critique.

I have to agree with the poster. When I first saw the headlines for this article, I thought "Do we really need an article on adding a meeting to a Google calendar?" Then I figured I'd read the article, maybe there would be something I didn't know. Nope. Next up: "How to Turn On Your Android Phone!"

I live by my Google calendar. I'm not comfortable using Reminders because I like to assign a length of time to a task, but I always use the Events option. Everything goes in my calendar. If it's not there, it doesn't happen

Same here. Everything for me goes into Events.

Blackberry calender is better and what i am used to. Google calender is ok, a bit unclear.

I switched from Google to BlackBerry calendar and haven't looked back.

Google Calendar needs a live icon, that's pretty much the thing stopping me from using it.

I love Today Calendar...Love the split view, and has all of the Google calendar options...

I like using Google Keep to set a reminder to a certain location; set a reminder for a shopping list, then set location to your grocery store, when you get in range of the store the notification will remind you of what you need.

How about the option to set an event/reminder from Gmail on Android?

If only the snooze features were any good.

Thanks for the article Jen. Would you be able to do an article on great alternatives to Google Calendar?

Does Google Calendar still auto-delete events after about 18 months? If so, why?

I use Google Calendar all the time. My biggest issue is that sometimes the time is set incorrectly. I will schedule a meeting for 6:30 pm on a Tuesday night, set the correct time zone (Pacific) and add a handful of people. When I go to save it, it asked me if I want to send emails to participants. They get the email and the time on the email says like 1am for the meeting time. Even though the time is correct in my calendar, the message in the email blast says some off the wall time. Happens all the time.

Google Inbox is another terrific way to create and use reminders (which are also saved in Google Calendar). Using Nova Prime I have a gesture to create reminders with a swipe of the Inbox icon and it comes in really handy.
Android Central Newsletter
Get instant access to breaking news, the hottest reviews, great deals and helpful tips
Thank you for signing up to Android Central. You will receive a verification email shortly.
There was a problem. Please refresh the page and try again.