Google announces Android M Developer Preview, full release in Q3 2015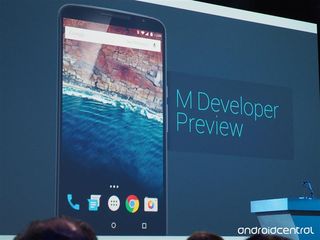 The new version of Android is just "M" for now, of course, and is coming out in via a Developer Preview at first. Android M is all about "product excellence" that lands in six main categories, including a few smart features but also cleaning up code and squashing bugs.
The first big feature is selective app permissions, which lets you pick and choose which permissions you let an app have. You no longer grant permissions when you install the app, and instead grant them when the app tries to perform an action that requires additional permissions.
Another large bit of Android M is the new payment initiative, Android Pay. It's all about simplicity, security and choice — you unlock your phone, place it on an NFC terminal, and you've just paid. When you sign up for Android Pay your account hands over a unique number for each transaction, so your main card number remains safe. Android Pay is also available inside of other apps that integrate with the service, including banks and merchants.
Going hand-in-hand with the new payment system, Android M is also integrating with fingerprint sensors at the system level. That means you'll be able to unlock your device, make Play Store purchases and authenticate payments through Android Pay all with your fingerprint if your device has a sensor.
Hoping to target some of the battery life woes of Android devices, Android M also includes new power features. Phones and tablets running M will now use a new feature called "Doze" to drop into a lower-power state as often as possible to save power, while also keeping awake for high-priority messages and notifications. Google says that a Nexus 9 running on M can get almost twice the battery life as one running Lollipop.
There's also a new Google Chrome experience, which lets individual tabs better integrate with the apps that they're associated to. For example an app can push you out into Chrome into a "custom tab," where you can access saved data that you only have in Chrome.
Android M also includes app-to-app linking, which will let apps hand off data between each other much in the same way that you can follow links between websites.
The Android M Developer Preview is coming for the Nexus 5, 6, 9 and Player, and it will launch in full capacity in Q3 of this year.
MORE: Follow our Google I/O Keynote Liveblog!
Android Central Newsletter
Get instant access to breaking news, the hottest reviews, great deals and helpful tips
Andrew was an Executive Editor, U.S. at Android Central between 2012 and 2020.
Need Posted via the Android Central App

Finna cop Posted via the Android Central App

'M' huh.... Hmmmmm, Mars bar? Moonpie? We shall see. Posted via the Android Central App

Meringue? Marzipan? Maple Bar?

Android Moonshine Posted via the Android Central App

Android Marijuana. Why do think the robot's green? They've been planning this for years. :) Posted via the Android Central App

Mars Bar is my vote. Oh and is Android anything like BB10 where you can download leaked OS's and install them with like 3 button clicks?

Nope Posted via the Android Central App

Wonder if Jerry has it installed yet. Posted via the Android Central App

90% of android phones are still waiting for Lollipop to show them the money

Yeah but 95% of those phones were never gonna see an update. Normal consumers just don't care Posted via the Android Central App

Not all that impressed/excited with the M preview features...a bit let down.

I'd be happy if all they do is concentrate on bug fixes and adding here and there for a bit. We don't need and can't expect Android L style updates each year. Me personally I would be happy with just the new permissions option being added. Posted via the Android Central App

Agreed. L was a big jump, I think that has to do why devices aren't supporting it as quickly as KitKat. M should focus on making android better, faster and more efficient version of L. Posted via the Android Central App

Not the multi window or theme options in the developer settings? That's something to be pumped about

Improvements, that's all we need right now Posted via Android Central App

Nothing on stability issues or battery life?? Posted via the Android Central App

Well, they did mention in the keynote they are still squashing "thousands of bugs" from L, and then there is Doze for battery life in M.

The post did mention better battery life. Almost twice the battery life on L. Posted via the Android Central App

Probably not :\ Posted via the Android Central App

5, 6, 9, and Player for the Preview. No word on full release.

Wild be nice to have a solid platform versus a constantly changing platform. As Android users we really are beta testers. Android All Day Everyday!

I agree. If M is just a more polished version of lollipop with a few new features that's perfect. Posted via Android Central App

You are on to something. Think ics --> jb
Same 4.x just "better version" so M will prolly be 5.x as well

"Dear participants, here's the new OS that 85% of the phones in the audience right now will never get!" ( :

You get what you pay for Posted via the Android Central App

It's a developer conference for Google.. I'm pretty sure nexus devices aren't rare there. Posted via the Android Central App

Which phone's aren't getting it? Posted via the Android Central App

I'm way more excited for this release than I was for Lollipop. Polished software that's more seamless, permissions control, and fingerprint protection? Lawd yes! However, I won't get excited for better battery life until I see for myself.

I'm thrilled that we're finally assured better battery life. with names like project volta and doze they can't possibly get it wrong this time! Posted via the Android Central App

They need to learn from past experience with lollipop, time for improvements Posted via Android Central App

Now comes the "WHERE'S MY UPDATE?!?" threads. I kid, but I look forward to trying out Android Pay when Marshmallow gets here. Posted via the Android Central App

Yah M = Marshmallow....they can have a Puft Marshmallow Android Bot!!!

Beymax! Posted via the Android Central App

Here we go again...it's the infinite cycle.....

1. Selective Permission
2. Fingerprint Sensor
3. Android Pay
4. Lower power standby Sounds pretty familiar to anybody who has used an iPhone recently. Good to see Android finally catching up in these areas.

1. Yes, we've needed this. I refused two updates recently because they went too far. Why does the Yahoo news reader need access to my microphone?
2. I prefer on-body detection and code. Especially when your phone is covered with your fingerprints.
3. Tap to pay has been around for years... I'm a heavy Google Wallet user myself. But, it's becoming more popular now (Thank you Apple!). What I don't like is the fact that there are hundreds of NFC functions in Android, and only one in iOS. I have a full set of programming tools, NFC task managers, and two bags of tags and stickers, and they are useless in the iOS world.
4. More battery life is always welcome. iOS does a good job on standby, but that is offset by less battery life during active use. The exception (in some conditions) is the 6 plus, but I turned that back in because it was too big. Stuck with a 5c because it was compact and had better battery life than the iPhone 6, though I definitely like the 6 way better than the 5c. What I would REALLY love is an iPhone 6 with 2-3 day battery life like my HTC.

Doesn't look like an exciting release at all. Hopefully it fixes lollipop, which is still rather buggy. Posted via the Android Central App

This is boring stuff, If I were Samsung, LG or Sony I would be worried about how Google has lost innovation on software development for smartphones.

What? No amazing knock it out of the park features???? Here comes The Negative Mafia to rape, pillage and plunder.
Oh an Where's My Update?!?!?!?!?!?

Guessing it will be "mint" and will be labeled as "A cool/ fresh take on Android, like mint", something to that effect. Plus mint is green, like the android.

Battery runs out fast Posted via the Android Central App

Will the lg3 be getting this update? Posted via Android Central App
Android Central Newsletter
Get instant access to breaking news, the hottest reviews, great deals and helpful tips
Thank you for signing up to Android Central. You will receive a verification email shortly.
There was a problem. Please refresh the page and try again.