Google announces 2017 Google Play Award winners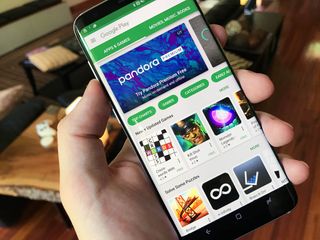 As part of the Google I/O festivities, Google held a ceremony to announce the winners of the 2nd annual Google Play Awards.
With over 85 billion downloads from the Google Play Store, it's always nice to see Google give some praise to the most innovative and interesting apps of the past year. Google has highlighted 12 apps this year, each chosen for its outstanding user experience or social impact.
Standout Indie: Mushroom 11
Mushroom 11 is a super interesting puzzle game in which you take control of a shapeshifting fungus as you make your way across an apocalyptic wasteland.
This game features challenging puzzles and fantastically fluid controls. Definitely worth checking out!
Download: Mushroom 11 ($4.99) (opens in new tab)
Standout Startup: HOOKED
HOOKED is a storytelling app that tells its story one text at a time. This app lives up to its name by drawing you into its library of mysterious stories, presented as a series of chat logs.
New stories are added daily, and there's even an option to upload your own stories for others to read. It's strangely addictive despite its occasionally cheesy storylines.
Download: HOOKED (Free) (opens in new tab)
Best Android Wear Experience: Runtastic Running & Fitness
It probably comes as little surprise that a fitness app would win the the award for Best Android Wear Experience.
Runtastic is one of the best fitness tracker apps you can use and is especially worth checking out if you've got a new Android Wear 2.0 watch or are planning to pick one up to revamp your summer fitness routine.
Download: Runtastic Running & Fitness (Free, or $4.99 for Pro version) (opens in new tab)
Best TV Experience: Red Bull TV
From the best in extreme sports to music festivals, Red Bull delivers endless entertainment — enough so that you may forget they also sell energy drinks!
Red Bull TV wins the award for its TV Experience, which will be worth keeping in mind the next time they have some guy free-fall from space.
Download: Red Bull TV (Free) (opens in new tab)
Best VR Experience: Virtual Virtual Reality
We imagine that this category is going to be getting very competitive over the next few years. This year's winner is Virtual Virtual Reality, which is built around a really fun concept of strapping on different VR headsets within a VR setting — similar to the dream within a dream scenario from Inception.
This Daydream VR app is currently on sale for half off, so there's no better time to check it out!
Download: Virtual Virtual Reality ($4.49) (opens in new tab)
Best AR Experience: WOORLD
We should be seeing more Tango-enabled phones to take advantage of Augmented Reality. When you finally get your hands on one, check out WOORLD.
It's a great showcase for the quirky side of AR, and is intuitive enough for anyone to pick up and play.
Download: WOORLD (Free) (opens in new tab)
Best Apps for Kids: Animal Jam - Play Wild!
For those looking for more kid-friendly apps to keep the young ones occupied in the back seat, Google gives the nod to Animal Jam.
Set in a fun and cartoony 3D world, your kid will learn about animals and their real-life habitats while playing fun games. There's also a social aspect for chatting in-game, with the developers committed to providing a safe online playground for kids.
Download: Animal Jam - Play Wild! (Free w/IAPs) (opens in new tab)
Best Multiplayer Game: Hearthstone
Hearthstone is still going strong three years on from its launch on Android. Developed by Blizzard, it's a social card game based in the same universe as World of Warcraft.
If you're brand new and interested in checking it out, there's great tutorial and single player modes to help teach you the basics and learn strategies before you move on to facing online opponents. Keep in mind that if you want to get serious here, you're going to need to buy some in-game expansion packs.
Download: Hearthstone (Free w/IAPs) (opens in new tab)
Best App: Memrise
The big prize of Best App went to Memrise, an intuitive app to assist you in learning a new language. Over 15 million people are using Memrise to learn a new language by playing games, watching videos from native speakers to offer social contexts, with more resources to help you along. It's free to try out, so what do you have to lose?
Also, check out the developer's "What's New" update for its reaction to winning the award for Best App. It's pretty swell!
Download: Memrise (Free) (opens in new tab)
Best Game: Transformers: Forged to Fight
Join Optimus Prime, Megatron, Bumblebee, Waspinator, Rhinox, Grimlock, Soundwave and many more of your favorite bots in Transformers: Forged to Fight. Personally, I'm kind of surprised to see this game pick up the top spot — It certainly wouldn't top my list.
Then again, who doesn't love a good ol' fashioned robot fight?
Download: Transformers: Forged to Fight (Free w/IAPs) (opens in new tab)
Best Accessibility Experience: IFTTT
If you've been looking into connecting all of your smart devices around your home into a fully automated system, you've probably already looked into IFTTT. Using custom Applets, IFTTT lets you connect hundreds of apps and devices in seemingly endless orientations — and of course there's support for Amazon Alexa and Google Assistant, so you can control everything with your voice.
Definitely an app you'll want to have on your phone in the years to come.
Download: IFTTT (Free) (opens in new tab)
Best Social Impact: ShareTheMeal
ShareTheMeal is a charity developed by the UN World Food Programme that lets you feed a child with a simple tap on your phone. It only takes about $.50 a day to feed a child for a day. There are 20 times as many smartphone users as there are hungry children. You do the math.
With several ongoing famines around the world, we should all do our small part to make a difference. Apps like this are a great showcase of how technology can be used to make a positive impact.
Download: ShareTheMeal (opens in new tab)
Marc Lagace was an Apps and Games Editor at Android Central between 2016 and 2020. You can reach out to him on Twitter [@spacelagace.
FYI the trailer you have for Animal Jam Play Wild is incorrect. That is a trailer for Animal Jam, the browser version of the game which is completely different. Here is the video from the Animal Jam Play Wild store page https://www.youtube.com/watch?v=t87hxQxG4Fg&feature=youtu.be

I truly hope this game on Android is completely different from the desktop version. That game is one of the worst games for kids that I've ever seen. It's difficult to imagine that Nat Geo is involved, let alone behind it. Once you get past a few animal learning sessions, the rest is all about acquiring digital jewelery and other objects whether that's through competing with or cheating other players. Their safety features are so poor that any 5 year old can figure out how to say some pretty nasty things to other players, and their admin team has been completely unresponsive to my complaints when my daughter was called some very unpleasant things. I haven't seen the Android App in question, but I would urge any parent considering giving this game to their kids, to check it out fully before.

Really? Transformer as best game? Who picked that and what criteria they used? There are tons of games out there that I'll put before that game. Mushroom11 and HOOKED looks interesting so I'll give them a go.

Probably Paramount paying that mulla

The only explanation that makes sense.

Jesus, that video from RedBull TV. Made my toes tingle.

That Woorld video had a great soundtrack – so random!
Android Central Newsletter
Get the best of Android Central in in your inbox, every day!
Thank you for signing up to Android Central. You will receive a verification email shortly.
There was a problem. Please refresh the page and try again.