Google is abandoning Nik Collection now that Photos is done with it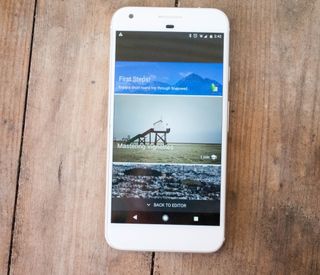 The folks at PetaPixel noticed a new banner over the Nik Collection site recently, explaining Google will continue offering the popular software suite it acquired back in 2012, but it would no longer be updated. Google got a lot of positive attention for buying Nik and making the $150 professional photo editing software free, but the real reason behind the purchase was to improve the editing features of Google Photos and Snapseed.
This move obviously doesn't make any huge difference to most Android users, who have been benefiting from Nik software for the last couple of years, but it does make Google's priorities even more clear. Image quality from the crazy good sensor on the Pixel and quick, simple edits through Photos and Snapseed are going to continue to be a huge focus. That's great news for anyone eager to see image quality on phones continue to improve, but maybe not the best news for people hoping Google cared about more than just phones.
Russell is a Contributing Editor at Android Central. He's a former server admin who has been using Android since the HTC G1, and quite literally wrote the book on Android tablets. You can usually find him chasing the next tech trend, much to the pain of his wallet. Find him on Facebook and Twitter
Getting sick of this trend...They have a shorter attention span than Trump.
Why in hell they bought it then? Not everyone wants to edit phone pics, there are some old things called DSLRs 😜

They bought it to make Google Photos great. And they did.

To make photos great, again!

This has nothing to do with "attention span". The used it for their intended purpose and by all accounts they used it well.

That is exactly what i am thinking right now.
Why have 2 softwares doing the same thing? And this is what i think while having Waze and Maps on my phone(yeah, i know that Maps uses a lot of traffic info from Waze but, why in the hell they need to be separated apps??)

Then it was free..so what's your problem? . It's great with Lightroom. Love it.

It's wasn't $150, it was $500 for the full suite. I know because I bought it 2 months before Google acquired Nik. Eff Google. I hope some of the Nik engineers will be allowed to continue the product.

Sounds like you were eligible for refund, https://plus.google.com/+NikCollection/posts/AFGsG2Di7EK

That's very sad but I knew the day will come Google will abandon the collection when they made it free. Why they couldn't license the technology or just buy the Snapseed app and leave NIK to continue development for camera users? It makes very little sense to me. I am getting tired of these giants buying smaller companies and then abandon their products, it's anti-competitive.

If only they'd release Snapseed as a UWP for Windows too. no one would complain.
Android Central Newsletter
Get the best of Android Central in in your inbox, every day!
Thank you for signing up to Android Central. You will receive a verification email shortly.
There was a problem. Please refresh the page and try again.