God of War for PlayStation 4: Everything you need to know!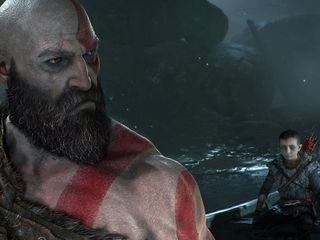 (Image credit: Sony)
In 2013, Sony Santa Monica decided to put Kratos, one of PlayStation's most iconic characters, to bed so they could focus on crafting other games. With a trilogy and a handful of spin-offs starring the vengeful greek god completed and a shift in a focus on mature story driven games, Sony retired the God of War series for five years.
After assessing the series, Sony Santa Monica found a way to revive the series in a new and exciting way while sticking to Sony's formula. Now, Kratos is set to return in a completely new way next month in a "reimagining" of the series which will be titled simply God of War.
Reviews are in: One of the best games of this generation
God of War is being hailed by critics as an instant classic and one of the greatest games we've seen this generation. The PS4 exclusive has managed to bring in numerous perfect scores, plenty of 9/10s, and lots of very, very kind words regarding the game's thoughtful plot, beautiful performances, and engaging gameplay. You can read some excerpts of reviews from key outlets below.
"God of War is, in a single word, holistic. Every aspect is excellent on its own, but more importantly, it all serves and accentuates the larger vision.
A decade ago, director Cory Barlog helped establish the God of War franchise as an iconic gory and debaucherous video game romp. While its antihero, Kratos, had pathos (he killed his wife and daughter in a fit of rage, his skin forever grayed by their ashes), it served little dramatic purpose, rather existing as a grimdark excuse for his god-slaying and orgy-having ways. Barlog — now older, a father — has returned to the series with a bundle of talented designers, many of whom served on the earlier games, to make good on that rich but neglected potential at its core. There's still plenty of gore, but the now the guts have meatiness.
Some die-hard fans may fear this isn't really God of War. I suppose they're right. It's even better."
"I expected great action from God of War, and it delivers that handily. But I didn't expect it to be a thrilling journey in which every aspect of it complements the others to form what is nothing short of a masterpiece. It's a game in which Kratos, a previously one-note character, becomes a complex father, warrior, and monster, embattled both on the field and within his own heart about how to treat his son; one in which the world opens up and shifts, offering rewards in both gameplay and knowledge of its lore that I treasured with each accomplishment. The obvious care that went into crafting its world, characters, and gameplay delivers by far the most stirring and memorable game in the series."
"God of War is a different game for a new era of the medium. While I'm a sucker for more frantic arcadey action there are plenty of studios left carrying on that legacy. Unless something catastrophic happens to Sony Santa Monica, there's more story to tell, and I hope the exact same team is able to tell it."
"God of War is a story about what it means to be a god – traversing realms, killing mythical monsters, exerting power, exploring the boundaries of possibility – but also about what it means to be a man. Power and masculinity are intertwined, and Kratos's desire to protect his son from the realities of both is unexpectedly touching. Atreus is far from the irritating sidekick he might have been, complementing Kratos's gruff and humourless dialogue with quips and endearing observations, turning his father's intense seriousness and inability to find humour in anything into a running joke. Their dynamic changes shape more than once over the course of the story, and their relationship involves a lot more demon blood and magical artifacts than the typical parent-child relationship, but Kratos is still a distant, emotionally remote father trying clumsily to reach out to a son who feels unwanted.
It is rare to play a game so accomplished in everything it sets out to do. God of War is a standard-setter both technologically and narratively. It is a game that, until recently, would have been impossible."
USGamer, 5/5
"This is how you do a reboot. After Kratos lost his way, Sony Santa Monica has set the God of War on a new path. A more measured, nuanced character, a great supporting cast, an excellent combat system, and some of the best graphics in a PlayStation 4 game to-date, add up to a winner."
GamesRadar, 5/5
"Realistically, however, I don't think it's possible to overstate just how good God of War is; how well realised its world, how nuanced and layered its characters and storytelling. The depth and craft of its combat, puzzles and almost every system it has sparkles and shines with an indulgence and luxury that regularly stopped me in my tracks to drink it all in. Whether breathless and bloody in the aftermath of an axe-hacked victory, or watching Kratos and his son Atreus share a genuinely human moment, this is a level of game making that doesn't happen often. The final question really isn't about where it sits in any game of the year discussions, but rather its place in eventual game of the generation talks"
Game Informer, 9.75/10
"Years ago, Kratos killed the deities of Mount Olympus in a gory rampage. Now, in the Norse realm, he has remade himself into a different kind of god. He is quieter and more deliberate, affected by his history but not constrained by it. Kratos' reinvention serves as a narrative hook, but it also parallels the series' evolution as a whole; where God of War once relied on bombast and bloodlust, now it leaves space for strategy and nuance. It still has superb action and plenty of jaw-dropping moments, but it supports them with a new level of depth and maturity. God of War learns from its past while clearing an exciting path for the future, and emerges as one of the best games of this generation."
GameSpot, 9/10
"In many ways God of War is what the series has always been. It's a spectacular action game with epic set pieces, big-budget production values, and hard-hitting combat that grows more feverish and impressive as you progress. What may surprise you is how mature its storytelling has become. Like Kratos, God of War recalls the past while acknowledging the need to improve. Everything new it does is for the better, and everything it holds onto benefits as a result. Kratos is no longer a predictable brute. God of War is no longer an old-fashioned action series. With this reboot, it confidently walks a new path that will hopefully lead to more exciting adventures to come."
"This new God of War takes a lot of risks. It trades blind rage and revenge for a story about a troubled father/son relationship. It ditches fast, combo-based violence for something more methodical. It's a departure from everything that once was God of War.
But almost all of these risks pay off. God of War is an exhilarating, beautiful action game that turns one of PlayStation's biggest icons into a character you can care about."
A man running from his past in new and unfamiliar territory
God of War's story is mostly being kept a secret but what we do know so far sounds like a new, compelling take on Kratos' life. Set an unknown amount of years after God of War 3, Kratos has fled Greece to Norway in a time before Vikings, a time where the gods that Vikings worship walk the Earth.
Players will control a more mature Kratos, one that has both changed physically and mentally. Kratos has remained in peak physical shape but has grown a bushy beard and the ashes of his fallen family that have been basically tattooed to him are starting to fade. While he is known for his almost uncontrollable rage, Kratos has chosen to settle down with a family and hide from his past.
After his wife passes away, he and his son, Atreus, recognize her last wish of having her ashes spread across the land and they set out on a dangerous adventure where they grow closer as father and son. Over the course of the game, Kratos will make a strong effort to contain his rage to help teach his son how to survive in the harsh world that awaits them and Atreus will learn more about his father's complicated past.
With the Norse mythology setting, Kratos and Atreus will encounter Norse gods who have taken precautions to protect themselves from Kratos as they're aware of his involvement in the destruction of Olympus. Sony Santa Monica has stayed tight lipped on which specific Norse gods will make appearances but many have been speculating the likes of Loki and Thor. Other characters and elements of Norse mythology have been spotted in trailers and marketing material such as the beheaded Mímir.
Additionally, players will battle monsters like trolls, what appear to be ogres, and potentially even dragons which can be seen lurking in the background of the reveal trailer.
Slower but still brutal gameplay
God of War is well-known for its violent, fast-paced gameplay which sees Kratos thrashing around blades and chains to slice large groups of baddies to shreds. With the new God of War, players will notice a much more grounded approach to the combat in the game. Gone are the days of 100+ hit combos, Kratos' attacks aren't as fast anymore but he's still as brutal and relentless as before. God of War director Cory Barlog noted that they wanted players to think about how they fight, almost like a Dark Souls approach to combat but in a way that is accessible to everyone. It's a bit slower and more methodical when compared to the trilogy that came before.
At the end of God of War 3, Kratos lost his iconic weapons and has now had to settle for a magical axe. Players can infuse the axe with different abilities to enhance the axe in a variety of different ways. The axe can also be thrown to pin enemies against surfaces, damage them normally, hit environmental objects like explosive containers, and even stun larger enemies by hitting key weak points on their body. Instead of having to pick up the axe by walking over to it, Kratos can call it back to him like Thor's hammer.
Kratos also has a meter that builds over time that allows him to unleash all of his rage and become extra deadly with more powerful attacks. While the game is completely single-player and Kratos is the only playable character, you can issue commands to Atreus who will shoot arrows and act as a distraction for some enemies.
As with almost every other game today, God of War has adapted a crafting system for new armor, weapon upgrades, and more. Players will also be given XP to level themselves up for new skills, this also applies to Atreus who has his own unique abilities and upgrades.
A world filled with secrets and hidden dangers
With a new story, setting, and approach to gameplay, Sony Santa Monica decided to change up the level design this time around. While the series has been fairly linear in the past, God of War is opening up its new world. Sony Santa Monica has been clear that the game is NOT open world but you go off the beaten path to find secrets like chests and even optional boss encounters.
It's not entirely clear how many optional bosses there are or how rewarding they are but if you're one of those gamers who loves to peak around every corner and squeeze through every crevice, God of War is right up your alley.
All the ways to buy God of War
If all of this sounds great and you're really excited to play God of War, you can snag a copy wherever games are sold for $59.99 on April 20th, 2018. Remember the game is exclusively available on PlayStation 4 so if you don't have a PS4, you can get the limited edition God of War PS4 Pro which includes a custom console and controller, a 1TB hard drive, and of course, a physical copy of God of War with some extra digital content. You can pick this up from retailers like GameStop, Walmart, and Amazon for $399.99.
If you're looking to go the extra mile and drop a few extra bucks to have some additional goodies, there are plenty of options. Starting at the cheapest option (excluding the standard edition), those who like to get their games digitally can pick up the Digital Deluxe Edition which includes a handful of digital items including the following: - God of War Digital Full Game - God of War Digital Mini Artbook by Dark Horse Comics - God of War PS4™ Dynamic Theme - "Exile's Guardian" Shield Skin - God of War Digital Comic – Issue 0 by Dark Horse Comics - "Death's Vow" Armor for Kratos - "Death's Vow" Armor for Atreus
The Digital Deluxe edition will set you back $69.99 and is available directly from the PlayStation 4 Store. For those who like big statues and other physical items, you have two options: The Collector's Edition and the Stone Mason;s Edition.
For $129.99, you can grab the Collector's Edition which includes slightly less stuff than the Stone Mason's Edition but if all you care about is the statue then this is the cheapest option. The Collector's Edition includes the following: - Full Game - 9" Kratos & Atreus Statue by Gentle Giant - Limited Steelbook Case - 2" Huldra Brothers Carvings - Exclusive Lithograph - Cloth Map - Digital Contents Include: - Defender of the Chosen Shield - Death's Vow Armor Set - Exile's Guardian Shield - God of War Digital Comic #0 by Dark Horse - God of War Digital Mini Artbook by Dark Horse - Dynamic Theme
For $149.99, you can get the Stone Mason's Edition which includes everything in the Collector's Edition and the three physical items seen below: - Stone Mason's Ring - Mimir's Head Talking Keychain - 2" Horse and Troll Carvings
God of War releases for PlayStation 4 on April 20th, 2018.
Get the Android Central Newsletter
Instant access to breaking news, the hottest reviews, great deals and helpful tips.