Gmail updated with actionable notifications for Jelly Bean users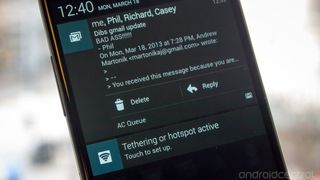 Google has just updated its Gmail app to include new actionable notifications for incoming email on devices running Jelly Bean. This means that incoming email can be archived, deleted or replied to directly from the notification pane, rather than by entering the app first. Since being introduced in Android 4.1, actionable notifications have been seemingly underutilized compared to simple expandable notifications. It's good to see Google putting the new functionality to use in its own apps.
Many users are unfortunately reporting that this update to Gmail is causing Light Flow -- which controls LED flashing for notifications -- to crash uncontrollably. The only fix seems to be to uninstall the app for the moment, and hopefully the developer can be quick with a fix.
The update also enables faster search on devices with Ice Cream Sandwich, and performance improvements for users on Froyo and up. You can grab a download or update of the official Gmail app from the link above.
Source: Official Gmail Blog
Andrew was an Executive Editor, U.S. at Android Central between 2012 and 2020.
Well, this is eerie. Literally an hour ago I got an irrelevant email and realized how convenient it would be to not have to go into the Gmail app to archive/delete it. Then, voila! Good stuff.

Strange...Gizmodo, Engadget and the Gmail blog are all saying 'Archive' while AC and my own phone are showing it as 'Delete'. I prefer deleting, so not a problem...just curious as to why the stories are different.

Could possibly be a difference of options selected in the Settings?

I don't see that in the settings, unless it's tied into the "Swiping conversation list" functionality.

Probably the default action under General Settings, under Swiping Conversation List change from Archive to Always Delete and you get the Delete option like what your seeing.

You sir, are a gentleman and a scholar.

Seems to just reflect what your default setting for swiping a conversation in the app is.

this is the feature that I want for a while. finally they did it

Anybody else install this and have Light Flow crash?

I have and rebooting hasn't helped either.

Lightflow pro just updated their app today this evening in response to the gmail app notification going bizurk, right after my gmail auto updated my LF went crazy too.

I'm having the same issues. Nexus 4.

Yep, pretty much instantly after this update finished and it won't work after a restart as well. Hopefully there's a lightflow update soon to address this

Having the same issues here on the Galaxy Nexus

Same issue on Galaxy Nexus. I had to disable the Gmail notification to get LightFlow to stop crashing.

Yep - this was the only fix that worked for me too.

I figured this was related to the Superuser update that I did at the same time. A force stop and disabling of root for Light Flow stopped the crash. Won't know for a while yet just how this impacts stuff.

Same here. Send a crash report into LEDFlow.

I did have the issue on my Note 2. I force closed Light Flow, then turned it back on in accessibility settings and it's working fine for me now.

A little off topic but any reason you chose light flow over light manager for your Note 2?

Yea, The update seems to have killed LightFlow on my Gnex.

Hi
Thanks for contacting us. If email is related to Light Flow crashing now that gmail has just been updated we are aware of the issue and for the last few weeks we've been working on an update. I'm just in the process of building a release to push out to address this. Thanks for your patience while this is resolved. I'd also like to say thanks to some of the folk at google who gave us assistance and a heads up on the new version so a fix could be published. It's just a shame google pushed it out while we were still in testing! Thanks
Andrew Rage Consulting

Andrew is awesome.
Anyone using this that hasn't paid him yet, should consider going pro.

Sweet, been waiting for this for a while

Awesome its about time :)

Word. Glad I am on Jelly Bean :)

Maps really needs to take advantage of actionable notifications for Check-Ins.

Nice and all that but how about being able to disable conversation view and be in good able to have images in signatues

Yes please on disabling conversation view. I wish that synced from the web.

Does this only show up if there are no other notifications? Since light flow keeps on crashing I don't seem to have any options on new emails.

It only shows up with a single email and when the notification is expanded.

Not bad, but I'm still waiting for the native ability to empty the trash or spam folders. Sucks you still can only do that via a browser. Why not give the app those functions?

ABOUT FREAKING TIME!!!!!!!

Nice update but would also like the option to forward. Would have preferred that over archive. I'm nitpicking though, this is a nice update.

Actually, would be nice to have the email auto-marked as read when archiving.

Finally!!! As a long ago Palm Pre user, I've been waiting years for android to come around to this. Now I truly have a reason to update my phone from ICS to JB. -Suntan

BOOOOOOOOO!!!!!!!!!!! My Motorola Photon can't get it!!! I hate you Motorola!!!!

Light flow... down... boy oh boy.. I depend alot on this app I will uninstall the upgrade and wait for light flow to get fixed..

Confused, got this update on my original Note, running stock 4.04; yet the app says for 4.1 Jelly Bean. Working though.

It's an update for anyone Android 2.2 and above. The new functionality is only present there if you're on 4.1+.

And of course, HTC OneX that just updated to JB doesn't do this.. UGH!!! Waited all that time for the update on AT&T and now the functionality isn't there... Is this a sense4 or AT&T Issue????

Same here on the HTC Evo LTE w/JB. Sense 4's customized notifications not supporting the expandable/actionable notifications of JB. Oh well, that sux. I wonder if the Samsungs have these JB notification features.

Had the same issue as others, as soon as the update installed light flow started crashing over and over. restarted my Gnex same thing. Uninstalled light-flow and re installed it and checked "Accessibility" and no more crashes. Spoke to soon just started crashing again.

Light flow... already UPDATED.. wow that was fast...!!!!

Are you sure? I just cleared cache in my Google Play store & I still don't see the update.

The re install I did of Light Flow was version 3.5.2 dated March 18 2013. it did not immediately crash but it DOES crash as soon as a Gmail notification is received.

How do I enable this? I have the evo lte on CM10.1 (4.2.2) CM should support the expandable/actionable notifications. Right?

I have a stock Galaxy Nexus (Verizon) 4.1.1 and even though I updated the Gmail app, I don't see an option to archive, reply or delete from notifications. Anyone else having this issue?

I also updated my Verizon Galaxy Nexus and do not see anything different yet.

Ditto. Updated to the new app, and nothing. Even forced closed and restarted gmail. Still nothing new in the notifications. Running an S3 with 4.1.2. Does this need 4.2 to work? OK, figured it out. The in-notification icons ONLY show up if you have a single new email. That's pretty darn limited. This seems "much ado about nothing." Worse, the new email app seems broken. It won't sync automatically. I send myself a test message, and it never arrives. If I go to settings / accounts / Google, it seems to think it's syncing, because it shows me a cancel sync button, but tapping that button does nothing. I have to manually uncheck the sync mail text box, then recheck it, to get the app to sync. Google's got more work to do. I'm going back to the previous version.

And even the single new email does not show if you have an ongoing notification. I could not see the new features untill I turned off Blocking Mode.

Thanks jfs101...you speak the truth. Features only show up for single email notifications when Blocking Mode is turned off. Good idea but not practical for my purposes yet.

I have a Samsung Galaxy S3, I updated yesterday but I have no options in the notification bar do I have to turn on this feature?

How do I enable this on my Nex7 and Nex4??? Both devices are updated and I still can't see this on my notifications (one email in the bar) :( -------------------- Figured it out!! :) Two Finger Pull-Down in the Notification Window!!!

How do I turn the expanded view off? I don't want to to see anything except that I have an email. I don't want to read it from the notification bar - I'd rather open the app up to do so.
Android Central Newsletter
Get the best of Android Central in in your inbox, every day!
Thank you for signing up to Android Central. You will receive a verification email shortly.
There was a problem. Please refresh the page and try again.