Genshin Impact Update 2.4: Release date, characters, and everything new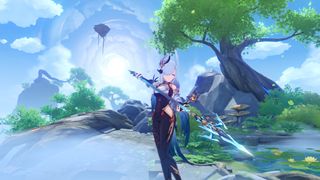 (Image credit: miHoYo)
With Genshin Impact Update 2.3 in the rearview mirror, miHoYo has already set sights on Update 2.4. Scheduled to launch on Jan. 5, Update 2.4 takes players below the ocean to a new area of Enkanomiya, a floating island that resides under Inazuma. Along with new character banners, miHoYo will be adding new events for players to participate in and earn rewards. Here's what we know about Update 2.4 so far.
Genshin Impact Update 2.4: Visit the mysterious location of Enkanomiya
As leaks had suggested, Genshin Impact Update 2.4 will open up a new location under Watatsumi Island. Enkanomiya is a floating island beneath Inazuma that's been sealed away for millennia. Because it's been sealed underground, there isn't a natural day and night cycle. Instead, miHoYo says that players will use the Dainichi Mikoshi, the artificial sun developed by the ancient civilization, as they explore the area.
Genshin Impact Update 2.4: Yun Jin and Shenhe make their debuts
Yun Jin and Shenhe are two new characters set to headline the first banner event of the update beginning on Jan. 5. MiHoYo states that they make for great support characters.
Yun Jin: Yun Jin is a popular singer and dancer among Liyue Harbor and is the current director of the Yun-Han Opera Troupe. She is a four-star Geo user who wields a powerful polearm. Her Elemental Burst, Cliffbreaker's Banner, deals area-of-effect damage and grants party members bonus damage based on Yun Jin's defense stat. Her Elemental Skill allows her to form a shield that absorbs elemental and physical damage.
Shenhe: Shenhe is a five-star Cryo polearm user who hails from a clan of exorcists. She also happens to be Cloud Retainer's disciple. Her Elemental Burst, Divine Maiden's Deliverance, deals massive area-of-effect damage through a spirit talisman that roams the battlefield. Spring Spirit Summoning, her Elemental Skill, unleashes that same spirit and buffs party members.
Xiao, Ganyu, and Zhongli will also be featured on reruns. Now's probably a good time to start saving up your Primogems if you haven't already.
Xiao: Xiao is a powerful five-star Anemo adeptus. Staying away from most people, he spends his time in Wangshu Inn.
Ganyu: Another five-star adeptus, Ganyu is a Cryo bow user and is the general secretary of the Liyue Qixing.
Zhongli: Commonly known as the Geo Archon Morax, Zhongli gave up his Gnosis and now works with the Wangsheng Funeral Parlor.
Genshin Impact Update 2.4: New weapons, monsters, and events
While Update 2.4 doesn't add a ton of new items, there's still plenty for players to do with the Lantern Rite festival returning to Liyue. And after the Jade Chamber was destroyed during a previous Archon Quest, players can team up with Ningguang to rebuild it.
Events
Fleeting Colors in Flight: Players will need to prepare for the Lantern Rite festival by helping out the locals and Ningguang. This includes rebuilding the Jade Chamber, participating in various mini-games, and even fighting a few monsters along the way.
Windtrace: Described as a classic game from Mondstadt's history, Windtrace sees players split into two sides (Hunters and Rebels) who then battle for contested zones.
Eight Locales Over Mountain and Seas: It's unclear what this event fully entails, but players will be travelling alongside a tanuki during it.
A Study in Potions: Help a local alchemist in Mondstadt create a new potion and earn rewards for your hard work.
Hangouts: Hangouts for Yun Jin and Ningguang have been added.
Weapons
Calamity Queller (five-star polearm)
Monsters
Bathysmal Vishaps: These Vishaps hunt in packs and use their surroundings to their advantage during battle.
Abyss Lector: Fathomless Flames: These Abyss Lectors deal powerful Pyro attacks that can harm characters whether they are shielded or not.
Genshin Impact Update 2.4: Release date
MiHoYo will release Update 2.4 on Jan. 5, 2022. As usual, whenever the update does release, you can expect server maintenance to get started around 6 a.m. China Standard Time (5 p.m. ET / 2 p.m. PT), lasting anywhere between four to six hours. Players will be compensated for the downtime with Primogems, accordingly.
Genshin Impact
Genshin Impact is always evolving in exciting and sometimes unexpected ways. Now's the perfect time to jump in and get your journey across Teyvat started. With frequent updates and dozens of characters to collect, you'll never get bored.
Get the Android Central Newsletter
Instant access to breaking news, the hottest reviews, great deals and helpful tips.
Games Editor - PlayStation, Android, VR
Jennifer Locke has been playing video games nearly her entire life. You can find her posting pictures of her dog and obsessing over PlayStation and Xbox, Star Wars, and other geeky things.