Meta's smart glasses offer a unique hands-free tool for social media gurus to capture content or livestream at any time without needing to grab their phone. Their solid audio quality and IPX4 water resistance also make them surprisingly good for outdoor activities. At the same time, they're somewhat short lived, a quirk with Ray-Ban glasses in general hurts the experience, and you have to reckon with the fact that these subtle smart glasses have the potential to disturb the people around you.
Pros
+

Quite good speaker and mic quality

+

Tons of customization options

+

Comfortable weight and design

+

Ultrawide portrait photo capture good for modern social media

+

Plenty of storage for photos and videos

+

Minor water resistance
Cons
-

Relatively short battery life

-

Needs better anti-reflective inner layer

-

Meta AI needs some work

-

Lingering privacy concerns and audio quirks
Why you can trust Android Central Our expert reviewers spend hours testing and comparing products and services so you can choose the best for you. Find out more about how we test.
Smart glasses have made major strides in the past few years, but that doesn't change the fact that most people outside of tech circles don't understand who or what they're for. The new Ray-Ban Meta smart glasses are designed to break into the mainstream; the real question is whether or not they'll find their target audience.
Looking at the past few years of smart glasses, Xreal and TCL have made traditional augmented reality (AR) glasses for gaming or streaming, Snap Spectacles aim at photo buffs and influencers, and Razer's glasses focus on audio streaming and gaming. This messy landscape from niche (but prominent) tech brands only makes things more confusing for the everyday buyer who vaguely remembers Google Glass and little else.
Ray-Ban Meta smart glasses follow in the footsteps of the Ray-Ban Stories, 2021 smart glasses from before the Facebook-to-Meta transition that didn't benefit from either name — either because they weren't polished enough to earn the association or because Facebook privacy concerns could hurt their chances to succeed.
This generation, Zuckerberg isn't being shy about Meta's involvement. Ray-Ban Meta has a Meta AI for answering questions, lets you livestream directly to Instagram, and got flagship treatment at Meta Connect alongside the Quest 3. And unlike Google Glass, these look like regular glasses. Unless people see the bright LED that activates when you take photos or videos, they won't be creeped out by you wearing these.
Should you buy the Ray-Ban Meta smart glasses? They're certainly an improvement over the last generation in sheer specs, with the same price tag and more seamless controls. In the end, it really depends on what you'll get out of them that you don't currently get from your smartphone and smartwatch — and whether or not you're okay with the "Glasshole" factor.
Models, price, and availability
The Ray-Ban Meta smart glasses launched on October 17, starting at $299 / £299 / €329 / $369 CAD. They're available in the United States, Canada, United Kingdom, Ireland, Austria, Belgium, France, Italy, Spain, Germany, Finland, Norway, Denmark, Sweden, and Australia.
Both main styles of glasses — the square-lensed Meta Wayfarer and rounder Meta Headliner — start at the same price. You'll pay $30 extra for certain styles or up to $80 for glasses with transition lenses.
You can buy the Meta smart glasses on meta.com in the U.S., U.K., and Canada. Otherwise, you can buy them on Ray-Ban.com in all 15 countries, or at some tech retailers like Best Buy.
If you specifically want to buy Meta smart glasses with prescription lenses, you'll either have to buy them from Ray-Ban directly or go to a certified location like LensCrafters after buying them to have them added without voiding your warranty. U.S. buyers can find an official list here.
These smart glasses work with the Meta View app, which is available on iOS or Android. You'll need iOS 14.4 or higher, or Android 10 or higher, to use these glasses fully.
Ray-Ban Meta Smart Glasses: Specs and how they work
Swipe to scroll horizontally
| Category | Ray-Ban Meta smart glasses |
| --- | --- |
| Dimensions (Wayfarer) | 146.1 x 46.8mm; 48.6g (Small); 152.2 x 49.3mm; 50.8g (Large) |
| Dimensions (Headliner) | 147.5 x 49.2mm; 49.2g |
| Camera | 12MP Ultra-Wide |
| Photo resolution | 3024 X 4032 pixels (Portrait default) |
| Video resolution | 1440 x 1920 pixels at 30 fps (Vertical default) |
| Speakers | 76.1dB(C), open-ear |
| Microphones | Custom 5-mic Array (2 in left arm, 2 in right arm, 1 near nose pad) |
| Storage | 32GB; about 100+ videos (30 sec) and 500+ photos (3 frame burst) |
| Connectivity | Wi-Fi 6; Bluetooth 5.3 |
| Compatibility | iOS; Android |
| Battery | 4 hours per charge: 30 minutes live streaming |
| Charging (glasses) case | Up to 32 hours |
Ray-Ban Meta Smart Glasses vs. Ray-Ban Stories
Compared to the Ray-Ban Stories, the Ray-Ban Meta Smart Glasses — yes, that's their annoyingly long official name — make some major upgrades. For starters, you get 32GB of storage instead of 4GB, leaving much more room for tons of videos before you need to make room instead of a dozen or so.
Photo resolution jumps from 2592 x 1944 to 3024 X 4032 — note the switch from landscape- to portrait-oriented photos — while video resolution switches from a low-res square (1184 x 1184) to a higher-res vertical feed perfect for the TikTok and Instagram generation.
You can connect these smart glasses over Wi-Fi 6 instead of 5GHz, making it faster to upload photos and videos between the glasses and your phone; I personally found that uploading a batch of 50 photos and a couple of videos only took about 10 seconds, too fast to notice. You also jump from Bluetooth 5.0 to 5.3.
You get five built-in mics instead of 3, and Meta claims that its new glasses get "50% louder" with double the bass compared to Stories. And despite all these extras, the weight is essentially the same across generations.
The only downgrade, which we'll talk more about later, is that Meta rates its smart glasses for four hours of use per charge, while the Ray-Ban Stories could last 6 hours per charge.
Set-up and controls
The Ray-Ban Meta smart glasses come in a stylish-but-bulky leather case with a magnetic attaching clasp and a charger built into the inner-front. When you slot the glasses inside, the front button port lights up to show that they're charging; from 0%, I've found that the glasses charge very quickly, only taking about an hour.
The Meta View app, available on iOS and Android, takes you through the process of syncing the Meta glasses over Bluetooth, showing you the shortcuts to use them, and asking for all of the intrusive permissions like constant location tracking, Contacts, Photos, and the always-listening mic for "Hey Meta" voice commands.
Ignoring the Meta AI for a second, the Ray-Ban Meta smart glasses rely on a capture button and a touchpad on the top and side of the front-right temple, respectively.
You can tap the button to take a photo or hold it down to start a video; if you've started a livestream on your phone, you double-tap the button to switch to your glasses' camera or tap-and-hold to pause the stream. Once you do, the glasses make an audible capture noise, while a white LED status button lights up — either temporarily for a photo or consistently during a video or stream.
The touchpad controls are simple once you master them. When streaming audio, you tap to play or pause, tap twice to skip, tap three times to go back a song, or swipe forwards or backwards to adjust volume up or down. The touchpad space is wider than you get on wireless earbuds, so it's easier for it to discriminate between taps and swipes; I only had issues when my fingertips got a little sweaty, and not often.
The Meta AI
By enabling the always-listening mode, you can initiate commands or ask questions without needing to use the buttons at all. Some command examples include the following:
Take a picture/ video
Stop recording
Call Mom
Message Bob on WhatsApp
Send a picture to Angie on Messenger
How much battery is left?
Play/Pause/Next
These commands are available in English, French, or Italian. Exclusively to English-speaking users, you can ask the Meta AI questions or "generate content," such as the kind of things you might normally ask ChatGPT or Google Bard.
Beyond this short list of commands, the AI has plenty of growing to do. For example, I want the option to turn off the smart glasses via command if I go somewhere where they'd expect privacy, but the AI said it didn't have the capability. I also asked what resolution of video the Meta smart glasses shot, and it gave a non-answer, mistakingly assuming I was asking about my phone's video resolution.
Mark Zuckerberg said during the Meta Connect event that Meta Smart Glasses will eventually let you look at a landmark and ask what its name is, and have the Meta AI answer using image recognition. We'll have to wait and see how well this works or how useful it'll be outside of major tourist traps.
For now, you're probably going to use it for simple commands like sharing the last photo you took or questions like "what time is it?", for when you're too lazy to pull out your phone. In terms of voice recognition, the AI hasn't had any problems deciphering my commands thus far, probably thanks to all those built-in mics.
Ray-Ban Meta Smart Glasses: What you'll (mostly) like
It's safe to say that Meta wants its smart glasses to target Gen Z, influencers, and always-online folks who will appreciate the ability to capture and share any moment on the fly.
Acknowledging my weak points upfront, little of that applies to me. I barely post on social media, still haven't downloaded TikTok, and remember a time when people got mad when someone filmed in portrait mode (shakes fist at cloud). So I'll do my best to speak to the target crowd, while also acknowledging how folks who don't fit that mold might find the Meta smart glasses interesting. You might be surprised!
Speaker quality
Going into this review, I had no idea that the Ray-Ban Meta smart glasses would become such a tempting alternative to wireless earbuds during my daily runs. That probably sounds weird, but hear me out.
Built into the glasses' temples (or arms), the speakers play your connected smartphone audio for music playlists, audiobooks, videos, or games. Despite the Spotify Tap shortcut, you can enjoy any other music streaming service so long as you start it on your phone first.
The quality and richness of the sound has impressed me. You can enjoy your playlist while out and about without the passive noise cancellation and social faux-pas of earbuds; so long as you don't turn the volume too high, people will only notice a tiny murmur of sound in a quiet room — at least according to the people I asked.
Together, the dual speakers hit 76.1 decibels. That's not especially high compared to the best wireless earbuds that often hit up to 100dB, but Meta had both weight and noise pollution to worry about. I've found that for most audio, setting it at 1/2 to 2/3 volume is more than loud enough. I only ever had to go to max volume for phone calls when the other end is quiet.
In the case of workouts, I can keep my spatial awareness because my ears aren't obstructed, a similar benefit to bone conduction headphones. Runners and cyclists can pause a playlist or increase the volume with a quick tap or swipe, or even a "Hey Meta" command, while keeping their eyes and mental focus on the road and their phone in their pocket.
The relatively short-lived battery means that they may not last for a marathon or long hike if you're constantly streaming. For shorter training, however, they're just what I need.
As a final, tangentially related point, the Ray-Ban Meta smart glasses' mic quality is excellent, according to multiple people whom I called over Bluetooth. My voice came through crystal clear, with no noticeable difference from my phone's built-in mic. Considering they have to cut out ambient noise, that's not something to take for granted.
Photo quality
I'll say it upfront: an ultrawide portrait-mode camera is weird. You get the stretched-out look of your typical UW shot, except condensed for vertical social media feeds. It might have been nice for Meta to offer a second camera, either standard portrait or landscape, and let you swap between them with a command or shortcut.
But rather than worry about what might have been — and a second camera would only add to the weight and price — I'll focus solely on the quality of the photos compared to what the Ray-Ban Stories offered. And on that front, they're quite good from a layman's perspective:
Image 1 of 15
These are all unedited photos at full resolution. As you can see, most show a respectable amount of detail, capable of showing small text or cracks on a sign or the ridges on leaves. Color richness satisfied me, and Meta manages to do a decent job at capturing cars or animals in motion, though you will see some blur. It actually did a good job taking photos while I was on the move, too.
What's tricky about smart glasses photography is (unsurprisingly) the lack of zoom or viewfinder. I took photos of things I thought were close, only to realize how little space my subject took up compared to its surroundings. And capturing far away subjects, like the little critter in the third photo, is very difficult.
I assume this is something you get better with in time, but it does mean you can't be too subtle if you want the best shot. You need to walk right up to your subject and take the shot, which is why (among other reasons) I stuck to nature and objects and didn't try my hand at portraits.
And honestly, this is probably for the best. Given the privacy concerns that I'll address below, it's good that you can't easily take a close-up photo of someone without actually getting really close to them, when it would be really obvious what you're doing!
Design
I have a big head — literally, not figuratively — and the Large Meta Wayfarers still put a bit of pressure on the sides of my head. But they fit. That's not something that always proves true with smart glasses for people with cartoonish cranial proportions like me.
Meta offers its Ray-Ban smart glasses in different styles (Wayfarer or Headliner), finishes (shiny or matte), transparent colorways (Jeans, Rebel Black, and Caramel), gradients (including transition lenses), and sizes (Small or Large), which is a level of variety you just don't see in smart glasses often — due to the logistical challenges and unlikelihood of selling so many types.
I only wish the Headliner design came in more than one size, but I won't be too greedy.
The biggest design change is that they're now rated IPX4 for splash resistance, which is another reason why I feel comfortable wearing them for runs. So long as they're not sprayed with a hose or dunked in water, they should withstand pretty much anything.
They're also not excessively heavy, considering all of the components built into them. I was able to run wearing them for miles and only occasionally have to push them back up my nose, when I expected them to keep sliding down due to the weight. I do feel them on the bridge of my nose a bit, but that's something I feel I can quickly get used to.
Ray-Ban Meta smart glasses: What you won't like
Audio quirks
Overall, my impression of the Meta smart glasses' audio quality is much more positive than negative, but it isn't without its minor issues.
In my colleague Nick Sutrich's Ray-Ban Meta hands-on from Meta Connect, he noted that the boosted bass meant that the new glasses wouldn't have the first-gen Ray-Ban Stories' "annoying bass fall-off that the original speakers suffered from when the volume got too high."
Well...I did hear some drop-off when streaming some orchestral Star Wars music, and later some fast-paced pop music on my running playlist. Not nearly the same level of drop-off as the last-gen specs, and only noticeable at higher volumes. Still, I noticed it without even knowing to listen for it, and only later checked Nick's post and spotted his take on it.
When playing mobile game Bloons TD 6, I noticed a half-second audio lag between seeing popped balloons or placing towers and the corresponding sound effect. Thankfully, I didn't notice any gap between YouTube video and audio, which is the more likely use case and would be more distracting. It's not a real problem.
Distracting glare
Particularly outdoors, I quickly noticed that my G-15 Green sunglasses, rated for UVA & UVB protection, were showing bizarre lines and patterns on the lenses that I couldn't scrub away with the microfiber cloth provided with the glasses.
I couldn't figure out what was happening until I did some Googling, and then slowly blinked and narrowed my eyes to confirm my findings: the Ray-Ban Meta smart glasses — or at least this version — doesn't have proper anti-reflective coating on the inside of the lenses. What I'm seeing, constantly, is a reflection of my own eyes, eyelids, and pores of my cheek skin, especially as I started to perspire.
Now, I don't know if this is a quirk of these particular lenses or if this happens across the board. My colleague Nick categorically said he never noticed this when testing his glasses during his hands-on; and because you can replace your lenses for prescription lenses, I can easily remedy this problem. Plus, I got used to the glare fairly quickly once I realized what it was.
But despite all this, I won't totally excuse or ignore this design quirk, which apparently extends to other non-smart Ray-Ban glasses. It's annoying!
Short battery life
While the Ray-Ban Stories were rated to last 6 hours with light use, the Ray-Ban Meta smart glasses have a 4-hour rating. Specifically, Meta says it'll last this long in the following conditions: "7 minutes live streaming, 3 Meta AI conversations, 2 hands-free photo shares, 10 photo capture and transfers, 6 video captures (60s each) and transfers, 2 messages sent, 32 notifications, 51 minutes of audio playback, and 19 minutes of voice calling."
In my initial tests, I've mostly stuck to photography, phone calls, music streaming, Meta AI questions, and listening to notifications. I typically hit about 3 to 3.5 hours; I strongly suspect it's the non-stop audio and occasional phone calls that really burn through battery, though not as strongly as livestreaming — which you can supposedly only do for about 30 minutes per charge.
For a regular outdoor excursion where you're not constantly playing music, but rather taking the occasional photo or video, it should last you through most of the day, and then just become regular glasses or sunglasses. And you can quickly recharge the glasses in the case in a pinch.
It's clear Meta had to prioritize a lightweight design over longer battery life here. That's the right choice, since longer battery doesn't matter if you don't want to bear the weight for that long, but you should still know upfront about this deficiency.
Privacy concerns
There isn't too much to say here that you probably haven't already heard before whenever talking about smart glasses. Compared to the more obvious motion of bringing out your phone and pointing it at someone, simply tapping your lens is much more subtle.
The built-in LED warns people what you're doing, but these Ray-Bans look like regular glasses unless you're aware of what the little circles on the rim signify.
I spoke to a few family members and loved ones about the Ray-Ban Meta smart glasses, emphasizing that they have a visible warning when a photo is taken so you should never be taken unawares; here are a few choice quotes from their responses:
"Ew, I don't like that."
"You look like you work for the Agency."
"I'd become wary of people touching their glasses wondering if they are secretly taking a photo. There would also be the question of etiquette. Now if someone takes a photo of me I can ask to see it and say, 'No, I don't like that, delete it please.' How could that happen with glasses?"
"Would you mind taking the glasses off while we talk?"
You have to reckon with the fact that when people realize what you're wearing, they might be creeped out even if you have the best of intentions and would never take surreptitious photos with them. Frankly, whenever I passed someone, I instantly felt uncomfortable about looking directly at them, in case someone would recognize my glasses' functionality and assume the worst about my intentions.
This isn't a particular issue with how Meta is handling privacy, but simply the fact that smart glasses have a long way to go before they become socially acceptable.
Ray-Ban Meta smart glasses: Should you buy them?
You should buy these if...
You need an easy way to livestream in situations where you need your hands free and your mind undistracted.
You want a fun way to listen to playlists during workouts, bike rides, or long walks without tiring out your eardrums.
You own the Ray-Ban Stories and want a proper upgrade.
You shouldn't buy these if...
You want augmented reality smart glasses.
You're uncomfortable wearing them until more people adopt smart glasses.
You're easily annoyed by sun glare.
More and more, I find review ratings counter-productive, even as I'm mandated to include them. It's difficult to quantify how "good" the Ray-Ban Meta smart glasses are.
Compared to other smart glasses, these are very good. They have a polished and varied design, the audio quality and resolution are great considering the $300 price tag, and I can see several use cases for them besides just "influencers."
I also hope that Meta will continue to update the Meta AI to make it less restricted in terms of what it can do with the glasses. Yes, it's cool that you can have it tell you a story, but I'm more interested in practical functionality, if Meta wants to make it a compelling alternative to Google Assistant.
Otherwise, I'd recommend checking other sites' reviews to see if other reviewers encountered my reflective glare issue, of if it's simply a quirk of these specific lenses, and if the more social-media-savvy of them are satisfied with the tools like livestreaming that I'm not as interested in.
Did Meta handle these smart glasses almost as well as I could have hoped? Yes. Will consumers adopt smart glasses and accept that it's okay to take photos with them, so long as the glasses visually warn you first? That's what we'll have to collectively figure out together!
Ray-Ban Meta smart glasses
Meta's new Ray-Bans have excellent speakers and mics, tons of customization options, respectably high-res photos, compatibility with Facebook and Instagram for quick sharing, and other perks that make them among the best smart glasses available.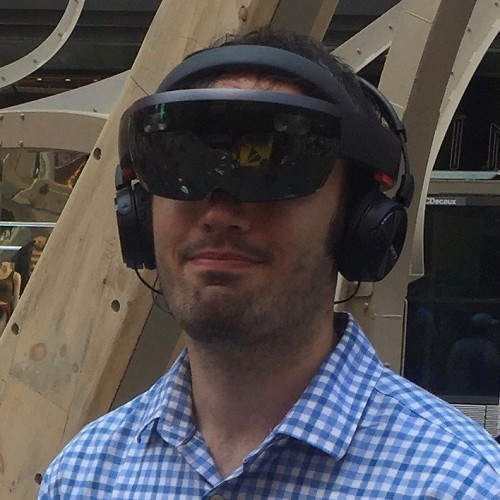 Senior Editor, VR/AR and fitness
Michael spent years freelancing on every tech topic under the sun before settling down on the real exciting stuff: virtual reality, fitness wearables, gaming, and how tech intersects with our world. He's a semi-reformed Apple-to-Android user who loves running, D&D, and Star Wars. Find him on Twitter at @Michael_L_Hicks.