Galaxy S7 battery jumps to 3000 mAh, S7 edge goes all the way to 3600 mAh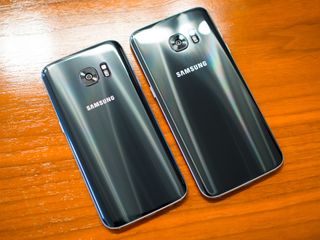 (Image credit: Andrew Martonik / Android Central)
One of the recurring themes when talking about last year's Galaxy S6 was its battery life, where the 2550 mAh cell just couldn't handle a full day of use for many people. Samsung is directly answering complaints in the Galaxy S7 with a solid jump a 3000 mAh battery inside, and the larger-screened Galaxy S7 edge has a considerably bigger 3600 mAh battery as well.
Read: Complete Galaxy S7 and S7 edge specs
That 3000 mAh is about 17 percent larger than the Galaxy S6, and if you'll recall is the same size battery as what's available in the Galaxy Note 5, though this is being done in a much smaller 5.1-inch device. Battery life is hardly an issue on the Note 5, and hopefully that translates to battery life no longer being a problem for the Galaxy S7 either.
In terms of the larger 5.5-inch Galaxy S7 edge, the 3600 mAh battery is 20 percent larger than even the Galaxy S6 edge+, a phone that has a larger 5.7-inch screen. With that extra boost in battery capacity, this just may be the choice for those who want guaranteed full-day battery longevity.
In both phones the additional battery isn't compromising the size of the device, either, with each one coming in at roughly the same thickness as their predecessor. It will take some time to get a real feel for the actual battery life figures of both phones, but we're expecting them to take a nice step above last year's models.
Andrew was an Executive Editor, U.S. at Android Central between 2012 and 2020.
Clap clap Samsung wins 2016 Posted from my Nexus 6/Nexus 7 2013/Surface Pro 3

Typical fanboy thinking Samsung has the best 2016 flagship when only a few have been announced... Posted via the Android Central App on my LG G4

Lolllll...sent from your G4 hahaha. Youre mad? Samsung nailed it Posted via the Android Central App

I'm mad? I'm not an LG fanboy. I switch things up every time I get a new phone. Samsung fanboys like you are the worst. This can't be the best phone of 2016, as we're only 2 months in. Posted via the Android Central App on my LG G4

OK never said it was. But you seem to be angry with Samsung getting attention. It's just a phone buddy you'll live! Posted via the Android Central App

Check OP's comment and see what he said... Posted via the Android Central App on my LG G4

That S6 battery was a joke. Posted via the Android Central App

I wonder if QC 3.0 will still be able to charge a 3,000mah battery to 80% in 35 minutes like Qualcomm says QC 3.0 can do....hmm! Posted via the Android Central App

Very impressive. With quick charge 3.0, power mat and qi charging they definitely have battery covered Posted via the Android Central App

A welcome change from last year. Battery life was the biggest con when I had the S6. Posted via the Android Central App

I think the significantly larger battery on the Edge may make me go for it instead of the flat variant. Then again, it is a bigger phone, but I've used a G4 for some time already, so I'm already used to the size.

No point in waiting for the htc m10 announcement now. Black S7 edge for me now. Can't see htc out doing Samsung this year. Posted via the Android Central App

I'm still waiting .... I'll probably wait for the Note 6 too. As much as I love the larger display and 3600 mAh battery, I just can't look at that Edge without it bothering my eyes. I don't see any reason why the Note shouldn't have at least the same size battery.

Too bad for Samsung could not put a battery that was any larger than their 2014 flagship Galaxy S5 (which I own). Don't count on very much better battery life. I figure maybe 7 to 9 percent better than a Galaxy S6. I still consider their Galaxy S5 to be thier best phone. Replaceable battery, external SD card, water resistant, very good ergonomic dimensions (even with a bulky case on), very good camera performance.

This really gives me hope for for the note6. Also, the whole fanboy name calling is getting old, just seems juvenile. Sent with my white Note5 with nonremovable back and no SDcard!

Is Huawei available in US stores?! In Europe it is, most models are low-budget, but since I do not need a 700€ (or 750$) smartphone Huawei has the best cost effectiveness-ratio Smartphones! The negative side of this is that they do not have their own guys with a Samsung or Sony Shirt in the stores, they do not have real Huawei workshops in Berlin or Germany which are owned by Huawei, they only have 3-4 workshops in the Berlin-Potsdam Metro region which are owned privately but have an agreement with Huawei for warranty repairs... but I risk it to buy a phone that is much cheaper and do not have all the pseudo-service/advertisement from Samsung, Sony... and apple I would never buy a product from them, some years ago I heard a apple product can only do Bluetooth with other apples for example (Ok this was early 2012, but...)

I just bought the Y625 for less than 100€! 5 inch, dual-sim, ok only 4GB and 1GB RAM, but check price and you can have dual-sim + micro SD (I heard some Samsung models loose dual sim if you put in a micro SD, means they have 2 slots, 1 for SIM or micro SD.. I have 3 slots, a 2.000 mAh Lithium-Polymer Accu with a much longer life time than the (back than) cheaper Y300 Huawei I had with a cheaper Lithium-Ion Accu...
Android Central Newsletter
Get the best of Android Central in in your inbox, every day!
Thank you for signing up to Android Central. You will receive a verification email shortly.
There was a problem. Please refresh the page and try again.