The Galaxy S20 might be my next phone if Samsung can fix its cameras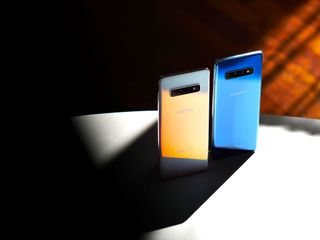 (Image credit: Android Central)
We're less than two weeks away from the official launch of the Galaxy S20, and if Samsung's previous flagships like the S10 and Note 10 are any indicator, it's going to be an absolutely phenomenal device — even if it isn't as unique and exciting as the Galaxy Z Flip that's launching alongside it.
Few other companies are able to consistently deliver in nearly every department that makes a phone great; hardware design, build quality, performance, battery life, software, and so on. The Galaxy Note 10 is still one of my favorite phones of 2019 for all of those reasons, but there's one thing I just don't at all enjoy about it.
It's the cameras. Samsung does a lot of things right, but its imaging hasn't changed much at all since the Galaxy S7, and it's fallen far behind the competition as a result.
I love the versatility of the triple-lens array on the S10 and Note 10 series, offering both ultrawide and telephoto cameras in addition to the primary sensor, and Samsung offers one of the most extensive manual shooting modes around. But the resulting images always end up far too saturated for my liking, and Samsung loves to up the shadows to the point where you start to lose contrast in your shot.
When we pitted the iPhone 11's cameras against those of Android flagships back in autumn, the Note 10 also performed terribly in low light compared to the iPhone 11 and Pixel 3. Samsung's low light shooting mode is essentially just a long exposure mode that produces messy, blurry handheld photos without any sort of progress indicator while you're shooting. Some people may prefer Samsung's over-processed look for daytime photos (and that's totally fine!), but its low light performance is objectively behind the competition.
That's not even mentioning the further strides other companies have made with their cameras, like Apple's Deep Fusion technology or Google's similar Semantic Segmentation, both of which analyze individual details in your shots and process different objects within a single photo differently.
If the rumors are true, Samsung is going to be updating its camera sensors pretty significantly with the Galaxy S20, bumping up to a 108MP primary sensor on the Ultra variant, backed up by a 48MP optical 10X telephoto and a 12MP ultrawide. You'll also be able to capture 8K video, which is more than even my professional camera can do, and Samsung should finally be including a manual video mode to give you more control over your shot.
That's all exciting news, and I'm very interested in trying those cameras out for myself. Android, in general, has typically struggled with video more than anything, and this could potentially be the first phone to rival the iPhone in that regard (my Pixel 4 certainly doesn't). But I shoot a lot more photos with my phone than video, and I'm curious if this new hardware will yield better results — and more importantly, if the accompanying image processing will have improved along with it.
If that ends up being the case, the S20 could very well end up being my next phone (that is, assuming the Galaxy Z Flip doesn't win me over). Samsung's hardware is second to none at this point, and having everything from triple cameras to reverse wireless charging, a Snapdragon 865, and a 5000mAh battery that absolutely trounces the pitiful cell in the Pixel 4 I've been using.
The good news is, we don't have to wait much longer to figure all of this out for ourselves. The Galaxy S20 is launching at Samsung Unpacked on February 11, less than two weeks away. We'll be there, of course, and we'll be providing as much coverage as we can on everything Samsung announces.
Yesteryear's flagship today
(opens in new tab)
Still a fantastic phone
A year later, the Galaxy S10+ is still one of the best phones you can buy, with an incredible display, stunning hardware, and nearly every feature under the sun. The triple camera array gives you plenty of options while shooting, and the battery is big enough to last you through the day and more.
Get the Android Central Newsletter
Instant access to breaking news, the hottest reviews, great deals and helpful tips.
Hayato was a product reviewer and video editor for Android Central.
Agreed! The cameras have been garbage the last 2 phones. I want to be able to get a picture of my active infant son without it being blurry because he barely moved.

I don't know when battery life will seize to be an issue. Its a shame that in this age of all glass phones, the battery have not been tackled. Perhaps one should begin to look at the IOS as an option. At least, you know where you stand with them.

Agreed, on all points. I'm still keeping my S10 for another year. I'll get the S30 (or whatever it's called) when the kinks are ironed out.

Motion blur from the slightest movement is what Samsung needs to fix the most too me. Just try taking photos of kids or pets.

I was a faithful Note 7/8/9 and Galaxy S7/S8/S9 user until just recently. I skipped the Note 10 and decided to try out the Pixel 3a and was blown away by the photos. Now my primary photo targets are my kids all under 6 running here and there and in terrible yellow lighting of our house. The shots I get from the pixel are WAY BETTER than I ever got on the Note phones which are considered top rated cameras. I definitely got great shots with my Samsungs of nature and outdoor in lightning and of houses etc. All stationary objects. Just fine. But my kids were always blurry, pixelated and noisy. I've decided that unless Samsung makes a huge change with cameras this year I'm going Pixel 5 since getting good photos of my family is the most important thing to me in a smartphone. And the Pixel is easily the best at that. It's sad because I love the stylus, loved my 512gb of space, love the extra ram (i multitask like a fiend and it's super noticeable going from the note 9 to pixel 3a), love samsung screens, love IP68 rating, etc etc. But the camera has to take better shots in low light and moving objects.

They do well for what they are, as does every other flagship phone. If I'm serious about my shots, there's no excuse for not planning properly and using my Nikon.

And for those of us who don't have a Nikon..
There's a Pixel. 90% as good for 10% of the cost and the bulk.

All these comments are exactly the issue. I like Samsung phones but I delete at least half of the pics I take because they are blurry. I bought last 2 Galaxy phones but replaced them with Pixels when they came out. Every picture is perfect. I hope the camera improves, if so, this phone should be awesome.

I dont even try anymore to take pictures of my kid moving or indoor shots with less then ideal lighting. On Note 10 all shots come out garbage compared to my Pixel 4. Outdoor Note 10 is fine. Kid is almost 2 so he is able to freeze while I take some shots :)

Odd. What shutter speed are the blurry shots? Either the shutter speed is too slow or Samsung is not using OIS for photos. Just today we were on a trip, and my wife decides to get a shot of a welcome sign, while we are driving under it at 55mph in the rain, and no blur even on the windshield wipers. I checked the photo details and the shutter speed was almost a thousandth of a second from a U11.

Go watch Marques Brownles 5 million plus voters 2019 winneron YouTube. #1 and #2 are both Samsung. Shoot the single lens on my S9 snaps some unbelievable shots. All this hagling over better cameras at this point is really just preferential. The original Pixel and my BlackBerry KeyOne take darn good shots. The number of lens's is honestly getting absurd.

But you are missing the point of our posts: all flagships take FINE outdoor, good-lighting, still shots. They are all fine. The pixel takes AMAZING shots of kids/pets that are moving and in ****** lighting conditions that many of us have indoors. Samsung/Apple can't touch Pixel for that.

It is kinda weird that camera comparisons almost never include action shots.

Am I Captain Obvious when I say "Because it's very hard to take the same shot twice"?

Billions of McDonalds hamburgers have been sold over the years. Doesn't make them the best burgers.

Camera on my S9+ was dire compared to the competition. The other thing that annoys me about Samsung flagships is the curved screen at the edges. Distortion and a pain for cases. They need to fix that and flatten it to the edges as I think it puts more people off than is considered a plus point. I can live with the Samsung UI and the bloat in preloading their own inferior apps (hide them) but the screen is a deal breaker if still "infinity edge" or whatever they call it.

I am not the biggest fan of Samsung camera quality, often grass and trees look like oil paintings when zoomed in. Images look great in sunlight but lowlight not great and also shadow areas of my S10 are very mushy and lacking details.

I hope they upgrade the cameras. They've been using the same sensors for years now. Their low light photos aren't nearly as good as Apple and Google's low-light photography.

Samsung doesn't fix anything. Users are just stuck with crap until the next model comes out. Take the Note 9 telephoto camera problem... Many owners complain that the note 9 telephoto camera starts vibrating and basically does not work. What does Samsung do? Hopes someone on the forums finds a fix. Sits back and doesn't address the issue... Take the galaxy fit 2 pro... Sensors stop working for no reason... What does Samsung do... Nothing.. Leave it to their pro moderators in the forums to guide people into resetting their watches.. Then sit back and don't address the issue. So anything wrong or you don't like in the S20.. Sit down and shut up, just like Samsung does.