Future Samsung phones might be made out of new 'Metal 12' magnesium alloy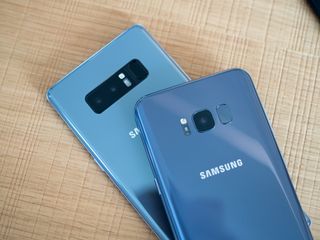 Although we don't usually talk too much about them, Samsung's recently been killing it in the laptop space. The company announced its new Notebook 9 for 2018, and while there's a lot to like about the machine, one of its highlights is a new magnesium alloy Samsung created specifically for it. Samsung refers to the alloy as "Metal 12", and it allows the Notebook 9 to be incredibly durable and lightweight at the same time.
How does this pertain to Android, you ask? Samsung just trademarked the "Metal 12" name with the European Union Intellectual Property Office, and as such, there's a strong possibility that Metal 12 will soon be used in more of Samsung's products – such as smartphones and smartwatches.
Samsung notes in the trademark that Metal 12 could be used for these gadgets, and while I don't expect to see Metal 12 make an appearance on the Galaxy S9 or Note 9, it's possible that it could make a debut as soon as the Galaxy S10. Samsung actually toyed with the idea of using magnesium in the Galaxy S7, and while this obviously never came to market, this isn't the first time the company's wanted to try using a new metal.
Aluminum has been the go-to metal of choice with smartphones for a while now, so the potential of magnesium entering the market is rather exciting. The Essential Phone proved that titanium has its place (as long as you don't mind some extra heft), and the prospect of having a device that's both durable and lighter than current aluminum handsets is something I can definitely get behind.
LG is reportedly ditching the G7 and starting over from scratch
Joe Maring was a Senior Editor for Android Central between 2017 and 2021. You can reach him on Twitter at @JoeMaring1.
Year is 2040 "Samsung's new Titanium alloy"

We need tech so wireless charging will work with metal. Glass has to go. Don't give me majority of people put a case on their phones. I never have and won't, do not care. Also, have never dropped a phone and cracked the screen in ten years. Damn, you know what's going to happen now.

I'm surprised that more companies haven't gone for carbon-fiber backsides. Couple that with a Metal 12 frame and you'd have a light, sturdy phone that could still charge wirelessly.

The concern with carbom fiber is two fold: it disrupts and makes Qi charging slower, or even preventing it if it were more than 1/32 of an inch thick, and would conduct heat.

Why are you worried about glass if you never drop your phone?

Or we can just go Polycarbonate. Never seen an issue with high quality plastics. Strong, feels good, can look good and it won't shatter, dent or paint chip when it falls. Oh and wireless charging works through it

I was wondering the same thing. It's like bitçhing about public transit, then mentioning you don't take it, and never will.

What's old is new, and now trademarked. I won't tell our half a century old Karmann Ghia how futuristic it's engine was, lol.

By the way, Samsung knows magnesium alloy is not stronger than aluminum alloy, correct?

It's mixed with other materials. Could easily be stronger than aluminum

If it's not going on the back who cares.

Ouch! Magnesium burns!
Bad joke from a Note 7 owner x2, who loves my Note8.

That thought crossed my mind as well. I'm sure the heat from battery combustion could easily ignite the magnesium frame. Best to offer the device with a D-class fire extinguisher!

What's the Future? Plastic

Wait until they bring us transparent aluminum! LLAP!

Plastics seems to check off all the boxes so why look any further? Let's just refine the appropriate plastic and call it a day. If we are just looking for a change for the sake of change then why not look at wood and stone.
Android Central Newsletter
Get the best of Android Central in in your inbox, every day!
Thank you for signing up to Android Central. You will receive a verification email shortly.
There was a problem. Please refresh the page and try again.