Flipboard for Android now available to the masses!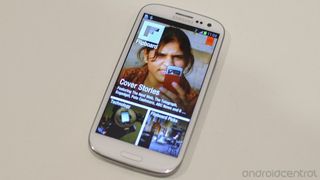 After running a short beta and having Samsung Galaxy S III exclusivity, the developers of Flipboard have gone ahead and opened the doors to the masses. The beta testing phase allowed for testing on numerous devices so you'll now be able to download Flipboard for Android not only from the Google Play Store but the Amazon App Store, Nook Store and right from within Samsung Apps.
We've given the "Magazine-style" reader a run through already but the official release does bring some new additions such as 14 localized editions—for Australia, Canada, China, France, Germany, Hong Kong, Italy, Japan, Korea, Netherlands, Spain, Taiwan, U.S. and U.K. Plus, it also now includes the freshly announced Google+ integration as well as YouTube integration allowing you to view any of your subscribed videos right within the app.
If you're looking for the download, the Google Play Store is the best bet right now as some of the options are still populating.
Download: Flipboard for Android (opens in new tab)
Android Central Newsletter
Get instant access to breaking news, the hottest reviews, great deals and helpful tips
How does Flipboard compare to Google Currents?

I find I have much more control over content in Currents.

Well it doesn't run on tablets. And they have a totally screwed up menu system that doesn't make sense (perhaps it does to apple fanboys)

Don't fully "get" what flipboard is all about, but I guess the best way to find out is to check it out. So I'm gonna log off here, grab my phone, head to bed.... and delve into the depths of this wondrous thing called "flipboard"

Are they ever going to remove the "portrait only" thing they have going with it? Completely ruins it on a tablet, IMHO.

I wouldn't say completely ruins, but it would be nice to have a landscape version, especially with my Transformer Prime. Have to take out of keyboard dock to use.

My understanding is that there are NO plans for a tablet version of Flipboard. If that is true then that just means I will be sticking with Google Currents which works with equal aplomb on both small screens and larger/tablet screens.

There is a tablet version. Its on the Ipad.

You are on the wrong site. Don't the let door hit your ass on the way out.

Is it weird that I'm using it strictly as a twitter client? Lol

perfectly acceptable. Facebook for me.

I use to but Flip board is becoming an epic fail.

No you can not view youtube video in the app. It still calls the API for youtube app which sucks. I dont want to open another application.

Ive been using it for a little over a month... Love it, but its not fully optimized

Like TyBec, I'm using it for Twitter and Facebook mostly but I do like it as an rss too. If I could integrate my social feeds into currents I think I'd use that instead. Is the Google+ integration the ability to add your personal feeds or just the token "New in Google+" that I saw this morning? Am wondering if I should uninstall the beta and grab the official from play or not ?

Just played around with it and it doesn't seem to be customizable at all... Why do I want to flip through news I don't care about? I'll sick to Currents and RSS... Edit
Ooh I found the customizations finally...odd spot. Still not sure about the layout and separations but I'll give out some time

But this was supposed to be one of the great features only to be on the GS3?? waaaaaaah waaaaaaaaah waaaaaaaaah.

I'm tired of seeing that kid's grumpy face on Flipboard stories.

Play says it isn't compatible with my ASUS Transformer Pad tablet. :-(

Works perfectly fine on my HP touchpad running aokp.

I'm a little behind on this stuff....I'm using Pulse, and never tried Currents. Maybe I'll give it and Flipboard a go (I assume these are all similar apps).

I tried Flipboard on my Samsung Galaxy S and it force closed over and over. Maybe it isn't optimized for the older version of Android. I will try it on my new Samsung Galaxy S III (ICS) when I get it next week.

I'm not seeing anything it does as well as taptu. ??? taptu is much more customizable, no glitches and works great on a tablet. No speed issues with taptu either. If they don't offer Flipboard for tablets, I don't see any value for me as my ASUS TF300 is my primary reading platform.

Works fine on the Prime, only gripe is portrait only. Looks a lot better than taptu, easier to use, imo.

I installed it last week on my Prime & it worked great. Today my tablet was acting up, so I did a factory reset... and now i cannot reinstall Flip Board. The Play Store says my device is not compatible, but it was earlier today so i don't get it, and I'm not happy about it!

Ive been using Flipboard on my Rezound since the APK leak, and through out the Beta. I had some force close issues when switching back to the app in the beginning. But since the official Beta I havent had any problems. It has become my go to app for Twitter, Facebook, Google+, and every other RSS and news feed Im interested in. The portrait flip is perfect for one handed smartphone navigation. Its smooth/fast and does what I want it to do faster than most of the stand alone apps associated with the social feeds I listed above. Im a big fan of this. Definately optimized my social/media consumption. NOM NOM NOM!

I have been using the beta on my Droid Charge for about a month now and its has worked flawlessly.. I may uninstall and try the "Official Version" just to chart any changes..

It looks good and preforms very smoothly. Only real flaw is that it uses the built in browser too much, and should mobilize the pages more instead.

It's a nice app, but I don't like how you to flip through all the news stories you don't want to read. The should have a list option like currents does.
Android Central Newsletter
Get instant access to breaking news, the hottest reviews, great deals and helpful tips
Thank you for signing up to Android Central. You will receive a verification email shortly.
There was a problem. Please refresh the page and try again.