Five things you need to know about your new Chromecast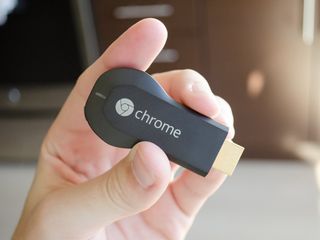 Getting started with your Chromecast
The Chromecast is one of those products that's simple and incredible. This small HDMI dongle (it's not much bigger than a thumb drive) turns any TV or monitor into a portal for online entertainment, and does it for less than the cost of a dinner and movie date. It's one of Google's most popular products, and one that everyone here at AC highly recommends.
Many of us have received one (or more) as a holiday gift and are just now getting into the set-up and playing with casting all the things. It's a cool little gadget that does so much, but there are a few things you need to know about it to make the experience even better.
Let's look at five things you need to know about your new Chromecast.
It has cross-platform support
The Chromecast is made by Google, but that doesn't mean it only works with Android devices or Chromebooks. Chromecasting (that's a real word from now on) uses the fairly open DIAL protocol for discovery and data transmission, and that means support can be added to just about any program on any device.
You'll find cast support on Android and Chrome OS, naturally, but also on Apple's iOS, Windows Phone, and any modern web browser on any computer. This is the best feature of the Chromecast — you can use the devices you already own to send video, audio and images to your big screen.
It needs a power source
Your Chromecast plugs into an HDMI port on your TV or monitor (or a free input on your A/V receiver), but it also needs a power supply. You'll find a USB to microUSB cable and power block in the box, or you can plug it into any USB port that supplies power — like the one you might have on the back of your television. Your Chromecast will need to stay plugged in anytime it's powered on and in use.
Google recommends that you use the supplied power block and USB cable to power your Chromecast. We always try to listen to Google, but I've been using mine for a while plugged into the USB port on my television and have had no issues. Your mileage may vary, but it's worth trying if you're not using that USB port for anything else.
Keep it close to your wifi router
Your Chromecast uses your home wifi to send images, movies and music from one device to another. You initiate the transfer from your phone or computer, but then the Chromecast takes over and downloads and streams directly from the web for content that's hosted online. This means it needs a fairly fast connection.
Your house is full of walls, which are full of wires, pipes and other assorted things that are hard on a wifi signal. The closer your wifi router is to your Chromecast, the better your experience will be. This is the same as using something like a Playstation or Xbox over wifi — you need a fast, clean wifi signal for the best results.
Unfortunately, the Chromecast has no physical ethernet connection so wifi is the only way to add it to your network. Use a good router and try to keep it as close to your Chromecast as you can.
You can use a computer or your smartphone to set it up
There are apps for Android and iOS to set up your Chromecast, but you can also use any Windows or Mac computer. Just fire up your web browser and head to the Chromecast set up page and you'll be directed to install a small application that gets you started. Follow the simple instructions and you'll soon be ready to cast.
Of course, you can also use your smartphone to get things set up. Look for the Chromecast app in Google Play (opens in new tab) for Android devices, or in the App Store (opens in new tab) for your iPhone or iPad. Install the app and open it to get started.
Look for the cast icon in your favorite apps
Google cast (casting also works for other devices, like the Nexus Player, using the same methods) is built into may apps on both your smartphone and the web. You'll find a cast icon (it looks like a tiny connected TV) in the upper right on apps like Google Play Movies and TV, or Netflix, or HBO Go on both your phone and on the web. This little icon is how you make the casting magic happen, and content will be shown on the big screen instead of your phone or laptop.
Just click it or tap on it when you see it, and the rest is pretty automatic. You'll have to choose which device to cast to if you have more than one, but all the heavy lifting is done for you.
The list of apps with Google cast support grows every day, and it's already pretty hefty. Chances are you'll be able to cast from your favorite apps using your phone or computer as the remote.
This is just a few tips and tricks about your new Chromecast. For more, be sure to visit our Chromecast portal and our Chromecast forums!
Get the Android Central Newsletter
Instant access to breaking news, the hottest reviews, great deals and helpful tips.
Senior Editor — Google Ecosystem
Jerry is an amateur woodworker and struggling shade tree mechanic. There's nothing he can't take apart, but many things he can't reassemble. You'll find him writing and speaking his loud opinion on Android Central and occasionally on Twitter.
I've never used anything other than the USB on both tvs to power the Chromecasts and have not had any issues. Posted via AC app by way of my right thumb.

I think it's recommended to take advantage of CEC. If your TV supports it, CEC can turn on and switch your TV's input all with one cast command.

I have mine connected to my Samsung and when I start a movie from phone or tablet it automatically turns the TV on and to the Chromecast channel. Zenwatch rhymes with Winwatch. Coincidence? I think not.

CEC works with the "wall wart" power...USB not required...at least for me...

I think that's his point. That if you have it connected to a"wall wart " if you Americans insist on calling it that, that you can turn your TV on by casting. Whereas if it's powered from your TV's USB port your chromecast will be off when your TV is. Incidentally, I've never tried casting without it being on the correct input. It could save me vital seconds! Wubba lubba dub dub!

"I think that's his point. That if you have it connected to a"wall wart " if you Americans insist on calling it that..." @fuzzylumpkin some of us Americans call them a power supply.

As an American, I think wall wart sounds dumb. And have only heard of it today. I call it an outlet.

Same here. I've never heard of a "wall wart." Posted via HTC One on Sprint

Not the outlet...the tiny transformer that plugs into it...called a "wall wart" because they block other sockets if you try to use them on a power strip...

I've never heard anyone call it a wall wart outside of the internet.

I proudly call power bricks, wall warts...:-) Posted via Android Central App

This works on my living room tv but not on the newer Samsung in the bedroom. I have to manually change the input. I have not done much digging in the settings on that tv maybe there is a way to make this work as the living room cast works. I'll look into it. Either way great device. The price makes it fantastic. Every tv should have one Imo. Next-us

Some TVs have full-spec USB ports and those can be used, although if they power down with the TV you lose the CEC capability to automatically turn on the set and select the proper input. A huge proportion of TVs have USB ports that do not meet USB power specs; they are designed only to load firmware updates. Trying to power your Chromecast through a non-spec port will result in either failure or erratic results. Your Chromecast came with a power supply. Please use it.

Or, you can just test it. I have three and they all work fine powered by the USB ports in their respective TVs.

Whatever happened to the rumors that the Chromecast could be powered alone by newer HDMI ports, such as HDMI 2.0? Did they turn out to be false?

no, it's true, there just aren't many TVs with powered HDMI ports, not to mention powering it off the TV means the CEC won't work to turn on the TV for you.

It's not true. The HDMI power spec is insufficient. I wanted it to be true so researched it to only find that it was not possible.

Except that it is true, people do it, the CEC just doesn't work.

That's false Posted via the Android Central App

This is so cool Posted via the Android Central App

No mention nor explanation of the utterly absurd requirement that Chromecast has an internet connection to to stream content I have downloaded to my phone. Why this insane requirement? Posted via the Android Central App

Because the Chromecast isn't streaming content directly from your device, your device is streaming it to the internet and the chromecast is then streaming it from the internet. If you wanna stream directly from your device, go find a DNLA device.

So if I have a downloaded Google Play movie it still uses the streaming? Stupid. Posted via the Android Central App

It's a streaming device. What part of that don't you understand?

I shall agree with Benjamin. This is very misleading with regards to content already downloaded. Many people, myself included, bought it so they could watch downloaded content whilst abroad, on a limited bandwidth or without Internet at all. Big mistake! Benjamin, there's a workaround for this though. Simply do not use any 'cast' button within other apps, including Google Play. You need to use Chromecast app to 'mirror' the screen of your device (it will share sound too). It will still try to connect for an initial setup, but you can disconnect mobile data afterwords. This is the only way to avoid horrendous data charges.

You are slightly wrong. For most apps all the controlling device is doing is telling the Chromecast what content you want along with security tokens to authorize it. The Chromecast then goes out and retrieves the content itself. The exception is the cast app in the Chrome browser. In that case the content goes from device to Chromecast.

The comment that you replied to asks why a fact is not mentioned, and you give a technical explanation? The title of the article is "Five things you need to know about your new Chromecast".
So, do you mean that users do not need to know this fact just because how the Chromecast works? There are many forum threads where people discuss how they are confused by this wrong expectation, and you support keeping these people without this knowledge? Ok. BTW, in my home my upload bandwidth would never support uploading movies, still, Bubbleupnp streams movies to the Chromecast flawlessly. Do you have an official reference document supporting how the DIAL protocol works? My suspicion is that Google, just like Roku, needs to spy everything what you see. Not the data, but the metadata. They won't let you cast anything if you don't share the metadata with them.

It streams. It does not just play anything other than in browser content

You can buy the AllCast app to stream videos and pictures from your phone. You still need to have the router going but actual Internet is not required. Posted via Android Central App

How is it supposed to connect to your phone without any wires or any radio besides wifi?

You should also tell people to remember to go to chromecast.com/offers to redeem the free goodies that come with it.

Chromecast will run day to day using the TV USB power but I've had trouble with the initial setup a number of times which seemed cured by using the supplied power supply. Maybe it needs more power during the setup? I have 2 of them and always take one away when traveling so I've needed to do set up a lot. Posted via the Android Central App

I can never get chromecast to work on Public wifi like hotels and hospitals. Never connects even though the wifi is free/ open.

That's because most free WiFi requires some sort of browser login which you can do from the phone but not for the Chromecast. Posted via the Android Central App

Many public Wi-Fi networks require you to go through a log in page. This is called captive portal, and the Chromecast is not able to sign in to a captive portal. If the Wi-Fi network is completely open and does not require a sign in you should be able to use it. Realize that if you are sharing a WiFi network, then anyone else on the network can also cast to your Chromecast, so be prepared to be Rick-rolled repeatedly...or porn-rolled or whatever. I recommend using a travel router on any public network. That eliminates these problems.

It's because of the login page that many Public WiFi use. Chromecast can't show you that page. I've gotten around this by using my laptop to connect to the Public WiFi and then use Window's hidden hotspot feature to connect my Chromecast to it. Posted via Android Central App

Hidden Hotspot feature? Posted via Android Central App on The Nexus 5

I got 3 months free google play music subscription 3x from one chromecast I bought for $25 when they first came out. I think I got $10 google credit. I bought another one recently I got for $30 plus $20 gift card, I got another 3 month free play music subscription.
So I paid $55 and got $150 worth of stuff.
I love chromecast! Now if they could make it where you could send videos and pictures from photos on ios... I switched to android but my sisters still have ipods and the apple tv is disconnected sitting on the desk.

Re using Allcast it's true you can stream direct to CC but it still seems to need some sort of online authentication to start. I tried to use it with a mini wifi router with no internet access and couldn't get it to work. Anyone had success using it this way on a private network? Posted via the Android Central App

I've used allcast to watch downloaded movies on my home network when my Internet wasn't working (read the bill hadn't been paid). My phone was still connected to the router and so was chromecast so it worked without Internet. Posted via Android Central App

So this has no issues with DRM content (i.e. Google Play Movies, etc)? I tried using a Slimport connection from my Nexus 7 (2013) to play movies on my TV, and the tablet acted like the content was being shown on the TV but the TV was blank. It wasn't a problem with the physical setup because non-DRM content played just fine. Posted via Android Central App

Authorized DRM content should work fine.

My cc is one of my favorite things in life. PERIOD Posted via the Android Central App

I figured it how to cast movies from utorrent to es file explorer to Chromecast through the es file explorer Chromecast plugin Posted via the Android Central App

Power management should have been one of the main considerations in making this device. Posted via the Android Central App

Agreed.
I have a fire stick now and have to unwrap it and compare it to my Chromecast. Posted via the Android Central App

As well as apps having cast within them, the Chromecast app supports Screen Mirroring in beta with some devices, like my G3. Thought that might have got a mention. I can't recommend the CC enough. I reckon I use it almost everyday. Posted via the Android Central App

Screen mirroring to watch a Google Play Movie does not work. As soon as you go into the movie, it gives an error. Posted via the Android Central App

It is beta so I wouldn't expect it to play HD movies particularly well. I meant screen mirroring for photos and websites etc. Posted via the Android Central App

I'm disappointed by the cc, I think it's a great device but here in the UK other than iplayer none of the other big on demand services such as Itv player, 4od and demand 5 support cc even after a year of being out. Google should be doing more to make sure atleast local on demand services in each region supports cc. My TV already has Netflix, youtube and iplayer built in which all support cast so cc has been a real disappointment in the UK imo. Even the £10 sky now tv has all the UK on demand apps, you would think Google would be able to do the same. It's another reason why even Android tv is not on my radar anymore because if cc couldn't get at the minimum the basic UK on demand app support after a year plus then I doubt Android tv will. Posted via the Android Central App

That's not up to Google, that's up to the shitty providers to bake in

True but Google should try and get those providers to support their platform. In the end it's good for Google. Doesn't make Googles platform look good if all other platforms like roku, apple TV, sky now box all provide more streaming content. In the end streaming boxes all comes down to content so it's in Googles interest to make sure it matches everything else out there. All I'm saying nexus player/android tv won't have great success against the likes of roku, apple TV if it's behind on services. Honestly I have no idea why some services are holding back, my guess is they are waiting for money as usual lol. Just frustrates me that pretty much every box has these services, they even support airplay on ios devices so it's annoying that for some reason they don't want to support chromecast. From everything I have read about chromecast it's very easy to actually implement. Posted via the Android Central App

For $30 I'm not complaining too much, but honestly, I'm just not seeing the praise people heap on the Chrome Cast. Maybe I'm doing something wrong, but I've found it to be exceedingly flaky and finicky. I've had to factory reset it several times, and even when it is working, I always seem to have odd issues. Any time I cast something from YouTube, I get continuous flashing notifications on my phone and the top title bar on the TV keeps popping in and out. And it frequently just throws up some error until I attempt to cast something 2-3 times. Again, for $30, it's ok, but if I had it to do over again, I'd have bought a nice dinner somewhere.

Will Chromecast play movies from ShowBox?

Of course, been doing that for the past year, just download the free version of LocalCast and there you go, just uncheck the Internal player lotion and select LocalCast. The subtitles if needed are a little tricky but once you get the idea is very easy. Just remember to go to LocalCast settings and set the Subtitles default folder to be Showbox subtitle folder (Android/data/com.tdo.showbox/Files /subtitles) and a shortcut in your file explorer app to the same directory so you can delete the subtitles files after each time you use them, that's for easier selection of them.

Check if showox has cc plug in else you cant.

To be fair it's up to the app developers to add CC support, not Google, though I guess you're right that they could maybe encourage them more. But there are still loads of apps that do support it and more added all the time. Music (with a log fire:), webcasts, HD films with 5.1 audio, iPlayer, youtube, photos, they all work fine through Chromecast so what's not to like for thirty quid? Some apps might be built into the TV but are a pain to use compared to a phone or tablet. Posted via the Android Central App

It's a good device if you have a dumb TV but most smart TV's I agree the ui is not great but surprisingly they support casting for apps like YouTube, Netflix and iplayer so you can control everything via your phone or tablet and I can also use dlna and use apps like local cast to play music and videos or photos off my phone too so for me personally I'm disappointed that cc doesnt actually offer me much. I just brought one because it was cheap and my TV lacks Itv player, 4od and demand 5 and I was hoping it would support them eventually as I don't want put on game console everytime I want to watch something off those services. Screen mirroring is a work around but the annoying thing about that is that the tablet display must be on just wasting battery. Would have been nice if the display could be turned off when mirror casting a video. Posted via the Android Central App

The ChromeCast was the first device that made it viable for me to cut the cord. I use it with Hulu Plus, and Play Movies & TV. I use my hot spot from my phone, and it now allows you to control from the same device. I couldn't be happier. Posted via the Android Central App

ChromeCast + VideoStream = WIN. It's everything I wanted in a simple home theatre setup.

im afraid I've stopped using mine. the chromecast has a default output of 60Hz which here in Europe causes frame skip as a lot of our video content is 25/50Hz. When fed a high quality mkv with 24p output the chrome cast it stutters even worse. Posted via the Android Central App

I got one last week, a friend gave it to me because he didn't like it and got a roku or amazon stick. Haven't found much use for it yet, still haven't watched any of the 3 movies Google gave me. In a nutshell, not really worth any money, and if you're looking for anything similar, I would suggest buying a Nexus Player which has the apps built right into it.

If you don't want it/need it, send it to me, I'll put it to use. We use the upstairs one daily, would be nice to have one on the main TV in the living room.

I usually look at least a little bit askance at any article that says "this is incredible" - but that's an understatement here. Forget the fact that both of my grandsons just had to have one as soon as they cast to my 55" TV. At 72, reading the phone screen for more than 10 minutes makes my eye muscles hurt and my eyes tear. Reading on the TV is more than just fantastic. It's about as big an improvement as when I had my cataracts removed. $35 for this? (And Best Buy was almost giving them away on Black Friday for $25.) Incredible is an understatement. BTW, CEC works fine on USB power - if the TV supplies power to the USB port when it's turned off. My Vizio powers one of the ports all the time and one only when the TV is on. (Some sets may not switch inputs automatically, but as long as the CC is powered, it'll be found and can be connected to.) Thank you Google. For all the things you're doing wrong (don't get me started on how badly OTA updating can brick a phone, when I wrote a safer update system back in the late 1980s), you got this one on the nose. Just add more devices to the list that the app will mirror on. It's great on my Note 3, but there are hundreds of phone models out there, and a lot of people who own them would like to mirror.

Hey. Are you single? My mom is 71, widowed, and technologically challenged. I end up having to do all of her tech support. You could fill that role. Also, it would be cool to have a step-father to talk tech with.

Sorry, VERY married. But if you have any Chromecast or Android problems, feel free to post on the forums. I'm there just about every day.

As. Tongue was firmly planted in cheek. I was just refreshed to see someone of your generation that is in command of modern technology. I also hope to retain interest and knowledge of current tech as I get older. I don't have problems. I have three Chromecasts in regular use in my house. I've also worked in tech for two decades and have been a audio/video enthusiast since my teens. It's just my mom. She drives me nuts with her tech issues.

>I was just refreshed to see someone of your generation that is in command of modern technology. I've been "in command" of it since around 1957, when I got a ham radio license, 1960 when I got my first job in electronics, 1963 when I got my degree ... and all the years since. Some of us "in my generation" are the people who invented the things those of your generation take for granted. (MIT had probably the best computer lab back when "computer" was a strange word to most people.) And we still try. My "retirement" is so filled that I haven't had the time to really learn the Android environment, but writing Android apps is the next thing on my bucket list. I can write code (been doing it since before Nixon disgraced the office of President of the US), but writing code in an environment you're not completely comfortable with ... well, there are enough apps like that in the Play Store already.

Chromecast doesn't seem compatible with my windows phone as mentioned above? ("You'll find cast support on Android and Chrome OS, naturally, but also on Apple's iOS, Windows Phone, and any modern web browser on any computer.")

Just bought both kids one for Xmas. They love it. We now have 4 in the house. We use it to watch movies of course, but our favorite use are the games. Uno, doodlecast, scrabble, etc. It puts the main board on the screen but everyone okays with their own devices. Pretty sweet.
And as far as being close to the router..while I do have a great router (the Nighthawk), I do have problems upstairs with strong WiFi on my phone, but NO problems streaming full HD movies to the Chromecast in the same room. It must have a pretty strong WiFi receiver in it. Super happy with it. Posted via AC app on the NOTE 4

You missed the most important tip: if you have ANY local media that you would like to stream to your Chromecast, including MKVs and MP4s in full 1080P HD, you need to install the Plex Media Server on your PC, and probably buy the smartphone/tablet app for about $6.50. I can't stress enough how essential and amazing this software is.

Agreed. Love Plex..its our house's primary way of watching content Posted via AC app on the NOTE 4

+1 Posted via the Android Central App

You didn't address one of the most frustrating issues with the Chromecast- it has no audio out other than HDMI. So if you are using an external amplifier and perhaps a fiber Dolby connection, there is no way to get sound to your system. Being limited to the small sound on a TV is yuck- and many TV's don't have any type of digital audio *out* from an HDMI input (especially not optical, and especially not on recent models for some reason).

That's why I have two, one in the tv and one in AV amp, but you can buy a cheap HDMI adapter that has 3.5mm stereo jack as an alternative audio output. Posted via the Android Central App

Unfortunately, that(3.5mm) would be only stereo and not Dolby 5.1 or above. And only analog, too.

Most newer TVs will output HDMI audio over optical but will downgrade the signal to Dolby Digital 2.0 for DRM reasons.

If your TV supports VGA you can get an HDMI to VGA adapter. They have a separate Audio out jack so you can plug your Speakers in. Posted via Android Central App

Will HBO GO work on it if I have Comcast? Since I can't watch it on my PS3.. Posted via Android Central App on The Nexus 5

Why can't you watch HBO go on PS3? Posted via Android Central App

Holly crap your mobile site ads have just past into the realm of unbearable. I just had to "scroll" through an ad all the way off the screen in order to read this article. I understand you guys need to make money, but I also don't believe for one second that you're hurting enough to agree to that level of annoyance in order to do it. That is next level bs

This think sucks. I have to reinstall the software every time I use it.

No, you don't. You are lying.

Liar. You don't install anything for the Chromecast besides the apps you want to stream on your phone. Posted via Android Central App

"Keep it close to your wifi router" Or get a good router that's made for HD streaming. We've got a Netgear Nighthawk R7000 on the main floor at one end of the house, and can watch Netflix in full HD no problem whatsoever in the basement, at the other end of the house.

I have a r8000 and chromecast sucked. To many 2.4 ghz routers in my hood. Lagggggged so bad! Got the nexus player problem solved. Posted via the Android Central App and Note 4

Got a chromecast for myself for this christmas, and it's the first google tech that is deceive. First, once chromecast have been configured, I had to uninstall google play music and reinstall it to been able to cast some music to the chromecast. Then i find that some of my music library on my phone come from cd ripped from my computer using either, itune or other open source rip tool under linux, and when I want to cast them on the chromecast, I got this error message telling me I can't cast them because they have been copied from another source !!!! WTF, I just need to cast the screen of my phone and voila music are on the chromecast without the stupid google play music app.

Yeah, you that not even have a picture or use a real name you just unfold me as the biggest troll in the world that came around just to give people false information about google products

My father bought one form him, he loves Netflix and he was using my PS3 to watch it but he decided to return it to me. But... he didn't like Chromecast... I told him to get a refund but he decided to give it to me, but I have no use to it, my computer has a 26" Bravia TV as monitor, the video quality is OK for me. I'm thinking about selling it.

Last but not least: get yourself the Popcorn Time app! Posted via Android Central App

Or Showbox haha.
Idk if TVMC works for Chromecast. Posted via the Android Central App

Biggest piece of s*** I've ever had. Buffers every 10 to 15 seconds takes about a minute + to buffer. Biggest waste of $35 ever.

Sounds like a weak WiFi-signal problem... Posted via Android Central App

Anyone have an extra chromecast? Some stole mine. I can't afford another one I'm disabled with no income wife works 2 jobs. Please. Thank you. Please don't hate I just miss my chromecast. Posted via Android Central App

Chromecast is a good alternative , I got mine for $20.00 Cybermonday 2013. It will use your smartphone or table as remote,. You can use Netflix, Crackle, Huluplus, HBO GO an others .There is Plex for a Plex-server in your home network. If you do not like Plex you can use BubbleUPnP or ES File Explorer with the proper plug In. The Chromecast is NOT an android PC and apps are limited, sadly. I got WD live TV, Roku, Fire Stick TV, Chromecast and and an old Popcorn Hour. If I will order those devices in preference this is my list: Fire Stick TV, Roku, Chromecast, WD and last my geriatric Popcorn Hour. I think that Intel's Compute Stick is going to kill a huge chunk of this market in March and damage Amazon Fire tv Sales, after all Compute Stick is a pc in a stick size. If you have $149 for a device wait until march else try Fire Stick TV, Roku or Chromecast. That is my humble opinion, after all you decide.

I got this a few mnths ago ,I love it we can watch on our big screen TV and no more need for ear phones or holding tablet ,hands free to do other tasks. Thank goodness!