Five major banks now offer Android Pay integration inside their mobile apps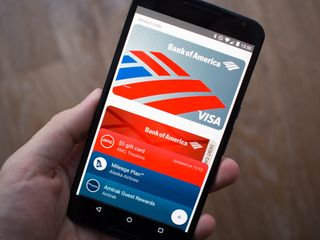 Google has announced that some mobile banking apps will offer built-in Android Pay integration.
In the U.S., Bank of America, USAA, and Discover are among the first to offer this native functionality. Elsewhere in the world, customers with Bank of New Zealand and mBank, which is based in Poland, will see the ability added to their respective mobile banking apps.
In its blog, Google explained why it added this functionality:
You won't need to have Android Pay downloaded on your device to use Android Pay. The aforementioned banks will offer the NFC-reliant ability within their apps. All you have to do is select your default payment card.
Florence Ion was formerly an editor and columnist at Android Central. She writes about Android-powered devices of all types and explores their usefulness in her everyday life. You can follow her on Twitter or watch her Tuesday nights on All About Android.
Nice. USAA always supports innovation and convenience for its members!

"You won't need to have Android Pay downloaded on your device to use Android Pay. The aforementioned banks will offer the NFC-reliant ability within their apps." This is precisely what Apple prevents, forcing banks to subscribe to Apple pay, refusing to let banks have their own Apple iOS apps that access the mobile's NFC hardware. The more Android bank apps can take advantage of the free (Apple takes a cut of transactions, Google does not), and open nature of Android pay, then Apple will be left behind.

I disagree Apple will be left behind. Banks will continue to support it. Too many users to ignore.

Yes, those contracts the banks and Apple agreed upon most likely have a time limit. That will need to expire before anything big happens with Apply Pay. Which means more users over time using it. Which means more renewed contracts. Unless Apple decides to just drop the service, Apple pay isn't going anywhere. Android Pay and Apple pay are going to be like Visa and Mastercard at some point. Same service, different name, accepted almost everywhere.

Folks in the US has a totaly different concept of mobile payments, outside of the US the concept of mobile payments are not as polarized between Apple Pay, Android Pay or Apple Pay. Think of this concept, if you have cash, does it mater if you use any of the 3 services you have?. When this applies to Mobile payments, this will be the goal. Who cares what phone you use it should just work!

I think the polarization is really just in forums and comments sections. I don't know that I've visited a store that takes one but not the other. The point of sale machines seem to either accept all contact payments or they don't.

Now if google would learn how to promote Android pay people would actually use it. That would make stores start upgrading their systems. About 75% of stores don't even have chip and pin setup.

And the stores that do have it can be glitchy sometimes I need to resort to using the same card that is on my device however I always try regardless if I look stupid in the end lol.

This is why I use Samsung pay, it works everywhere, even at terminals with the old magnetic strip, and the new magnetic strip and chip slot terminals. The only time I will use Android Pay is to use my Discover card and Amex gift cards, which as of this post do not work with Samsung Pay.

I do wish Google could work out a license situation with Samsung to use the magnetic strip payment piece that Samsung Pay will use.

It's more than just promotion. I've asked some stores about phone payments and they say that it is not worth it to buy new equipment until they need to. Everyone who has a credit/debit card stored in a phone payment app, also has the credit/debit card to use. Apple, Google, Samsung aren't going to subsidize the new equipment, so some shops will keep their systems until those systems stop working.

Can someone pls give an example on how this is useful, ty

I hope you don't mean to ask "how are phone payments useful". I'll assume that you are wondering how giving banks the ability to incorporate Pay into their apps is useful. Well, if I only use USAA and I already have their app installed, I no longer need to use up space to have the Android Pay app installed. It's also one less stop for the digital data to make for a transaction. If you use multiple banks, it makes adding cards to the Android Pay a one-click solution. I would imagine that this will help to normalize phone payments as banks will now be able to promote the service inside of their own apps and make it SUPER EASY for their customers to get started. There's also the feeling of it being more "safe" if the idea is coming from your bank. These things may or may not be "useful" to you, but I think they will be for a lot of others.

Bah still no Cap One or BECU
Android Central Newsletter
Get the best of Android Central in in your inbox, every day!
Thank you for signing up to Android Central. You will receive a verification email shortly.
There was a problem. Please refresh the page and try again.