Five major banks now offer Android Pay integration inside their mobile apps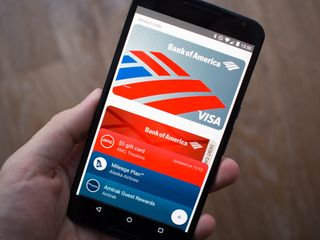 Google has announced that some mobile banking apps will offer built-in Android Pay integration.
In the U.S., Bank of America, USAA, and Discover are among the first to offer this native functionality. Elsewhere in the world, customers with Bank of New Zealand and mBank, which is based in Poland, will see the ability added to their respective mobile banking apps.
In its blog, Google explained why it added this functionality:
You won't need to have Android Pay downloaded on your device to use Android Pay. The aforementioned banks will offer the NFC-reliant ability within their apps. All you have to do is select your default payment card.
Get the Android Central Newsletter
Instant access to breaking news, the hottest reviews, great deals and helpful tips.
Florence Ion was formerly an editor and columnist at Android Central. She writes about Android-powered devices of all types and explores their usefulness in her everyday life. You can follow her on Twitter or watch her Tuesday nights on All About Android.