Five home automation accessories under $35 that work with Google Home Mini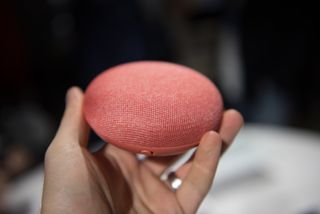 So you've got yourself a shiny new Google Home Mini. Good for you. It's a great inexpensive way to get into the smart home game for less than $50.
But now that you've got the controller, you need some things to actually control. And it's real easy for things to get expensive real quick. We're talking hundreds and hundreds of dollars of connected ... stuff.
Or, you can dig deep and find the cheap stuff. And so we've dug deep. Really deep. Here's the best connected stuff we've found for Google Home Mini — all for less than $35(ish) each.
Belkin WeMo Mini
This is a great little connected outlet for about $35. (I know because I have one.) And it's great because it doesn't take up much space, leaving plenty of room left over for the second plug of a two-gang box.
What's it do? It turns your dumb plug into a smart plug. You can control it remotely and set timers, or other schemes.
And with the holidays coming up, it's the perfect little gizmo to control lights. Because nobody wants to hit the front porch in the their underwear when it's 30 degrees out.
SwitchMate Bright
This is great for those who don't want to do any rewiring. You just pop the $35 SwitchMate on top of an existing switch or plug, and it does all the work for you.
You can set timers for whenever — a fun one is to have the lights kick on in the morning so you're not stumbling through the house any more than necessary. And you an also set it to turn things on so the house is lit up when you arrive home in the evening.
Is it any easier than this? Probably not.
APower SmartPlug
Here's another smart plug that plugs into your existing dumb outlets (because, yo, dawg, I heard your outlets like outlets) and smartens things up a bit.
I'm cheating a tad because you'll have to hit Amazon's "Other Sellars" to find this one under the $35 limit, but it's definitely doable.
The plug itself is a little clunky. But if you're looking to save a few bucks, sometimes you have to go that route.
TP Link Smart LED
A basic smart bulb isn't nearly as expensive as it used to be. Sure, you can get white bulbs that can change their color temperature — more orange or yellow than white or blueish-white, or vice-versa. But those dollars start to add up pretty fast.
If you just want something basic, look for a dimmable light. This one from TP Link is just $20 and gives you basic functionality. You can turn it off and on from Google Home Mini. (Or, yes, from anything else.) You can dim it so it's not BRIGHTER THAN THE SUN all the time.
Is $20 a lot of money for a light bulb? Yes, it is. But it's not all that much for something connected.
Philips Hue A19 dimmable
Speaking of relatively inexpensive smart lights, this is another dimmable A19 bulb — this time from Philips Hue. It runs $30 — for two bulbs this time — and works through Philips' excellent connected system. (At some point I'd spring for the hub, too, though that's another $60 and thus outside the scope of this post.)
Philips Hue bulbs really are a bit of a rabbit hole. Once you start down it, you're going to find it hard to stop.
So if you're going to do it, start with this inexpensive option.
Any others?
Let us know in the comments below!
Sign up for Black Friday email alerts!
Get the hottest deals available in your inbox plus news, reviews, opinion, analysis and more from the Android Central team.