First look at the Remix Ultra Tablet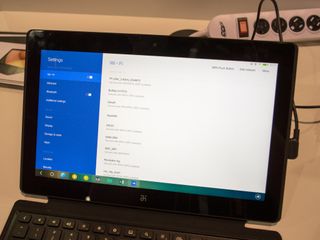 An Android tablet to get work done on
Jide, a company founded by three ex-Googlers, showed off its first device at CES 2015 — the Remix Ultra Tablet. The tablet — which strongly resembles the Microsoft Surface Pro line — has a magnetically connected keyboard and a kickstand what can be extended to 40 and 80 degrees.
The Remix is built with a combination of plastic and metal that makes the device feel premium when holding it. Along the edges you will find stereo speakers, a headphone jack, microUSB port with an included OTG adaptor so you have a full sized USB port, and a microSD card slot that allows you to added up to 128GB of additional storage along side of your built in 64GB or 16GB of flash storage. Here are some additional specs:
NVIDIA 4+1 processor (they're not confirming if Tegra 3 or 4)
2GB of RAM
5MP rear and front-facing cameras
11.6" 1080p IPS display
To charge the tablet, Jide has a proprietary 4-pin charger that plugs into the right side of the device. Along the bottom of the Remix Ultra Tablet is a 6-pin magnetic connector that allows for Jide's keyboard cover to connect to. The cover has a full size keyboard with keys that have very little throw and a touchpad that works well navigating the tablet.
The Remix Ultra Tablet is currently running a customized version of Android 4.4.2 called Remix OS, though they say an Android 5.0 update is in the works. This modified version of Android was designed to work more like your classic PC but run all your favorite applications and will ship with Google Play certification. When you enter into the Ultra Tablet you are greeted with your standard Android home screen but the bottom of the screen has an extended application drawer. This space has your home and back on-screen buttons and can hold your favorite or most used applications. Additionally, when you have an application open in the background, the application's icon will stay in the dock so you can come back to it.
The killer feature in Remix OS that is shown off on the Ultra Tablet is its multi-window support. When you open an Android application you can press the Jide logo that is displayed in the lower right hand side of the display and switch between the app's full screen mode or a window. Basically, when you want your app to run in its own smaller window, the tablet is tricking the app to run as if it was being used on a phone.
Image 1 of 9
The Remix Ultra Tablet is going into production now to be sold in the Chinese market and is planned to begin sales of the tablet in the U.S. and U.K. in Q2 or Q3 of 2015. Jide believes that when it comes to the U.S. market that the 64GB model will cost $449 and that 16GB model will be available for $349. Additionally, the Remix will come to the market in several colors such as a "bright red" and a "clean silver."
Get the Android Central Newsletter
Instant access to breaking news, the hottest reviews, great deals and helpful tips.