First look at the Remix Ultra Tablet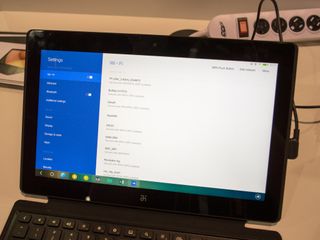 An Android tablet to get work done on
Jide, a company founded by three ex-Googlers, showed off its first device at CES 2015 — the Remix Ultra Tablet. The tablet — which strongly resembles the Microsoft Surface Pro line — has a magnetically connected keyboard and a kickstand what can be extended to 40 and 80 degrees.
The Remix is built with a combination of plastic and metal that makes the device feel premium when holding it. Along the edges you will find stereo speakers, a headphone jack, microUSB port with an included OTG adaptor so you have a full sized USB port, and a microSD card slot that allows you to added up to 128GB of additional storage along side of your built in 64GB or 16GB of flash storage. Here are some additional specs:
NVIDIA 4+1 processor (they're not confirming if Tegra 3 or 4)
2GB of RAM
5MP rear and front-facing cameras
11.6" 1080p IPS display
To charge the tablet, Jide has a proprietary 4-pin charger that plugs into the right side of the device. Along the bottom of the Remix Ultra Tablet is a 6-pin magnetic connector that allows for Jide's keyboard cover to connect to. The cover has a full size keyboard with keys that have very little throw and a touchpad that works well navigating the tablet.
The Remix Ultra Tablet is currently running a customized version of Android 4.4.2 called Remix OS, though they say an Android 5.0 update is in the works. This modified version of Android was designed to work more like your classic PC but run all your favorite applications and will ship with Google Play certification. When you enter into the Ultra Tablet you are greeted with your standard Android home screen but the bottom of the screen has an extended application drawer. This space has your home and back on-screen buttons and can hold your favorite or most used applications. Additionally, when you have an application open in the background, the application's icon will stay in the dock so you can come back to it.
The killer feature in Remix OS that is shown off on the Ultra Tablet is its multi-window support. When you open an Android application you can press the Jide logo that is displayed in the lower right hand side of the display and switch between the app's full screen mode or a window. Basically, when you want your app to run in its own smaller window, the tablet is tricking the app to run as if it was being used on a phone.
Image 1 of 9
The Remix Ultra Tablet is going into production now to be sold in the Chinese market and is planned to begin sales of the tablet in the U.S. and U.K. in Q2 or Q3 of 2015. Jide believes that when it comes to the U.S. market that the 64GB model will cost $449 and that 16GB model will be available for $349. Additionally, the Remix will come to the market in several colors such as a "bright red" and a "clean silver."
Get the Android Central Newsletter
Instant access to breaking news, the hottest reviews, great deals and helpful tips.
Up to 64 GB of storage, plus micro SD card support. Someone is finally getting it! Posted via the Android Central App

At the risk of sounding troll-ish...you mean that someone is finally getting it besides Microsoft? The surface rt and surface 2 both have that ability. It's among the many things this device "shares" with the surface.

Microsoft Doesn't count though they aren't android, not withstanding overtly priced.

Wow this is actually pretty nifty. I like the similarities to Windows, but its Android. This is definitely on my list. Posted via the Android Central App

At a glace it looks like Windows but if this is Android I'm extremely happy someone finally implemented a task bar quick launch on Android. Could never understand why this was not done especially when the device has soft nav buttons as there is so much wasted space on the nav bar.

IMO, they tried TOO hard to make this look like windows. Also, they lost me at proprietary charger. There is ABSOLUTELY no reason this couldnt charge off a standard USB connection. Just trying to squeeze more cash out of you when the one they have breaks and you have to buy a new one.

actually it has a mini usb port, so charging through standard cable is possible. proprietary charger is just a nice feature to have, i think. it's magnetic and just snaps on while you still have a port to be used

Have to compare it to the note pro, besides the proprietary software my company uses, the note does it all for me. Totally heading in the right direction this year at CES. But what's with the 4 pin charging deal? Posted via the Android Central App

Yeah, I HATE proprietary anything, especially charging ports, lol.

It has both the proprietary port and a micro usb port, and you can use either to charge. Also, the proprietary port is magnetic and far more durable than micro usb and it charges the 8100 mAh battery more quickly.

Thats cool then. I was a little put off when i heard proprietary charger as well. I hear that stuff and all i think is the company was just trying to make an extra buck when it breaks.

This might be a tablet worth buying (for me). I got a Windows tablet for its split screen support, but... yknow, the apps. Using Google services on Windows tablets is a third-party headache, and I'm sure Google knows it. At least there's the desktop windowing too, as a last resort, but no native desktop apps for Google either. So, yeah, this tablet looks like something I'll be looking out for. That, or a new G Pad, if LG's split screen is any good. (While Samsung tablets do multi-window as well, I don't enjoy the rest of Touchwiz, especially with the back button on the wrong side, especially with physical buttons, and more so on a tablet. Just my opinion, of course, but Samsung tablets just have too much I'd have to "just get used to" for what they're actually good at, which is a shame. I don't want to buy a tablet and spend most of my time saying "I'll get used to this, it's worth the good bits". Maybe I'm just picky.)

Using Google services on a desktop OS is a headache?? Ever used Chrome? Pretty painless. All services available, even some via desktop lauched apps.
I can't see buying this for over $200, when I can buy a PC/laptop at the same price or less with similar features.

What do you mean with 'the apps...'
Windows has the richest app ecosystem ever.
You can link your Google Accounts to Windows and get email, calendars, and all.
You can use desktop apps.
You can use games designed for Windows Phones too (which are ports from Android and iOS and work awesomely) Seriously, man. WTF are you smoking?

What do you mean by "ports"? It's just that you wrote it in wrong way, or do you really think that Windows Phone does have ported apps? Beacuse it doesn't. Every single app in the Windows Phone Store is created specifically for Windows Phone. That means: no Android, iOS apps can be installed on Windows and vice versa. Yust making sure you understand.

Looks like the first Android "laptop" that could actually work. Nice job!! Posted from my Moto G.

Looks like the first bad Android Surface Pro 3 copy. That's not nice - stealing someones hard work.
Posted from my Windows laptop.

I mean copying. That's about the same in this case.

Uhm... Perhaps you should look into some of the history surrounding windows, Mac, and tech in general.

Nvidia 4+1 processor. Isn't K1 32bit using same design too? Posted via the Android Central App

If by design you mean architecture no k1 is much different for t4 or t3 Posted via the Android Central App

Yes the K1 32bit is a 4+1 setup.

It has a Tegra chip, please, Please, PLEASE include Nvidias DirectStylus technology. That would make this tablet perfect! Posted via the Android Central App

The price for a old Tegra 3 or 4 chip is too expensive. I was extremely relieved when I went from a Tegra chip to a Snapdragon. The K1 is a huge improvement, but the past chips were/are horrendous. In my humble opinion! Posted from my HTC One M8 via Android Central App

I think I know what I'm getting with my bonus this year. Aside from this, has anyone ever heard of Jide before? As nice as this is, my biggest concern is the fact that I have never heard of them before.

It does say in the article that it is a new company started by three ex-Google engineers.

That's pretty cool they mashed android and pc together. Looks like a nice little gadget. Next-us

Is that a kickstand in the back of it? I dunno, I keep think it reminds me of a Surface tablet. Looks good though for sure. Posted Approved by Nexus 7 (2013)

That's because it is a similar design to the first two generations. If I didn't already have a SP3 this might interest me. And let me tell you, you don't realize how handy that kick stand is till you get one. Posted via my HTC One (M7)

If only there was some sort of article that gave that information... Posted from my Droid Turbo, Kelly and Ozone

So it's a customized Android tablet made to look like Windows implementing a design similar to the Surface Pro/Pro 2 without the Wacom support and costs $450. Why wouldn't anyone just buy a Surface Pro 2 for $500 on eBay? It may not get the battery life (I typically get 6-9 hours) but it will be more powerful and it offers more functionality. Instead of trying to make Android into a desktop OS (it isn't), why not just get a unit that actually runs a desktop OS?

Many don't like Windows, so a SP2 is not applicable.

If they don't like Windows, there is no logical reason for them to like a Windows-looking buggy Android (And yes, say what you want, it is buggy. Especially when you want the whole system to wear a completely different look with many unfamiliar improvements, which are also...what a surprise...already present in Windows).

To be fair, you have no idea if this is buggy.

In my experience, most people who don't like Windows 8.1 have never actually tried it out on a touch-enabled device. They have a negative predisposition towards it and have only ever looked at the live tiles without actually trying it out with someone who knows what they were talking about. So that is something that can always be changed. Second, if someone truly does not like Windows, why on Earth are they getting an Android tablet that is made to look like a Microsoft product running a skinned version of Android made to look like Windows? There is absolutely no logic in that. I just don't see a point in this tablet. I would if it came with vanilla Android or something that wasn't so heavily skinned. If it was like that, it wouldn't be any different than any other Android tablet. It would be unique with a Surface Pro-like design having a kickstand and attachable keyboard cover but that's where the similarities would stop. No, instead this is an Android tablet with a Windows identity crisis.

Not to mention, you can dual boot Surface with Android X86 really easily, this needs to be much cheaper.

So... Surface rip off running skinned android.
Why not buy a Surface and install console os? Posted via Android Central App on 1+1

Because ConsoleOS on the Surface doesn't support the Type Cover, Wi-Fi, Bluetooth, brightness control, the accelerometer, sound, or the camera.

You can run Android in a VM on a Surface Pro though, that would cover all of the driver needs and still give more than enough performance.

This is a total copy of the Surface from the kickstand to the magnetic keyboard. Even the software looks like Windows with the tiles. Just missing the full size USB port

Glory. AC App via Nexus 5

Lost me at proprietary charger...

can i get the apk for that launcher lol

You can go better. Go with Windows and wou have that already there.

I have an Acer w700 I am happy with but I wouldn't mind that Launcher on my android box or tablet

Go with? you have to buy Windows, Android is free.

For you as a consumer buying a new tablet, threre is no difference between Android and Windows, because there is literally no tablet without OS. You have to buy Windows sometimes if you get a PC/Laptop that is without OS, but you never have to buy a standalone Windows copy for a tablet.

Google needs to implement this multi window feature in stock android. Makes perfect sense for large tablets. Posted via the Android Central App

Microsoft is going to sue this company into oblivion. They even ripped off Microsoft's software and their Outlook email UI. This company and it's product is not long for this world. A blatant, shameless ripoff.

Just to be clear, it looks like we're congratulating a company that has blatantly ripped off Microsoft's Surface design.

Well if Microsoft have not sued them then it looks like there are very few original features on Surface that have not been done before elsewhere (like the magnetic covers)

Well, maybe the reason why they have not sued them is because they're not really like Apple (or old Apple I guess). Apple used to sue at sight. Google and Microsoft seem to only sue when it 'should' sue. Not because a device has a square design.

I'm pretty sure lapability wouldn't be a problem for google fans from now. Sorry for my english.

What a pathetic rip-off. Anyone is better served buying a Surface. If they had improved on the Surface design one would accept it...but they not only didn't, they made it worse. I hope Microsoft sues the sh*t out of them.

The Surface costs twice as much.

Yes. It's also thrice as better.

Well this is a ripoff. When Apple does it they should be ashamed. But when an Android manufacturer does it, bravo, huh?
The level of shamelessness is incredible. The Surface design is there, the Windows UI is there, hell, even the Outlook app is there. I hope Microsoft sues them into non-existence. After all, what's the point if they're just gonna rip people off.

The lack of importance this article gives to the amount "borrowed" features its astonishing and dishonest.
That being said, I really liked what they did with the UI, I think Microsoft should have followed this direction with Metro 2.0.
I don`t think this product will live to see the light of day.

From my perspective, owning a surface rt 2 and living in Asia where Android is incredibly popular, i can see this has an amazing potential for success. So many people want a new laptop for firstly, something to type on, and something for complex web research and file storage. The majority of people really hate Windows and the way it slows down and breaks so often. This has partly fuelled the massive popularity of tablets in Asia - people enjoy using them because they don't give headaches and are intuitive. But many of these people also need something to type on! For Asian customers walking around a PC shop, they will stop at this device and buy it. Why? Because customers are already familiar with android. It feels like a safe buy. And the alternatives are frankly terrible:
1. Surface pro - way too expensive, and always will be due to Intel high power design. Still has Windows problems of malware.
2. Surface RT - yes, cheap and no malware, but so hobbled in functionality. Full of bugs. Desktop still way too complicated, but the device still can't do simple things. But the critical problem is the app store - its basically non existent. When all the device is good for is 'work' - word processing etc, it's just not as sexy purchase.
3. Chromebook - price is OK, but why no android apps? Again, not a sexy purchase. And the big issue for Asian customers that Google really doesn't understand - we can't rely on fast internet access! For half the world, who yes have money for shiny new gadgets, the internet speed is not up to the job. Maybe if google left Silicon valley and spent some time in China or Indonesia or Philippines they'll understand why their 'always connected' strategy is never going to work. So this is why this device can succeed: familiar UI? check. Won't break with malware? Check. Fun stuff on app store and connectivity to friends? Check. Fully functional without internet? Yep. Finally, CHEAP?? yes!!! Either they'll succeed or the big players will be forced to change their strategy to meet the customer's needs. I wish them every success and will almost certainly buy one.

I forgot to mention, the other alternative is a big android tablet with keyboard, already an idea gaining traction here. But the UI is not properly modified for mouse and keyboard (actually ppl usually just use keyboard and touch). This is an opportunity for Samsung but their software and OS development skills haven't really proven to be up to the job yet.

I think I would rather have the original, a Surface Tablet or one of the other windows clones. I want to run the apps I used like Photoshop, Lightroom, full office. Also, windows 10 looks like a winner.

Looks very compelling. I just wish they had a model with a better processor. I really like the window management. I'm not usually one that praises Android UI skins, but this one looks like it may work. I cant wait to see the reviews for these tablets.

So how long before they are sued by MSFT?

Fools better had put Intel processor and shipped with windows 8 instead.