First look: Acer's crazy Predator 8 gaming tablet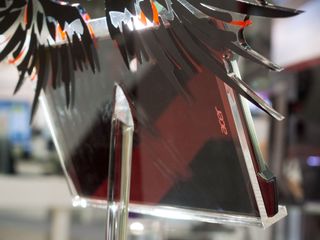 Gaming is a big deal for Acer. The Taiwanese firm's booth at Computex 2015 prominently displays its line of "Predator" gaming gear — including full-sized PC cases, monitors and other components. And now Acer's gaming focus extends into the mobile world, with the emergence of the Predator 8 tablet — a ferocious 8-inch tablet running Android and targeted at gamers, and coming to market in late 2015.
Image 1 of 7
From just about any angle, it's clear you're not dealing with another run-of-the-mill tablet. With its bombastic, angular chassis and bold red accents, the Predator looks more like a Klingon bird of prey than your average Android slate.
The back consists of a few metallic layers, padded on the left and right side by grippier matte chevrons. And in the center Acer proudly displays its Predator branding. It's not a sleek or beautiful piece of technology in the traditional sense. (OK, or in any sense.) Instead it's a product of the kind of thinking that puts a gaming rig into a box with exhausts. It's supposed to look badass, not elegant.
And those red accents aren't just for show. The Predator packs a four-speaker setup — one housed inside each corner — is supposed to make movies and games all the more immersive.
As beastly as this tablet is on the outside, the Predator 8's internals will make or break its performance as a gaming tablet. Officially Acer isn't commenting on exactly which Intel chip is inside, but Intel let slip at its Computex press conference that it's running an Atom X7 CPU. This is Intel's top Atom processor — a chip previously seen in Microsoft's Surface 3 which claims double the graphics performance over the previous generation.
That graphical prowess was plain to see when Intel and Acer demoed Asphalt 8 on the device at this week's Computex press conference. And while we'll have to wait until the fourth quarter to see how the finalized hardware runs modern Android games, the Predator 8 could be a strong rival for gaming-centric slates like NVIDIA's Shield tablet.
MORE: Computex 2015
Android Central Newsletter
Get instant access to breaking news, the hottest reviews, great deals and helpful tips
Alex was with Android Central for over a decade, producing written and video content for the site, and served as global Executive Editor from 2016 to 2022.
If by ugly you mean sweet as hell, you're correct. I think it looks awesome. Like it wants to sit by someone on their iPad at Starbucks and punch them in the face. Then steal their wallet. Posted via the Android Central App

I lol'd. Posted via the HTC One M9

If you're 12 I can totally see how you'd think it looks awesome, for the rest of us we just want a nicely designed tablet, with nice specs, that works.

Um.... there's plenty out there. HOWEVER, this is a "gaming" tablet. . . . you know, a tablet meant for (or at least tries to be about) gaming. "If you're 12" bwahahaha, get off your high horse and quite being a Negative Nancy. There's plenty tablet and even 2 in 1 options out there. No need to comment and claim that this tablet is only for people 12 years of age. Goodness, get over yourself dude.

I agree lol Posted via the Android Central App

Its different but if priced right would be perfect for my kids Posted via the Android Central App

I actually like the way it looks. But then, I also have a purple laptop. So don't take my word for things. Sloths fight leopards. You can't open a bag of chips. Clearly humans are the weaker species.

But can it run coc?? Posted via the Android Central App

The Acer logo on the front completely kills it for me. They should have it in small letters on the back, so that the focus is on the predator branding

+1 via AC App on VZW Moto X DE/N7

Really? The hardly noticeable logo KILLS it completely? That's foolish. Posted via the Android Central App

My finger is going to smudge the crap out of that rear camera, but who takes pics anyway with a tablet. Posted via the zenfone 2

Assholes do. Posted via the Android Central App

+1 Posted via the Android Central App

People who use the camera as a document scanner. I use mine to take pictures of serial numbers, business cards, even instruction manuals.

Acer hasn't really talked about any other gaming related features. They're marketing it to gamers..but..what else? I know they have a Predator desktop PC brand. Is there integration with that, or gaming PC's in general? In home streaming? They haven't really shown why gamers should get this tablet specifically.

I like it, but want that Klingon stand for it...... Posted via the Android Central App from my HTC m8 till my LG g4 comes in.

For a gaming tablet, it seems to lack gaming input.
I would expect some sort of thumbstick and a few keys.

Just look at the design! And those red speakers! Unquestionably the gamer's tablet. #Acer Posted via the Android Central App

I think the NVIDIA did it much better.

it has front facing speakers that makes me happy

Kah blah Posted via the Android Central App

Epicness... ... ( 0ppo F5) ...

I'm game! Hopefully it will be a nice option to my Shield tablet. Posted via the Android Central App

For ga(y)mers ... ... ( 0ppo F5) ...

Serious, a normal looking tablet is what?... plain & boring. This is totally out of this world. Hope it handles games as good as i think it should
Android Central Newsletter
Get instant access to breaking news, the hottest reviews, great deals and helpful tips
Thank you for signing up to Android Central. You will receive a verification email shortly.
There was a problem. Please refresh the page and try again.