The first Android Wear watches arrive today — here are 10 more things you need to know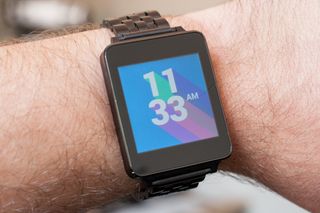 If you ordered a new Android Wear smartwatch — that'd be the LG G Watch or the Samsung Gear Live — you should see it very shortly, as early shipments are reaching doorsteps today. And on one hand (erm, wrist), these watches are simple creatures, devices on which to display the Android Wear software. But on the other hand (OK, OK, wrist), this is an entirely new platform for Android. It's familiar, but also very new, with a few idiosyncrasies.
So there are the watches, and then there's the software that's running on them.
So as you unbox your new watch today, there are a few things you need to know up front. We can help. In fact, we've already done so with our first list of 10 things you need to know about Android Wear. Today we're following up with a few other tips we've collected after a couple weeks of use. Some are basic. Some aren't. Enjoy.
1. You'll need Android 4.3, the Android Wear app, and a Bluetooth connection
Let's start with the most basic of basics: To use your new Android Wear watch, you'll need to be running Android 4.3, and have the Android Wear app. If you haven't already done so, you can download the app through Google Play.
The app does a great job of walking you through the setup process, so we won't worry about that too much here. But the short version is it prompts you to connect your watch over Bluetooth, just like any other accessory. (And occasionally you might have to reconnect it to Bluetooth, like other accessories.)
2. Take a minute to go through the tutorial
We know, you've read all our Android Wear coverage so far. You know it all. But we'd still recommend paying attention to the tutorial in the Android Wear app. If you skipped over it, you can find it again in the overflow menu.
3. There already are a bunch of apps available for Android Wear
So you've got your watch — now what do you do with it? Notifications are fine and all, but it's time for some apps. Google is currently curating the best of the best, which you can find linked at the bottom of the Android Wear app, or see our list here. The way it works is that Android Wear functionality is baked into a traditional Android app, and the watch-specific stuff gets passed on to the device from the phone. One app to rule them all.
But it's worth noting that we're still very much in the early days of Android Wear apps, and there's a little bit of wonk going on. If you look at Google's curated list, you'll notice that every one of those apps is free. Paid apps apparently aren't working right just yet. That's a headache for devs and a boon for consumers.
There's also no proper way to create custom watch faces yet, which seems very strange.
4. Invest in Pebble Locker
We know, we know. You think Android Wear is way better than Pebble. (We've argued to the contrary, however.) But the Pebble Locker app is still very useful with Android Wear, turning your watch into a trusted Bluetooth device. With it you can have a PIN lock on your phone, but have that lock disabled while your phone is connected to your Android Wear device. (Yes, just like you can out of the box with a newer Motorola phone, and eventually with the L release of Android.)
Pebble Locker is free in Google Play, and an in-app purchase of $2.99 allows you to use more than one device to keep the phone unlocked.
5. Don't be afraid of a custom watch strap
If you've never changed a watch strap before, the prospect of swapping the stock one out for a custom job can sound a little scary. Tiny spring pins and tools that look like they belong in a dentist's office. Removing links with yet another tool.
But if I can do it, so can you. It's easy, and it takes just a few minutes.
And it makes your watch look so much better.
As we talked about on a recent podcast, however, the Samsung Gear Live can look a little off with a custom strap because of the way the watch body is designed. The LG G Watch is a little neutral in that respect. But custom straps are a relatively inexpensive way to make your Android Wear watch more comfortable, and look cooler.
6. Carry your charger with you if you can
We've been getting about a day's worth of use out of our watches, with less than 50 percent battery remaining at the end of the day. You'll want to charge up overnight. If you're moving between home and an office, however, you'll need to keep your charger with you. That's especially true if you've got the LG G Watch, as you'll need the charger (or a sharp point) to turn your watch on should it decide to conk out.
The good news is that the chargers for the G Watch and Gear Live take standard microUSB cables, so you only have to carry the base with you, and not a cable and wall wart.
7. Not all notifications have to hit your watch
We've got plenty of apps that have worthless notifications. You've got a couple options here. One is to disable those notifications in the app itself, which will keep them from appearing on the phone as well as the watch.
If you don't want to use that nuclear option, you can blacklist individual apps on the Android Wear device itself.
8. The basic Android Wear gestures
Swipe up to move down to the next card.
Swipe left to see actions for a given card.
Swipe right to get rid of a card.
Tap a card to read any overflow.
Tap the clock to get to the menu options.
9. If you're not using Google Now, you've got to give it a shot
Chances are if you're an early adopter of Android Wear, you're using Google Now. But there are a few who have shunned Google's life-prediction service. But Android Wear is the perfect application for it. At a glance you can see how long it'll take you to get to home or work. Or what the weather is. Or when you need to leave to get to an appointment on time. It's not hidden behind another screen like it is on a phone.
You don't have to completely give yourself over to Google if you don't want to — and we'd argue that you're still not doing so by using Google Now. But it's definitely a service you should consider.
10. It's a great step tracker
If you don't want to be bothered with one of those fitness trackers, both the Samsung Gear Live and LG G Watch have proven to be excellent step trackers. In fact, you don't have to do anything. Just wear it, and it tracks your steps. Plus you'll get a seven-day history, so you can see how you're doing throughout the week. You also can choose to not show the step card if you prefer, and you can change the daily goal from the default 10,000 steps.
For more on Android Wear, be sure to check back at our Android Wear page, or swing by the Android Wear forums!
Get the Android Central Newsletter
Instant access to breaking news, the hottest reviews, great deals and helpful tips.