Custom watch faces are heading to Android Wear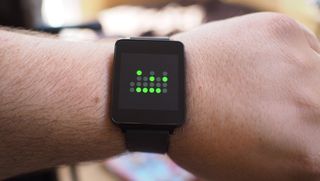 Google has launched Android Wear with a decent supply of watch faces on the LG G Watch and the Samsung Gear Live, but like all things Android half the fun is customizing the experience to make it your own. While some developers are readying existing apps to support Android Wear in various ways, custom watch faces have proven on other smartwatch platforms to be a big part of the ecosystem. One of the first to hit the Google Play Store is hands down the most obvious for scoring geek cred through your wrist computer, and it paints a clear picture for what we can expect moving forward.
Byte Me Software's Binary Watch Face for Android Wear is exactly what you think it is from the title. You get a simple binary layout that counts from seconds all the way up to hours while the watch is in active mode, but only displays the hour and minute while in the resting mode. The app that compliments this watch face allows you to choose whatever color you want for the lit dots in active mode, and the changes are near immediate.Aside from the color dial, the app just sort of takes up space in your drawer instead of living in the Android Wear app like we've seen with Pebble's third party watch face system.
As everyone gets ready for their Android Wear devices to show up next week, it looks like there's going to be plenty of options to choose from in the not so distant future. While it seems that, for now, having a bunch of extra watch faces installed will take up a ton of unnecessary space in your app drawer, there may be more elegant solutions in the future to deal with clutter. If that sort of thing doesn't bother you, enjoy all the shiny new designs headed to your watch.
Be an expert in 5 minutes
Get the latest news from Android Central, your trusted companion in the world of Android